We Succeed Because We Serve Exceptionally

We operate several friendly, fast-paced Contact centers dedicated to serve our online and retail store shoppers

We Succeed Because We Serve Exceptionally

We operate several friendly, fast-paced Contact centers dedicated to serve our online and retail store shoppers

We Succeed Because We Serve Exceptionally

We operate several friendly, fast-paced Contact centers dedicated to serve our online and retail store shoppers

We Succeed Because We Serve Exceptionally

We operate several friendly, fast-paced Contact centers dedicated to serve our online and retail store shoppers

We Succeed Because We Serve Exceptionally

We operate several friendly, fast-paced Contact centers dedicated to serve our online and retail store shoppers
Customer-Centric Attitude
As part of our team, you will strengthen customer loyalty through every interaction by doing whatever it takes to achieve satisfaction. Whether answering questions via email, taking orders over the phone, tracking deliveries on chat handling returns or otherwise nurturing positive relationships.
Growth Minded
We offer opportunities for entry-level and experienced Customer Service Representatives to join our Contact Centers. We look for people who believe in our brand, love our products and want to share the excitement with our customers. Your positive presence is a part of what creates an outstanding customer experience.
Run a Business
Our Contact Centers promise an undivided focus on the customer, meaning one who is a good listener, patient, helpful, efficient and detail oriented. We succeed because we serve exceptionally.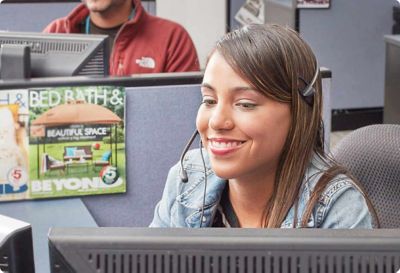 Looking for Contact Center Positions?
Are you looking to be part of an upbeat and successful team in an enterpreneurial retail setting? Click on the brand logo below, and view the jobs by brand