Shipping and Policies
Free Standard Shipping on Orders Over $49
Free Standard Shipping with any online purchase of $49 or more (merchandise subtotal). Excluding store pick up items, gift cards, gift wrap charge, environmental handling fees, other applicable handling or administrative charges, and sales tax. Shipping surcharges on certain over-sized or heavy items still apply. These charges are indicated on the appropriate product information pages and will be displayed in the shipping subtotal of your order.
*Free Shipping applies to delivery from Bed Bath & Beyond within Canada (Items shipped directly from the vendor have longer delivery lead times). This offer does not apply to shipments to Yukon, Nunavut, or Northwest Territories, international orders, or Business Direct orders. Orders cannot be shipped to the Province of Quebec.
We currently offer two shipping options within Canada:
1. Standard:

3-6 business days

2. Expedited:

2-4 business days
The cost for shipping is based upon your total order amount. Use the table below as a quick reference for calculating your shipping charge for an order. An additional surcharge may apply to some items due to their size and/or weight. The surcharge, if applicable, will be noted on the product description page as well as the shipping subtotal of your order. Orders cannot be shipped to the Province of Quebec.
Products qualifying for Free Shipping will be identified with "Free Standard Shipping" on their respective product information page. If you select an Expedited, rather than Standard shipping method, shipping charges will apply.
For shipments to Canada
| Total Order Amount | Standard | Expedited |
| --- | --- | --- |
| Up to $25.00 | $5.99 | $19.95 |
| $25.01 - $50.00 | $6.99 | $26.25 |
| $50.01 - $75.00 | $7.99 | $33.31 |
| $75.01 - $100.00 | $8.99 | $40.68 |
| $100.01 - $150.00 | $11.99 | $48.21 |
| $150.01 - $200.00 | $13.99 | $55.77 |
| $200.01 - $250.00 | $24.95 | $63.34 |
| $250.01 - $350.00 | $24.95 | $70.97 |
| $350.01 - $500.00 | $24.95 | $79.14 |
| $500.01 - $750.00 | $24.95 | $87.85 |
| $750.01 - and above | $24.95 | $99.75 |
Orders containing Gift Cards and no other merchandise will be shipped at no charge via letter mail. Expedited Service is available for a flat rate of $15.00. If you purchase a Gift Card(s) along with other items, the shipping charge related to the Gift Card(s) will be waived for Expedited Service.
For information regarding international shipments/billing please call 1-973-826-6500 or email us at customer.service@bedbath.ca.
Please note, at this time we are unable to ship to Postal Box addresses.
Bed Bath & Beyond and buybuy BABY reserve the right to hold any order for a security review. If your order is affected, you will be notified within two business days.
Wedding & Baby Registry orders may require additional processing time due to limited item quantities and/or discontinuation of a particular product by a vendor. For more information regarding Wedding & Baby Registry orders, please see our Registry Policies.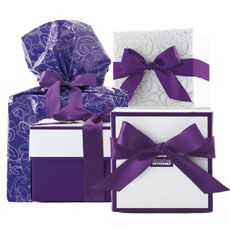 Gift Packaging
We offer gift packaging for a nominal fee of $4.69 per order. Larger and/or preboxed, prepackaged items will be placed in a purple paisley plastic gift bag and tied with purple satin ribbon. Items in the manufacturer's packaging will be wrapped in silver and white ampersand gift wrap paper. Other items will be gift wrapped in a Bed Bath & Beyond signature white and purple gift box with coordinating silver and white ampersand toned tissue paper and purple satin ribbon. Please note oversized items cannot be gift-wrapped. All gifts are packaged in Bed Bath & Beyond branded materials.
Tracking Your Packages
You will receive one or more tracking numbers on the confirmation e-mail we send you when your order is shipped. This tracking number can be used to check the status of your package at our shipping carriers' online stores:
FedEx
Package tracking: www.fedex.com/tracking
Customer service: 1-800-Go-FedEx (1-800-463-3339)
Canada Post
Package tracking: https://em.canadapost.ca/emo_business/basicPin.do?language=en#
Customer service: 1-866-607-6301
Shipping Surcharge
Oversized/overweight items will require an additional fee for shipping and handling charges, which is listed in the description of the product. Total shipping cost is calculated by adding the shipping surcharge fee to the base shipping cost at check out.
Canceling an Order
You may cancel an order at any time prior to processing at our center by calling 1-800-GO BEYOND™ (1-800-462-3966). Unfortunately, we are not able to cancel orders once they have been shipped. Please refer to our Returns Policies for easy returns.