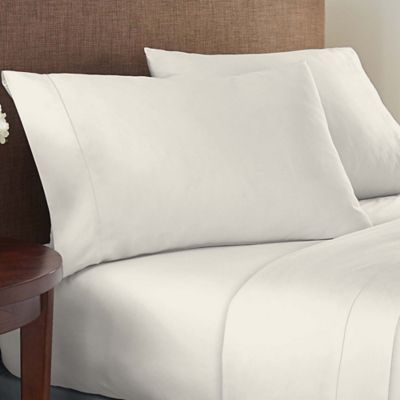 Therapedic™ 500-Thread-Count Tencel® King Sheet Set in Egret
$223.99
Get 20% off your entire purchase with Welcome Rewards™+
Enroll Now
Most Helpful Positive Review
Pleasantly surprised - smooth, not slippery
Denise
.
10 months ago
I was frustrated with the roughness of alleged "smooth and buttery" cotton sateen from higher end online retailers. Was almost resigned to spending a small fortune on entry level satin silk, but saw Tencel mentioned a silk alternative so thought it was worth a try. I was hesitant to get these given the reports of pilling and the fact that so many of the positive reviews were linked to promotions, but with the sale price, coupon, and return policy, I figured the worst that could happen is that I would have to return them. Here's my initial experience. * A few reviewers noted a strong chemical smell on opening. I sniffed hard and there was a barely discernable "new product" smell. After first wash and dry, didn't notice any pilling. More dryer lint compared to cotton sateen, but don't know if this is typical of Tencel or if it will continue to shed this much. Practically no wrinkling when removed promptly from dryer. The wide elastic is great for holding sheet in place, but (minor gripe) takes longer to dry than the sheet itself, so it's getting unnecessary tumbling. Will amend review if any of this changes with future washings. * The feel is smooth without being slippery (like polyester silk). Much smoother than cotton sateen. Sheets are very lightweight, which along with the claimed breathability of Tencel should make them great for summer. My first Tencel sheets, so don't know how their weight ranks with other retailers. One reviewer noted the "velcro" type effect of trying to slide the top sheet over the bottom (while making the bed, I assume). I noticed this, too, but for me it's a minor annoyance (lift and reposition method needed). Again, don't know if this is typical of Tencel sheets in general or just this brand. No friction actually sleeping in them, with skin or pajama material. * The full price is comparable to well-reviewed specialty online retailers - don't know how quality compares. Unless the sheets degrade quickly with wear and washings, they are a good value given BB&B sale price and coupon. And much smoother than the alleged "buttery smooth" cotton sateen from higher end online retailers at the same price level.
Most Helpful Critical Review
Hold your nose
Mary
.
10 months ago
These sheets REEK when they come out of the packaging. When I washed them, the smell stayed in the dryer even without the sheets. The smell does seem to come out, but it it horrible. Other than that, the sheets seem decent, too soon to tell if they'll hold up.
customer reviews
Showing 1 - 20 out of 124 reviews
Pilled After 1 Night
BB&B Customer . 11 months ago
I thought these sheets would be great since they're pricy, but I should've just gone to target! I washed the sheets before putting them on the bed and followed the care instructions. Night 1 was fine but night 2 I got in bed and realized the sheet had already started to pill! Even the cheap sheets I have for backup haven't done that! Absolutely NOT worth it. I wish I hadn't thrown away my receipt because I would be taking these low quality sheets back! Do not waste your money!!!
these pil really easily
BB&B Customer . 11 months ago
I got these hoping they could replace my bamboo sheets (which are having supply chain issues). These felt nice, like they'd have a good weight and wear well. I've used them now for 3 days and so far I am not impressed. They started to pill after the first night, little dots all over the sheets. Then on the second night, I wore black socks to bed and when I woke up, my socks were covered in little pils from the sheets! Ew! I am not thrilled and want the bamboo to come back. These are not it.
Nice deep pockets for the Tempur-Pedic Brand Beds
queenbeeNV . 11 months ago
However, I wish the MATERIAL for these 2 ordered sets of Queen Sheet Sets were wrinkle-resistant. The instructions say "do not add dryer sheets" - so I don't'. The entire sheet set dries very wrinkled (only 1 sheet set per load) and I [i]still have to take the extra time IRON the entire set to remove the worst of the wrinkles[i] - even when taken straight from the dryer once it stops the recommended dryer cycle. This forces me to add an extra 1/2 hour of my already limiited housekeeping time when washing my particular sheets weekly. I DON' LIKE PUTTING WRINKLED SHEETS ON MY BED; it looks sloppy. Dryer sheets offer to remove wrinkles - esp.if the sheets are rmoved as soon as the sheet set is transferred from the washer to the inner cycle. However, they're wrinkled! I make sure I only wash one set of sheets & pillow cases as a separate load. I make sure I use the correct water temperatures and the correct dryer temperatures. Therefore, I wish - following all the listed care instructions - THE freshly laundered & dried set would come out smooth enough to NOT NEED TO BE IRONED! ON the plus side of things: the material is smooth, so long as you don't mind it looking wrinkled from the very first time you put it on your bed. PLEASE keep the softness of the sheet/pillow case set; however, please add some sort of wrinkle guard to this same set so it doesn't look so messy/shabby once it's freshly laundered and spread properly upon the Posture-Pedic Bed.
Quality is Lacking
K7G . 11 months ago
I really wanted to love these sheets. The issue I have with these sheets was after a few washes the top sheet started pilling. The bottom sheet has retained it's texture. I do think that they are keeping me thermoregulated at night (at a normal body temperature), and overall I feel they are hypoallergenic.
Fabric pills
Joyce . 12 months ago
I was anxious to try this sheet set, but was disappointed when they pilled after the second washing. Yes. I did follow manufactures washing directions.
Better than average sheet set
Teri . 1 year ago
With the big elastic -- I like how easy it is to put the bottom sheet on the mattress. The top sheet also allows ample coverage on the top sheet -- some do not! I like the feel but not a five star in my opinion. I was expecting a little more....
TOO COOL !
BB&B Customer . 1 year ago
These sheets are awesome BUT they are Too Cool for winter . The first time I slid into these sheets It was like WOW , they are COOL but very comfortable . They are also expensive . Are they worth the cash ? If I had to do it over again I would look for other less expensive options . This is ONLY MY OPINION . IF you have to be cool , try some !
Horrible, don't wash well & stick like crazy
BB&B Customer . 1 year ago
Worst sheet set I ever bought! The flat sheet sticks to the fitted sheet like Velcro making it almost impossible to make the bed easily. Also they do not wash well & already feel like they are pilling. They are soft on the skin but that is the only good thing.
Soft but Poor Quality
Mike . 1 year ago
Like many other reviewers have experienced, my sheets began to pill quite extensively after only one wash, which was in cold water. After drying on low heat, there was a massive amount of lint caught in my dryer's filter. This also occurred after the second and third wash. These factors indicate poor quality fabric and or an inferior weave. In addition, the pillow cases I got with my queen set were only 27 inches long and did not fit my pillows. A queen pillow case should be at least 30 inches long. Like others, I also agree that the sheets are soft and that the elastic strap on the fitted sheet is a great design feature and fits well over my 12 inch mattress. But because the pilling is so bad after only a month of use and because the pillow cases were too small I can not give more than 2 stars, especially at the price being charged. Not recommended.
Great buy!
Jackie . 1 year ago
These sheets are soft, comfortable and cooling!
Terrible sheets
AirMomma . 1 year ago
My purchase and comfort were based on the price and fabric. I bought 2 sets. I've been greatly disappointed with each set. They pill terribly. I attempted to return without receipt and couldn't. Don't waste your $$$$
Soft sheets
Redstars36 . 1 year ago
[This review was collected as part of a promotion.] These sheets were very soft with a little bit of stretch. They came in a light silvery gray color. They had deep enough pockets for our thick queen size mattress. They felt great on your skin when you're sleeping. They are cooling and didn't heat up. No itchy sheets here, and washed really well.

Originally posted on Indo Count Sampling Community Customer
Worst sheets ever
Charmaine . 1 year ago
These sheets are not worth the price. I washed the sheets immediately after purchasing and they started pilling after one wash. They did feel soft out of the package but after the wash they were no good.
Pill and shed
Cat97 . 1 year ago
I needed sheets for a 17" mattress and these were in stock at my store. After the second wash, they started pilling. Then I noticed small pieces of fuzz in my hair and on my black pajamas. The pills are shedding and sticking to everything! What a waste of money.
Average bedding
Ms Aurora . 1 year ago
[This review was collected as part of a promotion.] These sheets are nice but therapedic does not mean therapeutic. After a few washes and uses they are more comfortable. They are better quality than average bedding, however the 500 count is not a huge difference.

Originally posted on Indo Count Sampling Community Customer
So comfortable.
Hopey . 1 year ago
[This review was collected as part of a promotion.] These Therapedic sheets are the most comfortable sheets I have. They are so soft, yet very durable. The queen size fit perfectly. When washed the color didn't fade and the size didn't change. I would definitely recommend this to anyone wanting a quality sheet set.

Originally posted on Indo Count Sampling Community Customer
Quite Surprised
edisonffa . 1 year ago
[This review was collected as part of a promotion.] I was honestly surprised by these sheets. I have seen many sheets in the past that claim to be comfortable, soft, and keep you cool and they fail. These sheets however are a whole different story, they actually do keep you cool while being comfortable and soft. I have used these sheets for a while now and have really come to love them. I will be placing an order for more sets here soon. I recommend for anyone who actually wants sheets that keep you cool, are soft and comfortable to buy these.

Originally posted on Indo Count Sampling Community Customer
Average at best
BB&B Customer . 1 year ago
Thought these would be great sheets… they're average at best. The fitted sheet design is great. Nicely labeled (top and bottom) and the elastic is awesome. What I don't like… the fabric seems to ball up after one nights sleep (little fuzz balls everywhere, like what you would expect from flannel sheets)… I've washed the sheets a few times but it's the same. In all fairness I expected much much more. I personally would not recommend.
Became Pilly just after 2nd wash!
JZerilli . 1 year ago
These sheets had potential. They were very comfortable and fit our extra thick King mattress great…even the elastic on the bottom prevented any of the fitted sheet to slip. After just the 2nd wash, they became pilly and very uncomfortable. Not sure why as we had another white set which seem fine. It's a shame as these were expensive sheets; they would have gotten a higher rating if they just held up! Not sore if manufacturers defect.
Great sheet set
Ivannn . 1 year ago
[This review was collected as part of a promotion.] Therapedic 500 Thread Count Tencel Bedding Sheet Set is nice. Very nice feeling and soft feeling, made with quality materials, easy to keep clean, fits a queen size bed great. I would highly recommend!

Originally posted on Indo Count Sampling Community Customer
Showing 1 - 20 out of 124 reviews