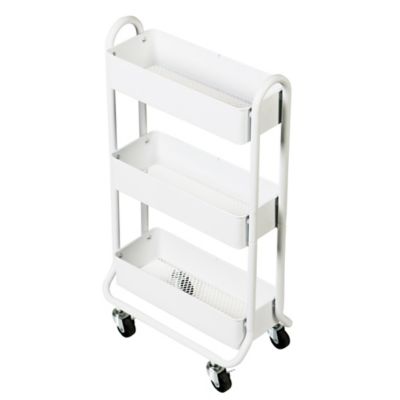 Squared Away™ 3-Tier Narrow Utility Storage Cart in White
$48.75
Get 25% off & earn 10% back in points with Welcome Rewards™+
Enroll Now
Most Helpful Positive Review
Great space saving product!
Lexy
.
1 year ago
Narrow sleek white 3 tier rolling cart. The cart is very portable, slides easily, wheels work well, lightweight -Easy to assemble, ships well-packaged -True to size and description. It fit perfectly in the space we had measured out. -Sturdier than it looks or even seems. We often have several 48oz bottles on the top shelf (up to 6 or 7 on a typical day). Even when the storage cart is pulled out from the nook between the toilet and the tub the frame does not wiggle, bend, or break under the weight of shower supplies. -Nice, deep shelves. However, please bear in mind that it's not extraordinarily tall. This storage cart works better for bathroom products, lower-closet storage, art supplies, laundry supplies, pantry supplies such as spices, oils, or small appliances and utensils, small kitchen products that can be stored closer to the ground. Great purchase. I have no regrets. This seems to be the best option in this price range and with similar size/functionality. Great use for anywhere in the house I put it in my pantry for extra storage. Also very easy to put together I didn't need to use the instructions as it was pretty self explanatory, built it in a matter of 15 minutes by myself with what was included just needed a screwdriver. Also came with extra screws in case one got lost. The color is versatile and looks great in our pantry and or bathroom I am actually thinking of getting another to have around the house to store extra clothes, wipes and diapers for my 6 month old daughter perfect space saver and can go right behind the couch inconspicuously. Could also work great for cleaning supplies, wipes, towels ect. Lightweight enough to move floor to floor without having to struggle without losing its sturdiness. The design is sleek & narrow which is perfect to hide this anyway in the house but large enough to hold whatever essentials we need it to hold for what we use it at the time.
Most Helpful Critical Review
Solid but wider than you think
Sue D
.
1 year ago
We were happy to see the good packaging and easy assembly when this arrived. It is sturdy and rolls really well. But we were surprised that the legs spread out to a base that is a couple inches wider on each side, than the actual shelves. So it won't fit in the floor space where we had planned to use it. We kept it because it seems likely to be useful somewhere, and it's well made. But for now it's just sitting there. We're bothered that the product page and reviews did not call attention to the size issue, but again, the construction seems solid and that's welcome nowadays.
customer reviews
Showing 1 - 20 out of 63 reviews
Super handy and perfect slim size
serenitynow . 2 months ago
Can't say enough about this cart. Needed extra storage between toilet and tub and wanted a tight, sleek fit. it was perfect. Love the matt finish. No rust so far.
It Hold A Lot---and Just What I Needed.
Joanne . 2 months ago
I was looking for a small movable piece to keep beside my dressing mirror to hold all my make-up and brushes. This movable Storage Cart fits the bill. It hold all my hair, make-up and more stuff and I can move it where I want to use it. it was easy to assemble and worth the price. It also is a nice looking piece. I am very happy with it and I recomend it.
Terrific Cart
Suesue . 2 months ago
This cart was exactly what I was expecting. I'm using it in a bathroom to store beauty products that were cluttering up the counter top. It was easy to assemble with the tool provided. I'm considering buying another for a second bathroom.
Very handy
BB&B Customer . 2 months ago
Nice cart.
a happy purchase
one happy shopper . 2 months ago
glad to see that this was a sturdy and very well-made cart. unlike some others i've seen, i was happy that this was made entirely of metal. the assembly was also super easy.
Perfect!
Lynn . 2 months ago
I own a home that's 260+ years old & our bedroom closet is 8 inches wide by 6 feet long with an angled ceiling. The far right of the closet is almost unusable space. You stack everything up & when you pull anything out it tumbles on you. This cart fits beautifully in that space & everything is off the floor .Plus the cart assembled together in minutes. I can't express how happy I am over thing cart & what it's done for me. I can now look into the closet & smile because it's so clean & the cart is just perfect!
Squared Away Narrow Cart Great For 9" Narrow Spots
Dorm Shopper . 2 months ago
Good quality and very similar to the regular Squared Away 3 Tier Rolling Cart but this one is only 8.8" wide on the narrow side. Perfect for combination of makeup, nail stuff, toiletries, body mists or hair product. Good size to squeeze in between desks then store bigger makeup mirror on desk. Could also use for snacks, school supplies, etc. Got on sale at a good price. Looks cute in closet - the narrow cart next to the Reg white cart..
Perfect
Diane . 2 months ago
Very sturdy, rolls easily and holds a great deal more than anticipated.
Great!
Kara . 3 months ago
It is slim, rolls well, perfect for small space
More than I expected
Goleta Girl . 3 months ago
I use a power wheelchair and needed a rolling cart for my bathroom. This one fits the bill perfectly. The narrow profile fits in my bathroom, it rolls easily, and I'm able to have all my little supplies that I need at my fingertips. It's all metal , and assembly was easy. I have some sensory issues with my fingers so my husband started the bolts for me, but I did everything else on my own. I'm trying to think of an excuse to buy another cart!
These Little carts are wonderful!
BB&B Customer . 3 months ago
This thin little cart is perfect for smaller bathroom and utility rooms where space is of a concern. They fit into most tiny spaces. They actually hold more items than you would think too. I have three and love them! Highly recommend!
Small Space Saving
Justus . 3 months ago
I live in a small 500 sq ft bedroom apt with ONE closet, downsizing from a 4 bdrm home. All new to Me figuring out organizing. I guesstimated height and width to fit a space I wanted to use it for and it Just PERFECT! I tried twice to upload a photo, but not enough memory. Happy about the easy assembly and it's sturdiness. I made the Right choice.
Perfect Laundry Cart
Ellora . 4 months ago
So happy with this laundry cart! It is made of sturdy metal that was very easy to assemble. So much nicer than the plastic options I was finding online. The trays are wide enough for large laundry detergent bottles and an iron. Well worth the cost. Perfect storage for the narrow space nest to my stackable washer and dryer.

Very sturdy/good quality
BB&B Customer . 6 months ago
Sturdy, good quality. Easy to assemble. Excellent!
Perfect size with great access.
Diane . 6 months ago
Love this cart. Rolling is great and the three compartments hold everything hubby needs next to his O/S Chair.
pretty good
Cathy . 7 months ago
This product looks nice in general but I do not like the mesh shelves because if there are spills it will not be contained and I am using it in the laundry room. Also I was surprised that they did not cover the edges on each shelf, so the mesh goes right to the sides and is visible and if you were to put any delicate materials on it, or something sharp, it could get damaged or cause damage to the edges by making them lift up. Usually there is a soldered piece covering the edge so that it is not unfinished like this. If that does not bother you, then otherwise it seems like sturdy cart and rolls easily. Unlike some other rolling carts, it has little handles at the top which makes it easier to roll out from my laundry area, rather than just grabbing the sides of the shelves. Like other viewers mentioned, it flares out at the bottom, making it far less narrow overall than you would expect. For that reason, it does not fit between my toilet and shower. It was a little bit of a pain to put it together, especially getting the wheels on using the included flat wrench.
Spaciously Adorable
Dawn . 7 months ago
This worked absolutely perfect in the space I needed it. It has a ton of space for it being slender!
Nice
Tiff . 8 months ago
Very easy to put together. The size is perfect, it's small but holds a lot.
narrow storage cart
a shopper . 9 months ago
the cart is cute. I bought it for one purpose and it didn't work well for that. I saw another use for it in my sewing room and it's going to work perfect for that. Sometimes you just have to adjust and look out side the box
White cart
Linda . 9 months ago
Really like this little cart. It fits nicely in our master bath while it gives us more storage.
Showing 1 - 20 out of 63 reviews