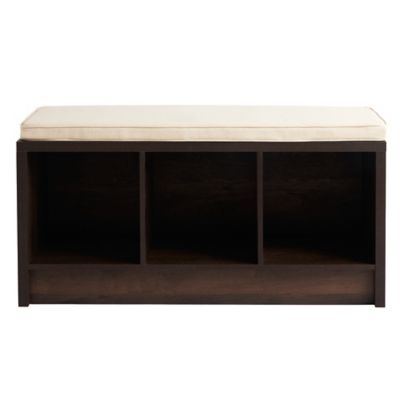 Squared Away™ 3-Cube Storage Bench in Espresso
$112.00
Get 20% off your entire purchase with Welcome Rewards™+
Enroll Now
Most Helpful Positive Review
Bench for Hall Tree
Susan
.
1 year ago
We bought two of these benches to make a hall tree. It began with just an idea but once we put the benches together we were able to map out the rest of how we wanted to make our hall tree. Both benches together were a really good size for us and the cubbies are roomy for us to put our shoes, umbrellas, hats, gloves etc. The benches are wonderful and we love the color. It was a super bonus we had coupons! We are very happy with the benches. Attached is a picture of our hall tree.
Most Helpful Critical Review
Don't bother if you really value the padded seat
Mary
.
1 year ago
I had to take the cover off of the seat to clean it. Washed on delicate and hung dry. When I began putting it back on, the fabric started running like a cheap pair of hose, and the zipper will not work. It comes apart after you have zipped it, and the teeth do not hold. If you don't care about the seat, it is serviceable, but I like to get what I pay for. I am past my window to return, so am stuck with it.
customer reviews
Showing 1 - 20 out of 70 reviews
This is SAUDER
BB&B Customer . 4 weeks ago
IF you can get the bench together, it looks great. It's Sauder, which I stopped buying awhile ago because they always assume a man is going to be assembling this and not a single female. And I do not have manly strength to be pushing pieces of wood together u to where it locks in. I have to find someone else which is a huge hassle when I could have just bought an easier to assemble product. Sauder projects suck, they never have instructional videos, they never think about a female that might be assembling. I'm halfway done but stuck with two ends that won't attach. What am I supposed to do. Been three hours of assembly and this is ridiculous. Save your money.
Nice and attractive organizer for kids
Pooja . 1 month ago
It's good to see when kids organized their things. This storage bench did that😊. Now my kids keeping their study materials in this storage bench. Which makes me very happy. Assembly is also easy if will follow the instructions. First time I assembled alone. Only hammers and screw driver is needed . Quite sturdy bench. Cushion is bonus on the purchase 😊
Wife Took it..
Home Office . 2 months ago
Bought this to use as a small bookcase -hutch for my office - because it matched my floor; wife took it and placed it in the entry way (it's intended use) - was fairly easy to put together and I was able to do it in under an hour (I put things together often but am no way a professional) - looks nice and provides a place to take off shoes and store packages
Disappointing purchase
BB&B Customer . 2 months ago
I have always been very pleased with purchases from Bed Bath & Beyond. However, this bench was of very poor quality. The pre-drilled holes didn't align in one area. The particle board section split when the screws were screwed in to the bottom. Overall, very poor quality. We ended up putting the whole thing in the garbage. Will not purchase from this maker again. We purchased the bench in black.
Furious
BB&B Customer . 3 months ago
This is a beautiful piece but boy did I get what I paid for it!! Every screw thing snapped!!! Would like a full refund!
Sturdy Bench
Coledow . 3 months ago
Assembly instructions better than most. Solid bench. Cushion surprisingly comfortable to sit for a spell.
Nice & Firm
Kathy . 3 months ago
It's easy to assemble and looks beautiful. The shipping was also very fast. Great purchase!
3 Cube Storage Bench in Espresson
Mini . 4 months ago
The product arrived intact and looked exactly as described. My son put it together for me easily. I use it in my Kindergarten classroom. It is sturdy and has good storage for me to put a bin under each cubed area. The children love to sit on it . The cushion came with a velcro attachment so that the cushion does not slide around on the bench. It has been a good purchase.
Great price
BB&B Customer . 4 months ago
Good product, very sturdy if glued during assembly.
Terrible
Ken . 4 months ago
Terrible. First, we didnt know it needs to be assembled. The instructions are confusing, there is nothing that says what you need before hand, and holes didnt line up with the pegs. We ultimately had to return it.
Great storage bench
BB&B Customer . 4 months ago
Loved all the features easy to assemble
Obsessed
BB&B Customer . 4 months ago
I love this bench. Easy to put together. solid wood and so nice. Not cheap at all. I love love love it ! Just what I needed for my dogs toys and for my dog to use to see out the window haha

Great!
BB&B Customer . 4 months ago
This bench was very easy to put together. Seems very study. The cushion is a little hard so be prepared for that. Overall great price for what you get.
so obsessed!!!!
theresa . 5 months ago
I haven't gotten little boxes for the bottom yet. But my niece and my best friend put it together and it is so sturdy. Great quality and not cheap at all!!!!! It's perfect. I needed something to put the dog toys in LOL that looked good. I can't believe how cheap this was for the price. Matches all my furniture and I'm absolutely obsessed with it. I'm sorry that the bed bath and beyond in my area is going out of business it breaks my heart because I love this place !
Perfect for front entrance
Julia . 5 months ago
I assembled the entire thing as one person with basic tools. Looks great and love the storage. The cushion on top is thin and firm but that's not a problem for how often we use it.
3-Cube Bench
Angelia . 5 months ago
The 3-Cube bench is very nice!! I use it in my classroom library area, and it works great. Very satisfied!!
Squared Away!!!!!
SD Squared Away . 5 months ago
I love this storage bench. It fits perfectly as a window seat between my bookcases. All of my storage baskets fit neatly. I'm able to de-clutter and have an attractive office space.
Nice Bench for the Price!
DianeBBBCustomer . 6 months ago
This bench looks exactly like the photo. Prepare to unwrap a lot of packing and parts. The easiest way to put this bench together and not get overwhelmed is to first read through the instructions . Then make sure that you have all of the hardware and bench pieces and that they are marked. I separated the hardware and counted them out. Then I put the bench pieces in alphabetical order. Make sure that you put the bench together on a soft surface so you don't scratch the bench or your flooring. Look at the photos carefully so that your pieces are put together correctly. You will need a screwdriver and a hammer. The allen wrench is included. Do not tighten the hardware all the way in case until you are sure that it's put together properly. The cushion is not the most comfortable (it's a bit hard), but if you're using the bench in a hallway, it will work. Take your time putting it together. From the time I got the box open (utility knife will be handy), to counting the bench parts, hardware, reading the instructions and actually putting it together (by myself), it took about 90 minutes. I really think that it's a good buy for the product you get.
Great bench with cubbies
Mary . 6 months ago
I love this bench. Well made sturdy. I use it in my closet to sit on, my shoes are stored in the cubbies beneath. I order the espresso, love the color.
Great deal for the price.
Hippygeekgirl1 . 6 months ago
I read reviews to see what others hate about a product, so I know if it is a deal breaker for me. That said, here are the negatives: this is not a great bench for short people or children. I'm 5'0" and my daughter is 5"3. Our feet don't even come close to the ground even when perched on the edge of the seat. Also, it was a little hard to put together. I recommend having 2 people. Otherwise, it is a great bench. It is very solid, pretty heavy, and the cushion is nice. The material is rugged enough that I think it'll survive having shoes kicked into the cubby holes! The holes hold one large pair of shoes or at least 2 small pairs, but you could easily jam 4-5 pairs in there on top of each other. The thing has a good build design with accurately drilled holes for the screws. Bonus: somebody with a sense of humor wrote the instructions. Lol.
Showing 1 - 20 out of 70 reviews