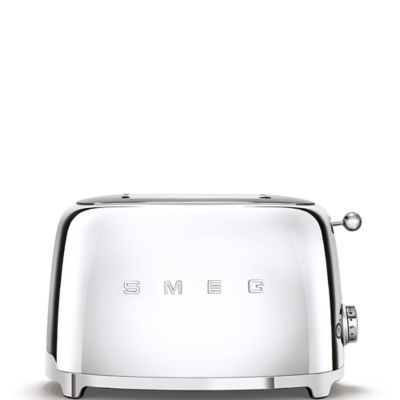 SMEG 50s Retro Style 2-Slice Toaster in Stainless Steel
customer reviews
Showing 1 - 6 out of 6 reviews
Awful Product
Wes . 11 months ago
We bought this toaster and after 14 months it stopped cooking on one side. It's a known issue. SMEG won't do anything and is very strict about their 1 year warranty. You can't get any replacement parts. For the price of this toaster to not work so soon and be garbage is ridiculous. Would never buy again.
Pleased
Karen . 11 months ago
Looks exactly like advertised, beautiful. Toast very evenly. Love it!
A three dressed up as a nine
Mike . 1 year ago
I wanted to love this toaster, but couldn't. I was initially impressed when I pulled the toaster out of the box. It looks great and the controls seemed nice. However, it's toasting abilities are on par with the least expensive toasters -- not what I expect from a toaster that costs 10x those! The toasting was very uneven. Look at the attached photo and you'll see why. The elements themselves are quite uneven. However, the worst is when toasting a single slice. Like many toasters, the heat from the empty side comes right through to the other side, so you end up with one side of the toast much darker than the other. Again, I expected more from a toaster in this price range. Lastly, the toaster's popping mechanism is overzealous, sometimes ejecting the bread right out of the toaster. I returned the toaster. I need more than sizzle with little substance,

Cheap Toaster
BB&B Customer . 2 years ago
For what you pay for the look doesn't measure up the quality. Short circuited and middle panel stopped working after 8 months. Save your money
I love my Smeg
cindy . 3 years ago
Besides looking amazing on my counter it also does a great job of toasting. No complaints.
Gift wrap!
Henry . 3 years ago
We ordered a product and purchased the gift wrap to be included in the shipping of this product. We did not receive our gift wrap in the original order. Now I'm on the phone trying to resolve this issue and the wait times are in excess of 1 hour!
Showing 1 - 6 out of 6 reviews