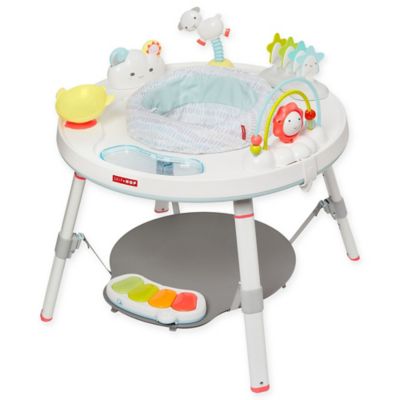 SKIP*HOP® Silver Lining Cloud Activity Center and Exerciser
Most Helpful Positive Review
Great table - helps w/independent play
Carolina
.
2 years ago
Great product. My son is 5 months old and the hanging gray plate is helping him with his balance. He's able to sit and entertain himself with the different toy options. I definitely see him still being interested in this in a few months when he's able to stand on his own.
Most Helpful Critical Review
disgusting if anything spills
carol
.
2 years ago
So I loved this up until my kids used it as a table. My daughter had spilled chocolate milk and I cleaned it and everything then a few weeks later we had bugs and flies in the table. It was absolutely disgusting. We had to throw everything out because it was so gross. Definitely not good as a table everything would get stuck under the cover that it's disgusting. The tray is also super hard to clean out if little food gets stuck in it when the baby is there.
customer reviews
Showing 1 - 20 out of 253 reviews
Great interactive play item/Peek a Boo
Angie . 3 weeks ago
This Gigi lived playing games with her 5 month old granddaughter, including Peek a Boo featured in the pic. I love that she's 2 yours old now and using the table conversion to color and okay other games!


Originally posted on bedbathbeyond.com
love it!!!
Shelly . 2 months ago
My 6 month old daughter loves this!!! She can easily move around the table to different toys. She will sit in this for an hour with out fussing it's help build her muscles for standing and sitting up I would highly recommend this product to anyone!
Love overall except…..
Oregon mama . 2 months ago
I love this product I've used it with two out of my three kids and I highly recommend it except I don't know where the table top attachment went to my activity center. It disappeared during a move and I am really frustrated that you guys won't just sell me with table top replacement piece.
Originally posted on skiphop.com
Christine . 2 months ago
Worth it…granddaughter plays in it and loves it. 5 months old
Keeps her busy.
Nanski . 3 months ago
Grand daughter loves it. But broke one part. Wound like to get a different part to replace it

Originally posted on skiphop.com
Antonia . 3 months ago
My Great Grandaughter is enjoying this item very much.It allows her to sit up with support and to be able to reach safely for the attached toys that add to her learning expierence.
Amazing product!
Jenn Jordan . 3 months ago
My daughter started to stand around 4 months old so we bought this and she absolutely loves i! Keeps her so entertained. Everything is sturdy and well made! Would 100% recommend this over any other brand
Easy!
Jenn91 . 4 months ago
I just got this for my 4 month old. He has not even used it yet but I came here to comment on how easy it was to put together! The fact that I only needed a screw driver to put the batteries in and no other tools was amazing! The toys on the tray (I have the woodsy one not this one) are SO cute. I can't wait for my son to try it out!
Originally posted on skiphop.com
The best
Aaliyah . 5 months ago
this has been the best purchase we've made lol. he loves it, lifting himself more, and it so entertained without being overestimated like other activity centers!
love it!!!
Nancy . 5 months ago
Love this product! Amazing! Good quality and it provides me an opportunity to put baby there while working and feel safe about it!! Baby loves it too!
Thumbs up! Would recommend!
JGar . 5 months ago
This has proven to be a great tool in moments where I need a bit of extra support and my 6mo loves it. Baby uses it in short spurts of about 10-15 minutes here and there in spaces where I can't place her on the ground. It also gives my arms a bit of a break in order to complete other small chores. Turns out my toddler loves it too. She has a great time playing alongside my baby and likes to show her how to use each component. It's also a nice design. Clean, simple, and easy on the eyes . I do think it's somewhat overpriced for what it is but you can snag a coupon and it makes it easier to digest. All in all, I am glad we went for it.
Good purchase
Bur123 . 5 months ago
I bought this for my twins and loved that it was a toy that could grow with them. They loved playing in it and we use it in the second stage. Two of the biggest flaws is that you can't take the seat cover off to wash it and you can't remove the plastic cover to get under the crack to clean it. Three stars are just because of those two things if it wasn't for that I would give a 5.
Originally posted on skiphop.com
my babies favorite!
Isabel . 5 months ago
We got this for my daughter when she was 5 months old because she loved to stand all the time, so we got this for her to play in and also teach her how to balance while standing. She LOVES this activity gym she loves to play on it and has the biggest smile on her face 10/10 recommend!!!
Great quality
Marmz14 . 6 months ago
[This review was collected as part of a promotion.] I bought it about a month ago and i don't regret it. My baby really enjoys being there.

Originally posted on carters.com
Looks fun!
grammie of six . 6 months ago
[This review was collected as part of a promotion.] I bought this for my grandson. He is a little to short for it right now, but I am sure he will love it, he is very active.

Originally posted on carters.com
Baby loves it!
Julie . 8 months ago
Our baby loves it. The only thing is that she was a little short for it despite being age appropriate and the bottom floor only adjusts for growing not for babies on the shorter side. There is space to add other suction toys too which we have done. It keeps her entertained for awhile on her own.
Get it!!
Xndy . 8 months ago
If your wondering if you should get it the answer is yes! It's a life saver I put mine in the kitchen and whenever I'm busy there my baby is entertained.
Baby loves it!
BB&B Customer . 8 months ago
My baby is 5 1/2 months old and he loves this activity center. It was easy to assemble and light enough to easily move around the house. Great purchase and would definitely buy again.

Originally posted on bedbathbeyond.com
Cute
BB&B Customer . 8 months ago
Looks like a great product - I'm sure baby will have lots of playing hours learning and exploring. Only thing is, when it was delivered the box was crushed since they don't put it in an outer protective box. So, I had to go to the store and replace it anyway, which I was trying to avoid.
Not a jumper but kept my babies engaged
twinmomma . 8 months ago
At first I was disappointed that this was not a jumper, but both my babies loved to stomp their feet to activate the music, they focus on all the gadgets which has been huge for their development, they love to swivel to move on to next toy or to see what mamma is doing behind them, and it has been great for strengthening their legs. They now just stand straight up with confidence and they haven't even started crawling yet. I also love that it's not overwhelming for them with too many mechanical gadgets and noises so they can really focus on one thing at a time.
Showing 1 - 20 out of 253 reviews