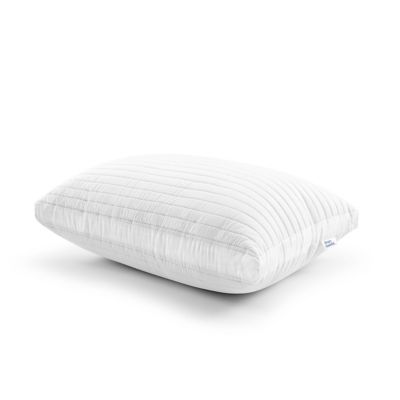 Simply Essential™ Quilted Microfiber X-Large Bed Pillow
$20.00
Get 20% off your entire purchase with Welcome Rewards™+
Enroll Now
Most Helpful Positive Review
Soft and cool!
Maggie
.
6 months ago
My husband absolutely loved this pillow, his only complaint is that he wishes it was a little thicker. This coming from a man who prefers a more firm pillow, but to have no other complaints is a win in my book. It is very soft and cozy from the time he has let me use it. It also helps him not sweat as much and keeps him comfortable through the night.
Most Helpful Critical Review
Good pillow
Kris
.
6 months ago
Sturdy yet comfortable pillow. Good support when side sleeping but not too firm. Quilted pattern adds extra comfort. Seemed to stay cool even on very hot nights. Also a great size, a little larger than other standard pillows, but not as big as a king.
customer reviews
Showing 1 - 20 out of 24 reviews
Decent pillow for side sleepers
Jackie . 7 months ago
First of all, I generally have a hard time finding pillows that work for me since I sleep on my side, but this pillow works really well. It has enough firmness for me to feel support, but not too firm where it is uncomfortable. It's nice and soft so it feels fluffy. It also is a good size. I put it in a king size duvet pillowcase and it fits nicely in there. The only downside is that I run warm and this pillow warms up and holds heat too much for me.

Firm but soft
iasia . 7 months ago
This pillow is so affordable for the quality that it offers. I spend a lot of time buying the generic pillows from target but this one is much more worth it than the others. it is so soft but firm enough to offer support.
Lightweight but with support
Sierraa . 7 months ago
Great pillow. I have been looking for a pillow that has good support but wasn't a heavy foam. This is light weight like a feather pillow like, but offers a good amount of support with it. Doesn't feel like a heavy block!
Best pillow
Stephanie G . 7 months ago
So I am very picky when it comes to my pillows. I don't like too soft or too hard or bulky. I'm a side/stomach sleeper so I try to make sure it's not too fluffy so i can still breathe. Well this pillow is literally my new favorite. It looks fluffy coming out of the box but it so comfortable and I will be ordering more!

Showing 1 - 20 out of 24 reviews