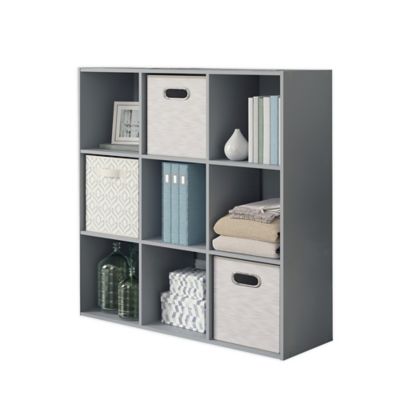 Simply Essential™ 9-Cube Organizer in Grey
Most Helpful Positive Review
Very good!…. however
BB&B Customer
.
2 years ago
The cubbies are great and love the color only thing I have a problem with is the fact they sent only a T shaped backing to cover the cubbies.so only 5 cunittt
Most Helpful Critical Review
Do NOT purchase
BBB Customer
.
2 years ago
I got this as a gift for my college apartment. The dowel holes are too small and as I was putting the screws in the shelf just collapsed.
customer reviews
Showing 1 - 20 out of 86 reviews
I don't know what people are complaining about
Woof . 1 month ago
Excellent piece. Love, love, love. Gives loads of extra storage for our small apartment and looks good, too!!
Does the work
Harleen . 1 month ago
I don't know why some people have mentioned it's not sturdy. If setup properly, its quite good and value for money as I got it for a very good price
not the best quality but good price!
Victoria . 2 months ago
Particle board splits apart easily if you do not line up perfectly...and it was not all that easy to assemble. But once it was put together it does look nice and serves the purpose
Looks nice but quality is everything
SamSa . 2 months ago
I should have heeded the reviews that said this unit is not sturdy, unfortunately, I thought I'd get lucky and didn't. It felt so flimsy when it was together I immediately took it apart and put it back in the box. I will be returning asap.
Excellent for Closets
Di Bauden . 3 months ago
I needed extra shelving for my closet and this fit perfectly! Now I have more organization for my clothing and I couldn't be happier. It was easy to assemble as well. Perfection!
poor quality
Esther . 3 months ago
This was a nightmare! I bought this for my kids room to store their toys. The pieces began to break as I was putting it together. I went back to the store to get replacements but the wood began to splinter. as I was nailing in the back! a nice piece but very poorly made.
Wobbly
BB&B Customer . 4 months ago
Not a god quality piece of furniture, to say the least. Unfortunately the material that connected the squares together broke. The little wooden pieces broke. The boards got screwed together instead... but the finished product was super wobbly. And yes, it does have a little bit of a funny smell to it too. The backing is paper. And came with tiny screws to attach to the back of each square. Someone put in plywood behind the finished product instead, to keep it from potentially collapsing. Unfortunate but such is quality these days.
Shelves
Bobbi . 5 months ago
Easy assembly and great for my miscellaneous items that had no permanent home before.
Super cute
BB&B Customer . 5 months ago
I'm currently 7 months pregnant and bought this to store clothes/toys in for the baby and it works great for that. It was extremely easy to put together, took about 15-20 minutes. It's very sturdy and it looks adorable in our room with the baby's things in it. Would absolutely recommend!!
Looks nice
Taneshia . 5 months ago
I need something to store things on/in, it looks nice but mine come scratched up. I didn't feel like returning because it was almost put together by the time I noticed it. I hope it stays together because of the wood pieces were to short to fit in both holes, so I won't be putting to much on/in it. I just hope the one for my living room is better than this one.
Great addition to the classroom!
Kristin . 5 months ago
What a nice addition to the classroom! Perfect for the library books!
Excellent!!!
Bed Bath and Beyond Customer . 5 months ago
Good, easy to access storage, bought another!!!
Overall good shelf!
dendogmom . 6 months ago
This is actually a good shelf and was easy to put together however I will say they need to stop putting that sticker on the inside wall! I bought the 9 cube and 3 cube and I cannot get them off! Absolutely ridiculous! Otherwise great organizer!

Lisa . 6 months ago
Good quality / use for the price. Not especially pretty but does the job well.
Love the cube - But has an evil, evil sticker
Shea . 8 months ago
Overall, I really enjoy this cube system. I bought two. They went together very quickly. I put it together myself while someone else read the directions to me. It would've been manageable solely by myself. (50 year old woman.) Tacking the back squares on is time consuming, but easy. What ruined these units for me was the large sticker on each piece, approximately 4"x6" each. One sticker was on the inside of one of the cubes and the other was on the outside bottom of the unit. I could barely get the corner off of each sticker. In no way will this peel off easily. This will be a bear and a mess to remove. Honestly, I would've bought them from a different company if I would have known this in advance. Be forewarned!

Very heavy!
Dawn . 9 months ago
I bought this for my craft room to store all my yarn but I'm in the process of moving so haven't opened the boxes yet. They are really heavy so seem like good quality.
Mixed Review
Pat . 10 months ago
When finallly assembled, the organizer looks nice and it sturdy enough. I owuld have given it 5 stars if it was not for the following: The assembly of these shelves was a little deceiving. The picture on the box and the directions for assembly contradict one another. Go by the assembly booklet and don't let the picture confuse you. The backing for the shelves come in the form of cardboard squares. While there are 9 cubes it comes with only 5 pieces of backing. They are sized such that you cannot put any two of them next to one another, either. All that being said, you can purchase 4 storage cubes put them in the slots that don't have any backing. Why not just include one or two pieces that cover the entire back?
Cube organizer
BB&B Customer . 10 months ago
It works great for organizing.
Great deal for the money
Quick . 10 months ago
I received my organizers and they work great for my son's room. They were easy to assemble and the baskets are a wonderful addition.
Cheapest organizer…
ABerrios . 10 months ago
My goodness! We bought this on November 2021, and we just assembled it a month ago. All the pieces got broken with the little nails that this cube organizer included in the box! I wished we have had the original receipt to return it (don't know til when we could return it, but now box is trashed of course) Super disappointed with this… Don't waist money on it! Sorry Bed bath and beyond…
Showing 1 - 20 out of 86 reviews