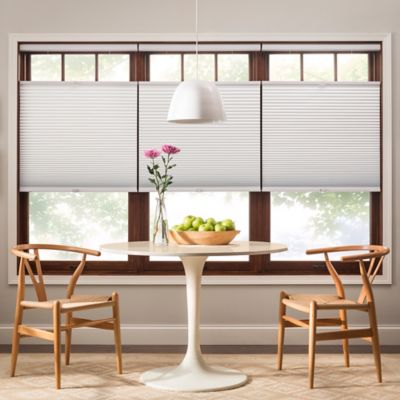 Real Simple® Top-Down Bottom-Up Cordless Cellular 27-Inch x 72-Inch Shade in White
$122.49
Get 30% off & earn 10% back in points with Welcome Rewards™+
Enroll Now
Most Helpful Positive Review
Great for the baby and master bedrooms
NikkiR
.
8 years ago
We needed blackout shades for our babies room and I didn't want to use curtains. We found these and ordered them in white. They work wonderfully! The sun does not come through, which I was a little concerned about when using white. The option of opening from the top or the bottom has been my new favorite feature. We prefer our privacy, especially with our child and we like to have natural light, even on cloudy days. This allows us to have the windows open, but not have our neighbors see in.
Most Helpful Critical Review
Need clearer mounting instructions
bostongal
.
8 years ago
The quality of this product is great for the price. However, these are going back because they cannot be mounted to the top of the window frame and we do not have enough frame around our windows to mount the blinds to the back, as the instructions require. I wish there would have been more information available about the mounting requirements before I purchased. Just wasted a bunch of time and got my hopes up!
customer reviews
Showing 1 - 20 out of 143 reviews
These don't last
Patti . 5 months ago
These are beautiful blinds but they don't even last two years. They break just hanging on the window with hardly any use. Very disappointed.

Originally posted on bedbathbeyond.com
Doesn't last
Bruce . 6 months ago
They worked well at first. Then after about 18 months, one by one, they started falling from the window. The internal plastic parts don't last, and these were on windows that saw little use.

Originally posted on bedbathbeyond.com
love them!
sassy . 9 months ago
These are exactly what we have been looking for in the past year! Quality is great compared to price! They are not see through so they protect our privacy very well!

Originally posted on bedbathbeyond.com
EFFICIENT & EASY
Ernie . 10 months ago
These were some of the simplest to install AND operate of all of the window treatments I have used. They were SO easy to put up. You can adjust them from the bottom-up, like always, but ALSO from the top-down, OR BOTH, so you can easily control light and privacy. When closed, the blackout quality is better than I expected, which has made our sleep much more comfortable, and they also do an impressive job of muffling and diminishing outside sound. I would recommend these!

Originally posted on bedbathbeyond.com
cheap plastic breaks and now they're landfill
Charles . 10 months ago
The springs inside the blinds are attached to plastic that broke after about 6 months in both the products I ordered. Defective design, and more than 90 days is too long to get any help from BBB -- and good luck contacting Real Simple/ the manufacturer. Waste of money, time.

Originally posted on bedbathbeyond.com
same bad experience as others
carolyn . 1 year ago
i had these for maybe a year and a half and one day a plastic part inside snapped and now the blinds are useless. The window that these particular blinds were on I rarely used, so the plastic piece just sort of gave out on its own. If I used the blinds more often it probably would have broken sooner. Not sure if theres anything I can do other than purchase another set since theyre out of warranty and I saw another person was having issues anyways getting any sort of resolution. However, this particular color / type doesnt come in the window size anymore so whatever I get wont match my other window.

Originally posted on bedbathbeyond.com
Defective and DANGEROUS
Claire . 1 year ago
I'm on my second set of these shades. I installed them in the window to the side of my bed. The first set of shades exploded in the middle of the night, falling on me as I slept and scattering plastic pieces and metal all over my bed. Bed Bath kindly let me return them, and assuming it was a fluke, I purchased another and installed it. 1.5 years later they exploded yet again while I was in the room. A two foot long metal spring shot out and hit me, again along with tons of plastic shrapnel. I have been going back and forth with support for a refund but they are refusing. They are offering a $20 credit for $150 shades. They have stated because the shades are "like two years old" that I should accept that they are essentially disposable. I expected them to last more than two years I guess? Seeing the reviews on this page, it's clear that Bed Bath is KNOWINGLY selling defective, dangerous products and then using the return window as an excuse to steal your money. DO NOT BUY. Also, maybe don't ever shop at Bed Bath again given their incredibly shady business practices. It truly looks like they have no issue defrauding their customers.

Originally posted on bedbathbeyond.com
Great until they aren't
Nina . 1 year ago
I love being able to have full light and privacy at the same time! Unfortunately of the 11 shades we purchased 6 have broken and some in a very "eventful" way. I would be careful about using these above beds or close to seating as our blinds randomly came crashing down and with pieces of plastic flying everywhere. We were able to learn that once the strings start get some slack in them then they're on their way out. How much you use them does not seem to matter either as both heavily used and not used have broken on us.

Originally posted on bedbathbeyond.com
All six blackout shades are broken after one year
VLM in St Louis . 1 year ago
I own an apartment in my hometown but live elsewhere, so I visit this place 1-2 months of the year. Bought Real Simple honeycomb cordless shades for 13 windows; six blackout, seven light filtering. One year on, the light filtering are wonderful, working well from top down to bottom up. Came back after an absence of five months to discover that all SIX of the blackout shades have fallen halfway down, and will neither go back up, nor can they be raised from the bottom. Plastic pieces that hold the springs in place have broken. The blackout shades seem to have fallen apart under their own weight. Called a repair shop in town -- they don't repair Real Simple shades. These shades have been lifted and/or lowered probably for a total of two months. Will not buy again.

Originally posted on bedbathbeyond.com
Broken on Arrival
Tham . 2 years ago
I had previously purchased three of these blinds in-store and they work fantastically. I needed three more in different sizes, so I ordered them online. To my dismay, the blinds arrived broken on both ends (which holds the actual blinds in so they don't slide out). I had to tape the ends to keep the blinds from falling out. The brand of blinds work great! But beware if you order online you will probably receive broken blinds.


Originally posted on bedbathbeyond.com
Fantastic
Brendan . 2 years ago
These are a wonderful finish, after painting. Simple install & highly functional. Would recommend

Originally posted on bedbathbeyond.com
Love Them
Bonnie . 2 years ago
This is the third house we have put them in. Easy to install. Look great. We especially like the top down. You can have privacy while having a view out the top. The block outs are great for bed rooms.

Originally posted on bedbathbeyond.com
poorly made product
MadMama . 2 years ago
After one to four years of gentle use, they broke for no reason one by one. Not worth the time and energy to install or the money to buy and because it is a few years later, not returnable either. Buyer beware-DO NOT BUY!!

Originally posted on bedbathbeyond.com
Great until it broke.
Duy . 2 years ago
Shade was great at blocking out light for about 2 years. One day, there was a small explosion as the springs and components inside the plastic frames gave way. We had parts strewn all over the living room. Shade was not exactly cheap so I am disappointed that it didn't last longer.

Originally posted on bedbathbeyond.com
Not built to last
Cat . 2 years ago
After less than 3 years of gentle use, the lift system gave out and it is unusable. All plastic parts holding the weight of the shade in the suspension system. Just broke and fell. It's too bad it was nice looking and blocked the light well.

Originally posted on bedbathbeyond.com
Favorite blinds
Monica . 2 years ago
These blinds are the best blinds! Easy to install, block the light really well, move up and down smoothly and look great.

Originally posted on bedbathbeyond.com
Broken endcaps
KatherinemalyBBB Customer . 2 years ago
Our shades arrived with several broken (cracked up) endcaps. I called right away. They never sent replacement caps out. The shades are up and fine. We have 4 windows with these shades.

Originally posted on bedbathbeyond.com
Cheaply made, broken pieces
BB&B Customer . 2 years ago
I think this falls under, you get what you pay for... Great price, but the blinds look and feel cheap. We also worked with customer service to order replacement parts and still have not received the parts. On a positive note, they do block all light. If we don't receive parts soon, will need to return, and that is a real hassle.

Originally posted on bedbathbeyond.com
nice blinds
Melissa . 2 years ago
These blinds are really nice. They open from the top and the bottom. They are definitely room darkening. I love them. Highly recommend them.

Originally posted on bedbathbeyond.com
Love these! Just bought more for bedrooms.
Julie . 2 years ago
We bought these same shades a couple of years ago and loved them. Easy to install, when fully covering the windows, it keeps the light out. I love that you can open them from the top, giving you privacy but letting in the light. Put these in the downstairs bedrooms and they look great.

Originally posted on bedbathbeyond.com
Showing 1 - 20 out of 143 reviews