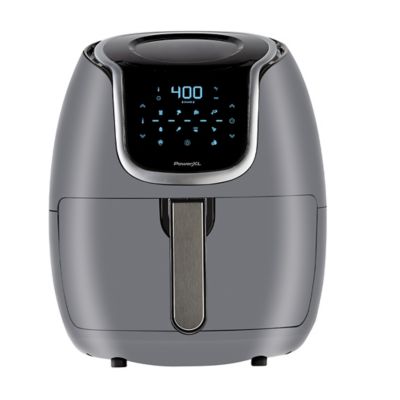 Power XL 5 qt. Vortex Best Air Fryer
$115.99 - $135.99
Get 20% off your entire purchase with Welcome Rewards™+
Enroll Now
Most Helpful Positive Review
Meals made easy!
BB&B Customer
.
1 year ago
Our first air fryer and we love it! Cooks the best steak with just the right seasoning YOU like. I did buy another cook book separate from the one it came with and have branched out trying new receipts. It is an easy cleanup which makes you want to use it more often. We have the 5-7 quart which is good for 2 - 4 people. It is smaller than the larger ones and sits well on my limited counter space. It is a joy to cook in! Love this brand also. If you want amazing food try it you might love it!!
Most Helpful Critical Review
Stops working
BB&B Customer
.
1 year ago
I have had this item a little over a year and have used it about once every 1-2 months. It just stopped working without warning and I contacted the manufacturer. Since my purchase was just over a year ago they will not replace it or offer anything. So buyer beware. Item can last for 1yr until warranty runs out then stop working.
customer reviews
Showing 1 - 20 out of 323 reviews
Power XL 5qt Vortex
Suzanne . 2 weeks ago
Great product and works famously!
BB&B Customer . 1 month ago
All around great product!
Wow
BB&B Customer . 1 month ago
Awesome, easy to use and tastes good
Air Fryer
April . 1 month ago
I got this for my parents for Christmas my father wanted one badly , and he was very very excited to start using it. I showed him it could do a whole chicken and he was extra excited for that too. This will be so wonderful for the two of them.
Gift
Kathleen . 1 month ago
A gift to my son. No complaints received.
Defective product
BB&B Customer . 1 month ago
I bought this as a Christmas gift for a family member. We opened the box and tried to use it…made a weird noise and died. Had to return it and it was out of stock, so I couldn't replace it. Too bad, because I have one and it's fantastic!
Christmas gift!
BB&B Customer . 1 month ago
This product was a gift, they requested it, I believe they are happy with it. I haven't had any complaints from them about it.
Be aware
BB&B Customer . 1 month ago
Ordered this for a Christmas gift on line from BB&B when she tried it it did not work now has to take it to a store to hopefully get it replaced.
Awesomeness!
Kimberly . 2 months ago
It's nice looking, with so many features! love how it tells us it needs to be shaken. There isn't anything negative I can say about it!
Late to the Airfryer party
BB&B Customer . 2 months ago
I can't believe I've wanted all this time to get an airfryer... this one is great and got it for a great price too...
Didn't know what we were missing!
Gena . 2 months ago
What a time saver! Perfect bacon, perfect easy to peel eggs, crispy most chicken and tasty fries. I didn't plan to keep on my kitchen counter but haven't put it up because we use it everyday!
Seeing is Believing
BB&B Customer . 2 months ago
This is an awesome air fryer. I absolutely love the see through window helps avoid overcooking food. Cleanup is very easy! Highly recommended.
Mary Anne . 2 months ago
Returned received one as a gift and it's great
Love it!
Tracy . 2 months ago
This is by far the best airfryer I've had. It's large size, easier to use, and all around perfect. I bought two... one for home and one for our camper. It's perfect and I highly recommend
Nice
Shorty . 2 months ago
Works well for most recipes I've tried.
Love it
BB&B Customer . 2 months ago
I have never used an air fryer before, but I'm in love with this product. I highly recommend this air fryer.
Air Fryer
BB&B Customer . 2 months ago
I bought myself a Christmas gift, this Air Fryer. I haven't used yet but have been told I will love it!
stop Zip payments
Dawn . 2 months ago
this item was canceled by bed bath and beyond because you did not have item. did you contact zip to stop payment?
Air fryer
Sheryl . 2 months ago
This is a Christmas gift
BB&B Customer . 2 months ago
Best investment ever. This is the 5 one I've purchased. 2 for me and other's Christmas gifts
Showing 1 - 20 out of 323 reviews