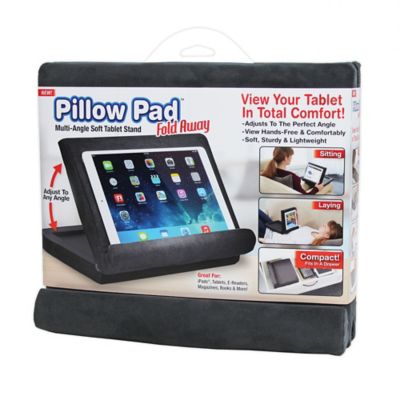 Pillow Pad Foldaway in Grey
$29.99
Get 25% off & earn 10% back in points with Welcome Rewards™+
Enroll Now
Most Helpful Positive Review
A Must-Have
Granny Nanno
.
1 year ago
This new edition of the Pillow Pad is a vast improvement over the old large and bulky one. This one even has a storage tray in which to keep your charger or any small items. I am a senior with arthritis in my hands and being able to read without holding my device is great. I can comfortably read in bed or place it on the nightstand. I can adjust the Pillow Pad to any angle I choose…not so with the older models. My #1 choice for comfortable reading.
Most Helpful Critical Review
Disappointed
Sad Buyer
.
1 year ago
I bought two of these. One of them works perfectly. However, the other one the hinge us tight. It is hard to open and will not close all the way. I tried to exchange, but the store did not have anymore. And a replacement could not be ordered from the website. Decided to keep it with it stuck on the open position. It is actually the perfect lap size without being clunky.
customer reviews
Showing 1 - 20 out of 56 reviews
I use this every day!
BB&B Customer . 4 weeks ago
This pad is fantastic! It holds hardcover and paperback books and cell phone perfectly and at different angles as needed so my hands are relieved of this tiring task, its holding strength is maintaining itself, easily brushes off. I love this pad! Thank you Pillow Pad and BB&B for a quality product at a reasonable price.
It's portable & easy to adjust/angle for tablet
Dyan . 1 month ago
This foldaway pillow pad is lightweight, portable & easy to open & close. It's easy to adjust & angle, for comfortable viewing of a movie on a tablet. I'm happy with my purchase.
IPad Holder
Amma . 1 month ago
We love these! We use them every day and love the compact structure. We have purchased several and have given them as gifts.
Pillow Pad 👌
Paul . 1 month ago
My wife bought two of these Pillow Pad Foldaways several months ago, one for her and one for me. Great product! We both use them every day. I use mine for holding books and my Apple MacBook Pro. Highly recommend. It is holding up great.
Not as expected
Manhattan Mama . 2 months ago
Compact unit but gray material is not tight around frame, so it buckles. The "storage compartment" is the height of a pen and does not completely close or lock, so it cannot be used.
Love it
Cookie . 2 months ago
Vey nice I pad pillow and extra storage it's very nice and your I pad stays in one place easy to carry around just love it
Comfortable for tablet use
ShowMe Shopper . 2 months ago
This is a bit fatter than I realized, and works better for portrait mode than landscape, but overall it makes using my tablet more comfortable.
Doesn't close
Brian . 3 months ago
Just arrived today. Overall, it seems like it will do what I need it to, but I was looking forward to being able to transport earbuds, etc. inside. IT WON'T CLOSE, so there is no way that is going to happen. Not only will it not latch (the tab is not even lined up with the hole) but in its most closed position, it it 1-1.5 inches open!

It doesn't clise
Michele . 6 months ago
So far it works good but it doesn't close.
This one's a hit!
Nola . 8 months ago
I bought this for my 93-year-old mother-in-law who spends most of her time in bed. I had bought her an iPad with a "standing case" but that didn't work too well in bed for her. This tablet pillow pad was the perfect solution - she loves it!
Cheaply made.
Shirley . 8 months ago
This product is functional but constructed poorly.
Definitely Worthwhile!
BB&B Customer . 9 months ago
This is our second Pillow Pad purchase after purchasing and loving the first one. It is well priced and even better using the coupon option. The adjustable angle and relatively compact size make it easy to use and transport. Perfect to hold iPad, books, phone and even crossword puzzles propped with a light backing such as cardboard to enable writing. Definitely takes the stress off of the neck since it is now possible to look straight forward instead of down.
Doesn't Stay Closed
SeafoamJade . 9 months ago
The storage compartment is small enough to begin with but, even worse, it won't stay shut. Still, I like it and won't be returning it. It's adjustable and convenient and does what I need it to do.
Best thing ever!
Joan . 9 months ago
Don't know how I did without this for so long. It is so lightweight you don't even know it's there. It's easy to carry from room to room but I may buy a second and leave one in the bedroom and the other in the family room. It's great to free up both hands and definitely keeps your iPad in place. My
Great for comfort of using devices
BB&B Customer . 9 months ago
I use this for traveling and also relaxing at home. Great for propping up your iPad and Kindle for reading.
Blue not grey!
Al . 10 months ago
Great for 10" tablet. Can be set to any angle. Storage compartment is small.
LAZY DAYS & A GOOD BOOK
Jet fuel for blood . 10 months ago
This book support is great for reading on the couch or in bed. What more could we want?
Great but cumbersome.
Bet . 10 months ago
If you do a lot of reading or research in a chair or bed. This item is cumbersome and might be worthwhile to shop less cumbersome options
Nice for books
Debbie . 10 months ago
I really like this product for holding fiction novels I am reading. I am able to just rest my hands in front to hold my page, but not hold the book itself. Great relief tl my hands. And being able to adjust the angle to any degree I want is an advantage! Comfortable material around the foldaway, it doesn't slip or move around. Thank you for a great product that works!
Love it
Cari . 11 months ago
So useful. Glad I ordered it from B B & B, great price!
Showing 1 - 20 out of 56 reviews