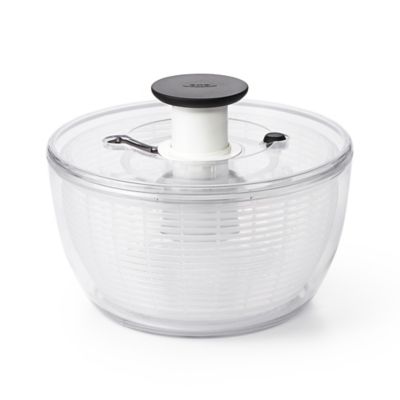 OXO Good Grips® Salad Spinner
Most Helpful Positive Review
OXO Salad Spinner
Judy43
.
8 years ago
I bought the medium size & have used it a lot.One day it would no longer spin so I sent an email to the company(Google it)& they replaced the cover with the spin knob & never charged me for it.I was shocked.They also sent me an email when it was shipped.A great company I would say! J.Berce
Most Helpful Critical Review
Ruined a great product
Barb
.
8 years ago
I have been using the OXO salad spinners for many years and absolutely love them and have recommended them to many friends. BUT, they have now changed the shape of the bowl (apparently to make to more attractive if you choose to use the bowl as a serving bowl). Now it does a very poor job of drying. I have thrown away several batches of spinach that rotted in my fridge because it will not dry. WHY DID THEY HAVE TO CHANGE MY FAVORITE PRODUCT! Please bring back the rounded bowl.
customer reviews
Showing 1 - 20 out of 825 reviews
Waste of money
Rebecca . 3 weeks ago
It doesn't work. No matter how much you spin your greens, they are still wet.
Good quality but ......
Ferial . 3 weeks ago
It is very good quality but the only thing is that it is impossible to dismantle the cover to clean because it retains a lot of dirt
Great
Jerry L . 4 weeks ago
Works great
it works
melS . 4 weeks ago
I was thinking it was going to be medium size but it is bigger than I expected and works great.
Buy it for life salad spinner!
BBBY Customer ;) . 4 weeks ago
This is my second salad spinner and man does it blow the competition (insert: Ik*a salad spinner) out of the water, the pump mechanism is smooth and it keeps on spinning with the most minimal of pumps. Also, it can double as a nice salad bowl!
Excellent !
rachelhreview . 4 weeks ago
Great salad spinner, Use it mostly on watercress since you really have to give them a good rinsing. Excess water is eliminated and good to go.
Originally posted on influenster.com
One of My Always Tools
GZG . 4 weeks ago
I am in love with this tool. It has changed my life. I have arthritis in my hands and this is something I easily can use. I love this salad spinner/lettuce dryer so much I have gifted it to my children and my sister in law. All of us use it daily. Deserving of 5 +stars any day of the week.
The best salad spinner
Oxo Fan . 1 month ago
Just the right size for everyday use. Thick plastic bowl is sturdy and stays fixed any platform it's placed on. Spinning extracts the liquid from the ingredients very well. Easy to store with the retractable spinner if needed.
great salad spinner
Michele . 2 months ago
LOVE IT!! Easy to use and stores well in the fridge due to a flat top.
Easy To Use
Connie . 2 months ago
Every other salad spinner I tried would slip out of my hands easily. This spinner has been the most stable and easiest to use I have ever tried.
Well made spinner
BB&B Customer . 2 months ago
This is a well made salad spinner. So much better than the last one I bought by a competitor!
Salad Spinner (small)
Jeanne . 2 months ago
Very pleased with spinner, excellent for the two of us.
It's great!
ED . 2 months ago
I gave this salad spinner as a gift. The recipient thinks it's "great!"
Love my salad spinner!
KLHG . 3 months ago
Our previous salad spinner (also an OXO Good Grips) lasted over a decade then spun it's last with this year's garden produce. So we replaced it with this OXO Good Grips Salad Spinner. The new shape is quite appealing and it works great. I expect this one to last a good long while.
A Surprise
Larry . 4 months ago
Bought this for my wife to help her prepare salads. Though she poo-pooed the idea, after using it a time or three, she was convinced that a "dryer" batch of salad fixings was better than the wet ones she was used to having.
Love it!
Karen . 4 months ago
I previously had the large salad spinner but there is only 2 of us now. I really like this smaller size. The only thing I can't figure out is how to separate the top for cleaning. Good price and good quality
Not as good as my first one!
BB&B Customer . 4 months ago
This is my second OXO salad spinner. I wore the other one out. Sadly this one is the updated version and it does perform nearly as well as my original. Greens are still wet after multiple spins and rearranging leaves. I have to wrap the greens in a towel to remove enough moisture before storing in the fridge. Not worth the price!
Easy to use
jaimew17 . 4 months ago
This product is great for drying freshly washed lettuce and other produce. It is easy to clean and dry. It does take up a lot of room for storage, but it is worth it!
Originally posted on influenster.com
if your lettuce is still wet after spinning.
Lynn . 4 months ago
Just add a paper towel before you spin. Spin. You'll find much more water is removed.
Love this
kathycf . 6 months ago
Not sure how I ate salad before this. I love this spinner one of the best kitchen accessories I own. This gets rid of all the water in the salad and now there's no water in my plate. It's very sturdy I use it everyday and have been using it for about 2 years now.
Originally posted on influenster.com
Showing 1 - 20 out of 825 reviews