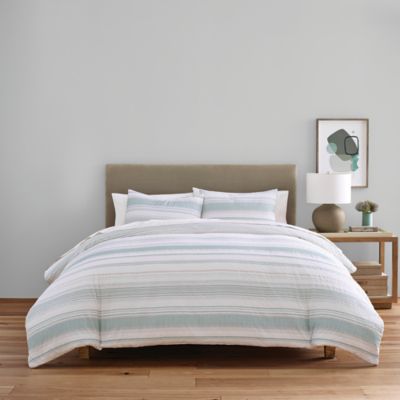 Nestwell™ Woven Texture 3-Piece Reversible King Striped Comforter Set
$134.99
was $270.00
(50% off)
$107.99
Get 20% off & earn 5% back in points with Rewards™+
Enroll Now
customer reviews
Showing 1 - 4 out of 4 reviews
Colors are much lighter than on the website
Carnation . 3 weeks ago
This is a warm, fluffy comforter. However, the colors are very soft and washed out looking. It just looked "meh" on my bed.

Originally posted on bedbathbeyond.com
Just the Style We Were Looking For!
Judy . 5 months ago
Very pretty comforter. Its style is subtle and sophisticated, but not bland. The coloring is a bit paler than shown in the pictures, which is fine with us. It's a nice size for a queen size bed and the pillow shams also fit well.

Originally posted on bedbathbeyond.com
Crinkly Comforter
Jordan S. . 7 months ago
I purchased the comforter at the beginning of May 2022. It has a stylish appeal to it that is very gender neutral. However, the product had a crinkly sound to it. Almost as if there was tissue paper inside of the comforter. I was annoyed but figured that maybe it was because it was new. This last week, I washed the comforter on cold and let it air dry thinking that would loosen whatever was crinkling inside of it. This was not the case as the problem is persistent. I don't think this is an issue with the comforter, but more of a quality control issue. YMMV.

Originally posted on bedbathbeyond.com
gorgeous
Strungoutembroidery . 8 months ago
This is so beautiful! The weight is fantastic. Not the light fluffy stuff that will break down in no-time. We have a King Sterns and Foster deep 16" and it fits perfectly. now I am sure I will have to send it to the cleaners because it is so big but it will be worth it. This comforter looks and feels luxurious.

Originally posted on bedbathbeyond.com
Showing 1 - 4 out of 4 reviews