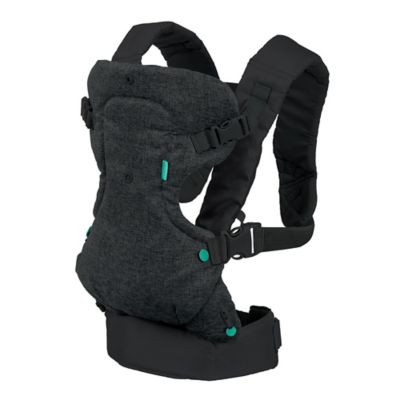 Infantino® Flip 4-in-1 Convertible Carrier in Black
Most Helpful Positive Review
A good carrier to start off with...
Kalika
.
6 years ago
We received this carrier as a gift off of our registry. My personal opinion is that this carrier is great to start off with, especially if you want to purchase something before your baby is born. Here's why... This carrier, for one, is a fair price point for what it is. Most carriers out there are much pricier. Two, this carrier should suit most infants in their beginning months. Some carriers need things like infant inserts that you have to purchase separately - annoying! Three, ease of use! Even compared to the more expensive carrier systems, this one is so easy! You can unclip the top and bottom of the carrier piece on one side for easy baby insertion! When I was trying on some other carriers after our son was born, such as the ErgoBaby and the LilleBaby, I HATED the fact that you can't simply unclip the front of the carrier and insert baby. Instead, you have to try to hold the squirmy, fussy baby to your chest with one hand, while trying to bring the carrier piece over and make adjustments with the other hand. I was not able to get my son into those carriers without assistance from my hubby -- so what's the point? Other things to consider when looking at this carrier. It doesn't have the greatest airflow. Even when we go for a walk on a chillier day, when I get home and remove my son from the carrier, we're both so sweaty! Also, supportiveness. If you are someone that needs a lot of extra support, this might not be for you. My hubby and I have each moved on and gotten our own more advanced carriers. He purchased a Mission Critical, and I purchased a Babybjorn Carrier One. I like the Babybjorn because its ease of use and features are very similar to the Infantino, but offers that extra bit of support. I'm glad we started with the Infantino, though, and I would make the same decision over again. If you are an expecting parent, don't get one of the more expensive carriers until you can actually test it out at the store with your baby to figure out what works best for both of you!
Most Helpful Critical Review
Not for "larger" parents.
undefined
.
6 years ago
I'm fine with the construction of this harness, except for one very important detail. If you have a waist larger than about 38in, you're hosed. The waist strap won't make it all the way around. Now, I know that my wife and I are not the most fit couple on the planet, but dang, can't something as simple as this have straps long enough to handle any size parent?
customer reviews
Showing 1 - 20 out of 161 reviews
Overall very happy!
Mummra78 . 2 years ago
I placed this on my baby registry and recieved it as a gift. I am overall very happu with it, my only qualm with it was when my little guy was newborn and fresh into the world. I felt he did not sit up high enough in it and like i had to have the carrier so snug that I was seriously concerned about him smothering into my chest (which, for what it is worth is not overly "padded" if ya catch my drift.). So when he was itty bitty and new, I preferred a wrap carrier. Now, at 3 months, I love this one. It feels supportive of him, doesn't kill my back, super comfy for being so simple and easy to take on, put baby in and remove when needed. Very good product!

Originally posted on infantino.com
Good quality
Bed Bath and Beyond Customer . 2 years ago
I received this as a gift from one of my friend..we take it along while we go on trips and sometimes I usually hold my 3month old baby when she cries more for no reason and do the household chores..balances well and perfect

Originally posted on infantino.com
Dads go to!
Active mike . 2 years ago
I bought this product well before my son was born and use it almost daily. My little guy is in the forward facing stage and he really enjoys it, I enjoy taking walks and getting fresh air while he looks around. Also he can get to sleep in it on most occasions.

Originally posted on infantino.com
Best purchase ever!!
Castay . 2 years ago
I got this when my son was born. I had a c section and I don't have a car. We have extremely limited funds and no support network. So this was a must have so i could carry him and groceries back to our room. And i was able to carry him with no added pain, a week after my csection. It was an absolute godsend. As he grew, we went from facing mama, to facing the world and he loved it. When he graduated to being on my back he would (continuously) kick me in the butt until he fell asleep. :) As he got bigger, his weight didn't cause stress or pain to me because the carrier is super adjustable and you can choose how to distribute the weight. Definitely worth the price.

Originally posted on infantino.com
I love this carrier!
Lacyestelle . 2 years ago
I ordered this carrier around spring before covid hit. I had previously used a hybrid wrap type carrier but it was just too hot once my baby was over 15lbs. This carrier rocks. Its so light and easy to wear. I can go for hours with him in it and it doesn't hurt my back. I even lent it to my babysitter for him because she was watching him while she moved. She said it was such a blessing to use, she was able to keep her hands free and it barely felt like he was there. Seriously. My 15 month old also often falls asleep in it too. Gotta love it. Every parent needs one of these. Bar none.


Originally posted on infantino.com
It's confusing
Mamamayhew19 . 2 years ago
I bought this last year, and while it's amazing it's extremely confusing to figure out.

Originally posted on infantino.com
Awful
Merrick . 2 years ago
Followed all the instructions and safety tips. But my sons legs are still going blue when I put him in it. Looks uncomfortable and flimsy to be in and on me. Would not recommend.

Originally posted on infantino.com
Gianna . 3 years ago
Puts a lot of weight on shoulders. The back strap should've been lower because it makes the shoulder straps pull in and hurts your under arms. My son isn't very comfortable either, barely any legs space. Don't waste your money.

Originally posted on buybuybaby.com
Viridiana . 3 years ago
This is nice but is a bit of tight on the Thighs if your baby have chubby legs

Originally posted on buybuybaby.com
Great product for good value
Sandy . 3 years ago
We walked all over town in this. It was comfortable for baby and me.
Excellent product
Bed Bath and Beyond Customer . 3 years ago
I am from Brazil and my husband brought it from USA. This item was one of the best purchase we have made so far. Very comfy and useful. It does help a lot us (moms) that need to have things done and have also to carry a baby at the same time. It really did make my life easier. I would recommend for sure.


Originally posted on infantino.com
Great features, comfortable
Phoenix1 . 3 years ago
I have only been able to "play" & try on product bc my son won't be joining the world for a few more days yet but so far it is very easy to use (self explanatory really), the quality/durability seems like it was made well & will last as long as I need it to, it's very stylish as carriers go & I can't wait to use regularly!!

Originally posted on infantino.com
Best One
Mommyoftwo . 3 years ago
Love this carrier! Easy to use and love that my little one can use it as she grows. We used the same one with our first child.

Originally posted on buybuybaby.com
So versatile
Bed Bath and Beyond Customer . 3 years ago
So happy with this product and it's ability to grow with my little one. We have progressed from parent facing to forward facing and know that he will be excited to move to backpack style once he is able to. This carrier allows him to see the world and stay close to mom or dad and he loves exploring this way. Also love that both mom and dad can use it

Originally posted on buybuybaby.com
Perfect
Lorraine . 3 years ago
We love it you need this

Originally posted on buybuybaby.com
Use this everyday
Jlba2017 . 3 years ago
Very happy with this carrier! I've used this quite frequently since my son turned maybe 2 months and he is now 8 months. Easy to put on and easy to get baby in it. I like that he can face forward or face me. I've used this around the house and also out grocery shopping. It has been very helpful to have around! It doesn't feel bulky and very neutral.

Originally posted on infantino.com
Best carrier!
RaeBaesMommy . 3 years ago
I received this carrier and and ergo (one of those super expensive one) for my baby shower. after trying both of them out, this one wins hands down. First baby looks and seems more comfortable. It's not nearly as thick and bulky so has been perfect for warmer weather. I did not have a small baby and this disperses the weight so I don't get tired or sore during the longer walks! I absolutely recommend this!!

Originally posted on infantino.com
Favorite Carrier!
Cmo90 . 3 years ago
I received this item as a baby shower gift along with two other carriers. After trying them all out, I am not sure why I put all three on my registry. This one is by far the best! My baby is comfortable inside the carrier which to me is the most important and it is even comfortable on me. I am so excited to wear this four different ways so that it can grow with her and I don't have to search for a new one. The color is also great for both women and men, so my husband can't make excuses not to wear it. The only downside is to wash the carrier you must hang it to dry which means you round by without it for a bit.

Originally posted on infantino.com
My very 1st carrier
marisha5 . 3 years ago
I bought this carrier 5.5 years ago when I had my 1st child. I am now about to have baby #3 and I must tell you the easiest carrier to put on, lightweight, very comfortable for the baby and easy to clean. I used this carrier so many hours, months and years that it well paid off how much I spent on it. Unlike other carriers, it's very affordable. Since then, I always tell all my newbie friend mom's to get this one in particular! High quality material that lasts for many years and the baby sleep so good in it! I highly recommend this product!

Originally posted on infantino.com
just nooo
tuulee . 3 years ago
Bought this because it's cheap. But my baby is lump sided and it puts all her weight on just my back and shoulders. I feel like a grandma with a baby on their chest.

Originally posted on buybuybaby.com
Showing 1 - 20 out of 161 reviews