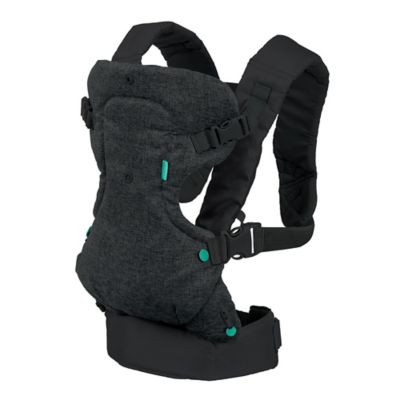 Infantino® Flip 4-in-1 Convertible Carrier in Black
Most Helpful Positive Review
A good carrier to start off with...
Kalika
.
6 years ago
We received this carrier as a gift off of our registry. My personal opinion is that this carrier is great to start off with, especially if you want to purchase something before your baby is born. Here's why... This carrier, for one, is a fair price point for what it is. Most carriers out there are much pricier. Two, this carrier should suit most infants in their beginning months. Some carriers need things like infant inserts that you have to purchase separately - annoying! Three, ease of use! Even compared to the more expensive carrier systems, this one is so easy! You can unclip the top and bottom of the carrier piece on one side for easy baby insertion! When I was trying on some other carriers after our son was born, such as the ErgoBaby and the LilleBaby, I HATED the fact that you can't simply unclip the front of the carrier and insert baby. Instead, you have to try to hold the squirmy, fussy baby to your chest with one hand, while trying to bring the carrier piece over and make adjustments with the other hand. I was not able to get my son into those carriers without assistance from my hubby -- so what's the point? Other things to consider when looking at this carrier. It doesn't have the greatest airflow. Even when we go for a walk on a chillier day, when I get home and remove my son from the carrier, we're both so sweaty! Also, supportiveness. If you are someone that needs a lot of extra support, this might not be for you. My hubby and I have each moved on and gotten our own more advanced carriers. He purchased a Mission Critical, and I purchased a Babybjorn Carrier One. I like the Babybjorn because its ease of use and features are very similar to the Infantino, but offers that extra bit of support. I'm glad we started with the Infantino, though, and I would make the same decision over again. If you are an expecting parent, don't get one of the more expensive carriers until you can actually test it out at the store with your baby to figure out what works best for both of you!
Most Helpful Critical Review
Not for "larger" parents.
undefined
.
6 years ago
I'm fine with the construction of this harness, except for one very important detail. If you have a waist larger than about 38in, you're hosed. The waist strap won't make it all the way around. Now, I know that my wife and I are not the most fit couple on the planet, but dang, can't something as simple as this have straps long enough to handle any size parent?
customer reviews
Showing 1 - 20 out of 158 reviews
Tried a lot of carriers- this was the best!
Patricia . 2 weeks ago
I tried a lot of carriers that I just didn't feel totally comfortable with.. some expensive some not. On my second kid I refused to spend more money on a carrier until I borrow this from my SIL. I bought it before I even took it off.. feels very light weight in my hands but when I put it on it felt very secure. This is more than worth the price.
5 stars from a FTM
mrslawlor5 . 5 months ago
I'm a first time mom who was very overwhelmed at the amount of options for baby wearing. I received this carrier as well as a fabric wrap and would choose the infantino 10x over! My daughter loves being in it, it's comfortable on my back and shoulders and my rescue gets enjoyment from it too!


Originally posted on infantino.com
Decent for price
Sarah . 8 months ago
This carrier was not bad for the price. But you cannot get the baby in the proper M position. Also this was rather harsh on my back. Is does the job and I love that it was designed to support newborns wobbly head. But I found I did better with a different carrier which are pricier but definitely worth the price.
Changed my life!
Laciesmom . 9 months ago
I've had this over a year and I couldn't imagine life without it! My baby loves it, my back loves it, and it makes doing, well everything, more convenient.

Originally posted on infantino.com
Great product!!
Kiki0418 . 9 months ago
I brought this months ago and it's absolutely amazing, my little one falls asleep almost instantly when she's in this! Would definitely buy again.

Originally posted on infantino.com
I love this carrier
TiffanyB . 10 months ago
I love this carrier. For the price, it's absolutely a great carrier. My baby loves it and I love how simple it is. I don't have to worry about a ton of adjustments and my baby always falls alseep in it, seems really comfortable. I tried two other big name ones that cost 3-4 times the price of the Infantino one and this one beat them all for comfort and ease of use. The only gripe I have is that it needs pockets! I would give it 5 stars if it had pockets or teethers attached, maybe a zipper pocket or water bottle holder somewhere.

Originally posted on infantino.com
Great carrier
Caramelle . 10 months ago
Been using it for months,both baby and I feel comfortable using it.

Originally posted on infantino.com
I love this carrier
Kristen0208 . 1 year ago
This carrier is affordable, easy to use, and my baby is comfy. We got additional carriers that were more expensive and this is the favorite. Great product. For reference- baby now around 15 lbs.

Originally posted on infantino.com
Best carrier by far
KatMom . 1 year ago
I've used this 5 years ago for my son. Basically his entire first year of life. It was so comfy, so easy, so safe and so practical. I had 0 problems with it. No ripping. No blisters. No back aches. It was great. Used it camping & hiking. For doing housework. Going to the mall. Etc. Purchased again for my current newborn.

Originally posted on bedbathbeyond.com
Can cause blisters
Christine89 . 1 year ago
Used this with my daughter 2 years ago. But when I used with my son for the first time, he got blisters on both of his upper legs


Originally posted on infantino.com
too complcated
Poncho . 1 year ago
too many options to put the baby in the loops and belts etc.
Awesome! Especially for the price.
HarliG . 1 year ago
We bought this for hiking when my son was still a newborn & have hiked once a week using this carrier ever since! He now weighs 30lbs & is in the 87th percentile for height, but it still works just as well with minimal discomfort! I'm currently 33wks pregnant & still able to comfortably carry my first born on our hikes!


Originally posted on infantino.com
Great product
River . 1 year ago
I bought this for my daughter who just had a baby. It is a lifesaver because I think the baby feels like he is back in the womb because he is super calm and laid back when he,s in it. And she can do whatever she needs to do and he's fine! I really recommend this.

Originally posted on infantino.com
Really cost effective, easy to use
Nomie1925 . 2 years ago
This is my personal use carrier as needed and set up to fit me. As we have a nanny, she will use the other carrier and set it to fit her. This carrier is at a great price for the quality and features. I appreciate how I can get the harness on and size it to me before placing my baby in the carrier. The flip down feature of adding/removing the child is handy for on the go. As it is still spring, can't comment on the lightweight convenience. I have received this item from Infantino to facilitate my review.

Originally posted on infantino.com
Awesome Carrier, Highly Recommended
LibraStar88 . 2 years ago
I have received this item from Infantino to facilitate my review. This product is by far the best! It saves me to much time to get things done around the house as I have my newborn strapped around me safely. I have also used it for walking around in the neighborhood and it's a great carrier; my son fits in perfectly and is close to me as possible. This soft structured carrier carries the weight evenly on my shoulders, back and sides. It's lightweight and breathable. The arms and legs straps can be adjusted to nicely snug the baby and make them comfortable. I mainly use the frontal position so I have my baby facing me; he loves it. Overall, this is a wonderful carrier which helps the baby fall asleep and is also affordable! Win win situation! We love the carrier and highly recommend it.

Originally posted on infantino.com
Disappointed in quality
Laurielee . 2 years ago
I love this carrier and so does my 4 month old, but I'm very disappointed that I have had it for 30 days and it is already ripping. My baby is well under the weight limit and we use it everyday for walks.

Great for traveling and on the go
Ivy E . 2 years ago
This has been the best addition for us! It's nice and comfortable and just an all around great deal for the price!


Originally posted on infantino.com
Uncomfortable not functional
Tori . 2 years ago
This thing it horribly uncomfortable and it's not really that functional the straps wear like a backpack and don't cross behind your back so you're constantly pulling the straps up so your baby doesn't fall out of the thing and the point of these is so you have your hands free but that's not the case. Don't waste your money.
Overall very happy!
Mummra78 . 2 years ago
I placed this on my baby registry and recieved it as a gift. I am overall very happu with it, my only qualm with it was when my little guy was newborn and fresh into the world. I felt he did not sit up high enough in it and like i had to have the carrier so snug that I was seriously concerned about him smothering into my chest (which, for what it is worth is not overly "padded" if ya catch my drift.). So when he was itty bitty and new, I preferred a wrap carrier. Now, at 3 months, I love this one. It feels supportive of him, doesn't kill my back, super comfy for being so simple and easy to take on, put baby in and remove when needed. Very good product!

Originally posted on infantino.com
Good quality
Bed Bath and Beyond Customer . 2 years ago
I received this as a gift from one of my friend..we take it along while we go on trips and sometimes I usually hold my 3month old baby when she cries more for no reason and do the household chores..balances well and perfect

Originally posted on infantino.com
Showing 1 - 20 out of 158 reviews