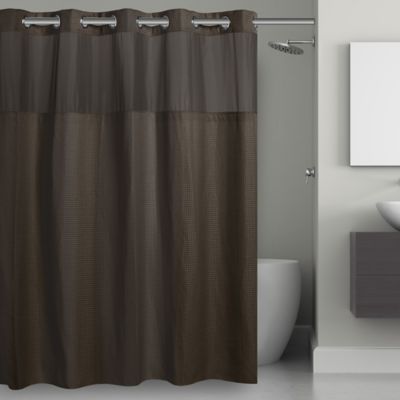 Hookless® Waffle 71-Inch x 74-Inch Fabric Shower Curtain in Dark Grey
Most Helpful Positive Review
Pretty to look at....
Janice2507
.
7 years ago
We chose this shower curtain because of its similarities to some hotel shower curtains that we've seen before. It is just as pretty as we had hoped. When I ordered it online though, it brought up a liner that it highly suggested that we buy to go with it. So, I ordered it too. When we were putting it up, we realized that what I had ordered came WITH the liner. So, now I have a curtain and two liners. It would not be convenient to return it, so I guess that I'll keep it. So, just to forewarn the next customer, don't order another liner unless you intend to!
Most Helpful Critical Review
Consider the liner disposable
Jkar
.
7 years ago
Shower curtain is great easy to put up but liner mildews quickly doesn't matter that you hang it outside of tub (& drips on floor). Hookless needs to make a snap on VINYL liner ,
customer reviews
Showing 1 - 20 out of 1387 reviews
BEST EVER
Kenneth . 1 year ago
This is the best shower curtain and liner ever. Very light weight and glides smoothly on the shower rod. Wish we would have tried this style years ago.
Small size shower curtain
Shirley . 1 year ago
Very nice color & fabric. Also let's light in. Pleased with purchase
Luxury curtain
daph07 . 1 year ago
Well made, I hung this in minutes Couldn't be happier!

Shower curtain
Susan . 1 year ago
Not quite the color I thought it would be but didn't want to hassle with an exchange
So convenient
grandma lou . 1 year ago
I will never buy another shower curtain with hooks again! This is so easy to put up. The liner comes out easily to be washed, allowing me to keep my shower stall cleaner without the hassle of taking everything down. Washes beautifully! The curtain itself is a sturdy quality material. Mine is the waffle material . Looking to find it in another design just for a change of pace. I have 2 colors in this one.
Water "resistant" doesn't hold water
Connie E . 1 year ago
This shower curtain has a snap in liner that is "water resistant". The decorative liner goes outside the tub and the liner inside. This resistant liner let water through like it was plain cloth. After a short shower the edge of the tub, the floor, and the outside of the liner were soaked.
Best shower Curtain!
Cynthia . 1 year ago
Hookless Coral Reef. Superior quality. Took less than 30 seconds to hang without instructions. Only choice of shower curtain for me for now on.

Better than expected
BB&B Customer . 1 year ago
Great quality and beautiful
elegant look
Panache - NJ . 1 year ago
Its White Waffle w/sheer top & dries quickly...it s also self hooking - so much easier than those tight/tuff hooks! Will look good in modern or cottage bathroom,
The BEST SHOWER CURTAIN
Ava . 1 year ago
I have probably bought 10 of these for myself and as gifts. They hang really easily which makes them easier to launder. They wash so well and look good as new after! I highly recommend! Also thanks to Christina in Monroe,LA for getting my latest order right for me!
Hookless waffle Shower curtain
Travas . 1 year ago
I love it!
Incredible design!
Rhonda . 1 year ago
High quality fabrics, soft to the touch, the color of the snaps match the white perfectly making them invisible. The sturdy sheer panel allows in light so you do not feel claustrophobic in a shower stall. I did not buy this for using with a bathtub. Instead it was cut into 1/3s (raw edges sewn) and used on a 2-foot swing arm curtain rod that had been installed on a wall inside a tiled shower stall. Why thirds? Because we have 3 bathrooms.
Great quality!
BB&B Customer . 1 year ago
Great fit, great quality! Very happy!
Shower curtain looks great!
Jay . 1 year ago
I love my hookless shower curtain. Looks great with my new tile.
Purchased for the mildew resistance :-(
Jon H . 1 year ago
First let me say that it's a wonderful shower curtain. I can't say how much time I save with the holes design. It's attractive and generally awesome. BUT... The mildew resistance was a major factor in why I purchased it and my that metric, and that metric alone, this curtain was a HUGE disappointment. Like most I've had many shower curtains in my long life, none of them took on "that smell" faster than these. We purchased two of these and we get 2 showers before they have to go into the wash. The smell after two showers is unmistakeable and it feels like maybe the waffle texture of the fabric makes it worse somehow? IDK. Again, great curtains in every other way. Just know you're going to be tossing them into the wash pretty regularly if you want to keep your place from smelling like a roadside motel.
I love this shower curtain!!
Jessica . 1 year ago
This shower curtain is awesome. It does everything all in one without the need for a liner or annoying hooks. It's quiet while using unlike vinyl liners and took 2 minutes to put up. Makes my bathroom look cleaner and larger! Perfect!!
Nice concept shower curtain
BB&B Customer . 2 years ago
I really like the concept of this shower curtain, but there is a big construction flaw. There are no weights anywhere in this curtain. I made my own weights and added to the bottom of the inside liner. We use this shower curtain in a walk in shower with about a 4" lip. It works well now. It may work ok in a tub without weights. Having the top part of the curtain open, was a big reason we chose this curtain. We have a window in our shower and this feature lets a significant amount of light in. I would not recommend this shower curtain for a walk in shower.
Shower curtain
Daniel . 2 years ago
5 star Good quality
Stunning Look
BB&B Customer . 2 years ago
Really Nice!
Stunning red!
Kiara . 2 years ago
The online pictures don't do this justice! It's a simple yet elegant design and such a beautiful shade of red!
Showing 1 - 20 out of 1387 reviews