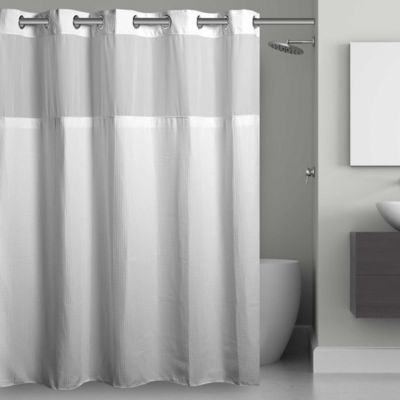 Hookless® Waffle 54-Inch x 80-Inch Stall Fabric Shower Curtain in White
Most Helpful Positive Review
Pretty to look at....
Janice2507
.
7 years ago
We chose this shower curtain because of its similarities to some hotel shower curtains that we've seen before. It is just as pretty as we had hoped. When I ordered it online though, it brought up a liner that it highly suggested that we buy to go with it. So, I ordered it too. When we were putting it up, we realized that what I had ordered came WITH the liner. So, now I have a curtain and two liners. It would not be convenient to return it, so I guess that I'll keep it. So, just to forewarn the next customer, don't order another liner unless you intend to!
Most Helpful Critical Review
Consider the liner disposable
Jkar
.
7 years ago
Shower curtain is great easy to put up but liner mildews quickly doesn't matter that you hang it outside of tub (& drips on floor). Hookless needs to make a snap on VINYL liner ,
customer reviews
Showing 1 - 20 out of 1387 reviews
Really nice
Happy days . 1 month ago
This in white is nice fresh and bright.love the open feel from the see through part on top. I use with a circular shower rod.Make the shower seem bigger,, also have this in grey and light blue .. good quality washes up perfect, can put in dryer , this is the only type shower curtain I use.,highly recommend

Originally posted on bedbathbeyond.com
Does the Job
Jay . 1 month ago
We have a very high shower bar, so these curtains are the right size. However, they do not come in the width I needed ,so I ended up buying 2 to cover the length of the tub. Overall, good quality, good design.

Originally posted on bedbathbeyond.com
LOVE THIS CURTAIN
BtheDesigner . 2 months ago
Mom had one in black. I loved it. When I moved 4 years ago I got 2 of them, 1 for each bathroom (purple and coral/orange) I've NEVER had a problem with mildew but I also wash my liners at least once a month when I was my whites. I also open mine completely from end to end so it can dry properly in between uses. When I lived in an apartment air circulation wasn't an issue the liner would stay put. Since moving in a house the air vents are placed where the liner would blow but a quick fix to that was to just get some magnets. I'm updating my bathrooms so I looking for the Navy! Happy shopping.

Originally posted on bedbathbeyond.com
Hookless Waffle shower curtain
BB&B Customer . 6 months ago
Ordered Long and it did come with a liner
awful quality, molds quickly
BB&B Customer . 7 months ago
i bought this brand when it first hit the market. great quality then, didn't mildew as quickly, the hookless feature had higher quality plastic, wasn't as expensive. fast forward to 2017 to current, the thickness of the fabric is now super thin, the price is now almost $50 for just the outer curtain (use to be $25-30) it mildews with in 2 months, the seems are coming undone. would be great if these came in more than 2 lengths. since these do drip water, putting shower curtain outside the shower, but it resting on the floor....doesn't exactly help with the entire purpose of this shower curtain in regards to air circulation. these curtains take a long time to dry even shaking them off. i buy the white and bleach it every use, but it will still mildew (understanding bleach is just an optical brightener and not an actual mildew killing agent). have kids, that play outside? their dirty hands will quickly dirty the area used to pull curtain back (this is the first problem area. once i notice the dirt accumulating, the mildew will have set in by then). i use to think it was a persistent mildew issue in my bathroom & thats why the curtain mildewed quickly. but i moved houses and bought an entirely new curtain. i've lived in my house for 2 years now and i'm on my 4th curtain. i do not think the chemical/their method they apply to this fabric that claims to resist mildew is still applied, or applied in a lesser amount. cutting costs?

Originally posted on bedbathbeyond.com
Best shower curtains ever!
Pat . 7 months ago
These curtains wash up great. So easy. Just unsnapped and wash and dry. Will never go back to the one piece again

Originally posted on bedbathbeyond.com
Shower curtain
Jeanette . 7 months ago
I saw this item in the store, and was going to buy it, unfortunately they were out of stock. So I ordered online. So glad I did, it looks perfect in our bathroom. Love how it's sheer on the top part. Gives it a very pretty look. We love it. Love the black.

Originally posted on bedbathbeyond.com
Extra long length
Rita . 8 months ago
I need long & extra long lengths in the hookless shower curtains

Originally posted on bedbathbeyond.com
hookless. waffle shower curtain w snap liner
mare . 8 months ago
I hv been using this shower curtain for years. Hv it in three different colors. Love hookless. So easy. Washes beautifully. No problem w leaking or mold.

Originally posted on bedbathbeyond.com
Worst
BB&B Customer . 8 months ago
Liner wraps around you while your showering and floor and top of tub get wet so be prepared to dry everything off after showering. Threw it right in garbage v

Originally posted on bedbathbeyond.com
Ok
Dorothy . 9 months ago
Nice looking curtain, I like the idea that you can see through the top. The only problem is that it leaks terribly. The liner should be a heavy vinyl.

Originally posted on bedbathbeyond.com
Nice
Violet . 9 months ago
Easy to use.

Originally posted on bedbathbeyond.com
So easy
Mary Lou . 9 months ago
These curtains are great! So easy to hang. Easy to keep clean, just unbuttoning the liner to launder. I will never buy a shower curtain with any kind of hooks again.

Originally posted on bedbathbeyond.com
Great purchase
goaus . 9 months ago
I bought two of these shower curtains after seeing one hanging in a friend's bathroom. The large built-in rings make these so easy to install. And the vented area up top allows so much more light into the shower itself. High quality material. Great result. Highly recommend.

Originally posted on bedbathbeyond.com
Not resistant to mildew/mold
Costumer 22 . 9 months ago
This curtain was being used in our guest room and after only a handful of uses began developing mildew/mold spots. The room has good ventilation and the curtain was closed to dry, but still we had issues. Trying to wash the stains out but not holding out much hope.


Originally posted on bedbathbeyond.com
Bath curtain
Sue . 10 months ago
It was very well made and really is a nice curtain. Shopped around for a long time. Settled on this in 84 inches. White. No regrets

Originally posted on bedbathbeyond.com
Exactly what I needed!
NattyRat . 10 months ago
Amazing! Do it!

Originally posted on bedbathbeyond.com
Waste of Money
Patti . 11 months ago
Looks great but doesn't repel the water, I had a lake in my bathroom after my shower.
attractive & functional
SE . 11 months ago
I like the design of this shower curtain: the textured pattern increases the quality feel/appearance without adding prints or colors that could be less timeless, the hookless design looks classy and is so easy to use, the sheer panel allows for both privacy and some visibility. Plus it was recommended by WireCutter. But I was initially wary of getting it because of the reviews mentioning that it molds easily. However, while my tub does actually develop mold that I have to clean periodically, the liner curtain remains spotless white after 6mo of use without needing washing (compare wall side tub to curtain in photo). The grey color is a bit warmer than I would have preferred (compare to towel & bath mat in photo) but is consistent with the item as pictured on the site. One thing of note: the sheer lining is transparent enough to see what's going on in the bathroom but not to, say, watch a screen through (e.g. I can read my analog wall clock, but not the digital clock screen saver on a large laptop screen). If that matters to anybody. I like this curtain enough that I would buy it again, or if the interior liner ever does ever mold that I would buy a replacement liner -- another nice feature is that the liner clips on/off and can be bought separately!


Originally posted on bedbathbeyond.com
Water comes through shower curtain
Anne-Marie . 11 months ago
Received this for our wedding gift. Looks very nice. Unfortunately, there are huge design flaws. Firstly, the top part is actually mesh... it is not just a narrow section, it is quite large. This means that as you are taking your shower, water from the spray goes right through it, and lands on the floor. Secondly, the detachable inner liner cannot take significant direct water as the water also goes right through it. We attempted to move our shower curtain higher to counter the spray issue, but given that it was just a standard length, it did not allow for much leeway. After less than a week's use, we have to toss it in the garbage. Not happy!
Showing 1 - 20 out of 1387 reviews