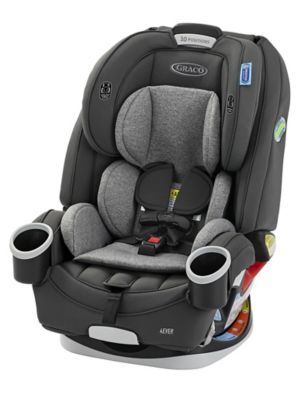 Graco® 4Ever™ All-in-1 Convertible Car Seat in Lofton
Most Helpful Positive Review
My thoughts
purplelove
.
8 years ago
I bought these 4 months ago and I love it Great seat for extended rear-facing, will fit my daughter until at least 4 year old, and will then be able to use all the way through her booster Easy installation with LATCH and seat belt.Only reason it is a 4 instead of a 5 star rating is that the adjustable head rest sticks out farther than the rest of the seat. In rear-facing position, if you use the extra bottom cushion, it helps out positioning a lot so that their head doesn't fall forward when they are sleeping. I hope they fix this in later versions of this seat.saving up to purchase another one for my parents so when they have my little one
Most Helpful Critical Review
Very uncomfortable
Shannon3232
.
8 years ago
I received this car seat as a shower gift as the one I had registered for wasn't in stock. When my baby was born and we put him in it on the way home from the hospital his head was pretty much just flopping forward all on it's own, even in the fully reclined position. I tried to return it with Buy buy baby and was told I couldn't return a car seat -nice- so I decided to purchase a bucket seat until he had better head control to try to use this one again. Fast forward and he's 6 months old and I just tried again. Well guess what his head is still pushed forward by the head piece that protrudes out and he's so uncomfortable he pretty much cries the entire car ride. So let's just say this car seat is NOT worth the money whatsoever and the employees with buy buy baby were no helpful at all! In fact because of my experience with them I will no longer shop there.
customer reviews
Showing 1 - 20 out of 3214 reviews
Great car seat
Vicki0004 . 5 days ago
Cat stay is great material doesn't hold up well though been over a year teying to get replacement covers never have them in stock.
Originally posted on gracobaby.com
Worth it!
Kbaldi . 2 weeks ago
My friends recommended this over the Nuna and we're very happy with the purchase!
Originally posted on gracobaby.com
Worth the money
KBini . 3 weeks ago
Super easy to set up and get the baby into/out of seat.
Originally posted on gracobaby.com
Great purchase!
Esmeralda r . 3 weeks ago
I love this car seat, easy to install, very sturdy, great quality, only thing I don't like are the cup holders, baby takes them off all the time and throws them. Other than that, very very happy we got this car seat.
Originally posted on gracobaby.com
Hard to tighten!!
KC277 . 1 month ago
I have my 'small' 1-year old in it now and the straps are also extremely hard to tighten (darn near impossible) and there is no room to grow!!!
Originally posted on gracobaby.com
Amazing Carseat
Chelseaaaaaa . 2 months ago
Amazing car seat that goes with my child. Safety features are awesome as well.
Originally posted on gracobaby.com
Great Convertability
DeLaniee . 2 months ago
I bought this a few months ago and I absolutely LOVE this seat! I love that I wont need to buy another seat for my little again unless we are in some sort of car accident. Definitely worth the money!
Originally posted on gracobaby.com
Very Disappointed with Graco...
LivAnnette . 2 months ago
I bought this car seat in 2019. This car seat has been great and has had no severe issues besides the headrest sticking out. Which my daughter looked very uncomfortable and hated sitting in it, so I stuck padding behind her back so her head didn't lean forward so much. That seeded like a small issue but was a big complaint about all Graco carseats. Other than that, it has been a good sturdy car seat. I have some family and friends that own this model of car seat as well and they love it too but they have also stuck padding behind their children's back to help with the headrest problem. I ended up buying another model just like this one for my son this year. I am now a little sad that I did so because my daughter is being potty trained. She has had a couple accidents in her car seat and of course I have cleaned everything up immediately. She has recently had it another accident in her car seat a couple days ago. When we took the car seat out to clean it, yellow liquid dumped out of the base of the car seat. It spilt all over in our car and it took 2 days to get this smell out. We let it sit outside for a day to hopefully drain and an air dry. When I went out to check on it and lift it up, more liquid came out. I gently shook the car seat and I could hear liquid swishing around in the base. I ended up calling customer service to see if they could do anything about this issue because I have never heard anybody else having this issue. They confirmed that they have not heard anybody having this issue and they also said there is NOTHING they can do to help me with this problem. I am very sad that I had bought a second car seat from them, I will be either selling my son's car seat and buying a new car seat for my son and daughter that is a different brand. I am very very sad with Graco... Check the base of your carseat you don't want this happening to you.
Originally posted on gracobaby.com
Excellent product
Jmsl . 2 months ago
Easy purchase and fast shipping. Over all great experience.
Originally posted on gracobaby.com
Great car seat! No regrets.
Bed Bath and Beyond Customer . 2 months ago
Love this car seat and so does my 3 year old son. It's easy to clean and much easier to get him out of than the older version we have! It's pricey but it doesnt disappoint.
Originally posted on gracobaby.com
Love the car seat
Vicki23ur . 3 months ago
I love the car seat the only issue I have is the covers brake easily. And been a yr without being able to get the covers replaced they never seen to be in stocks. Called they told me in November last year and I looked constantly and not once did the replacements become available. Foe thos cost of the car seat should have them available.
Originally posted on gracobaby.com
Best Seat Purchase
Bed Bath and Beyond Customer . 3 months ago
My guy would cry anytime I put him in the car in his infant seat but since switching he has so much more room and doesn't cry anymore definitely a great purchase
Originally posted on gracobaby.com
So far we are loving it
Wheelz . 3 months ago
We've been using this for over a month with our now 10 month old. We like that it can be his forever car seat. So far I am very impressed & we all really like it. Straps are easy to tighten & adjust. They do not twist around like our infant seat straps did. We didn't have any problems installing. I also like that the seat adjusts angles for our little one so he can be more reclined for longer trips. We have not yet had to take it apart to wash so I'm not sure how easy that is to do. Overall, we are very pleased with this purchase except that it went on sale 2 weeks after we purchased it.
Originally posted on gracobaby.com
No other car seat meets our needs.
Anthony C . 3 months ago
We own 4 of these. Need I say more? The chairs speak for themselves.
Originally posted on gracobaby.com
Get two!
meghanm134 . 4 months ago
Seriously. Get one for each car and even one for a grandparent. It's perfect and you don't have to continue purchasing new car seats over and over!!! Keeps my babies safe and is easy to clean when you need to
Originally posted on influenster.com
Great seat
samanthal238 . 4 months ago
Just installed this seat for my 5 month old. It was super easy to install. Easy to clip and tighten. My baby seems pretty comfy in it. Luckily he doesn't mind car rides, so that helps. The only issue is the size. My partner can't drive my car anymore because the seat doesn't go back enough without touching the carseat.
Originally posted on influenster.com
The best
lesleyb05 . 4 months ago
The best car seat! I bought one for all my children because they are amazing quality and a brand I can trust. Keeps them comfortable and safe. Love that as they grow it converts. The best!
Originally posted on influenster.com
Strap length and straps slip
Bed Bath and Beyond Customer . 4 months ago
I've been using the Graco 4 Ever for about a year now, at first it was wonderful, but for the last 5 months it has not. The straps have began to slip off my son, no matter what we do. We actually have 2 of these car seats, the one in my husbands truck, the straps are so short, we can barely get my son into the car seat. The straps are also extremely hard to tighten. It is fine now cause we can tighten from the back and front, but once he is forward facing, we won't have that option. He is still rear facing and still has 8lbs to go before we change him to forward facing and I am not sure the straps will be able to go around him. We may have to buy 2 new car seats, which is an expense that we cannot afford.
Originally posted on gracobaby.com
Exactly what I wanted, confident it will protect
Denisty7 . 4 months ago
Car seat is durable and perfect for my 4 year old. Setup is easy to use and there is a lot to make my son comfortable as far as adjusting the recline and pillows.
Originally posted on gracobaby.com
Grows with your kiddo
isabellak49 . 4 months ago
I love that thus grows with my child. I do struggle with the seat belt sometimes but it is so safe with great prices. I love this seat and will get another if I have more kiddos in the future.
Originally posted on influenster.com
Showing 1 - 20 out of 3214 reviews