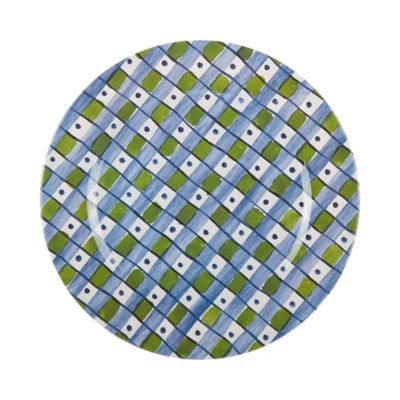 Everhome™ Check Melamine Dinner Plate
$6.75
Get 25% off & earn 10% back in points with Welcome Rewards™+
Enroll Now
customer reviews
Showing 1 - 7 out of 7 reviews
Nice colorful plate for Appertizers and fifer food
Rafaela Matos . 6 months ago
That's a really nice plate, light and durable! The colors are nice and playful. Easy to match and decorate the table. Perfect for simple Appertizers and cute table setting. Good also for cheese and finger food
Bring on the fun!
M Baker . 6 months ago
This is a fun plate to have in the mix. It's great for outdoor dining, lightweight yet very sturdy. And the pattern conveys a good time! It is dishwasher safe (top rack), which is very handy for clean up. Just remember it is NOT microwaveable.

Summer Plate.
Lola . 6 months ago
This plate is light weight washable plastic that can be washed in the dishwasher. This is ideal as an outside summer table plate or serving plate. Nice quality. The pattern on the plate is attractive but not my taste. Perfect for a barbecue. Sturdy.
Easy to use!
Kobegirl . 6 months ago
I used it for a serving fruits and veggies. I used at birthday party and dinner at backyard.Not too light and not too heavy. I don't need to worry to break. It's so convenient to easy to use at Kitchen for cooking too.
Large Unbreakable Plate
Natalie C. . 6 months ago
I was pleasantly surprised with the great colors of this plate. The colors are vibrant and festive and using it puts me in a cheerful mood! It is also just the right size to use as either a large dinner or serving plate.
Beautiful and durable Melamine Dinner Plate
Roberta O'Neil . 7 months ago
I love this Melamine Dinner Plate. It's a great size to use for breakfast, lunch or dinner. I personally used mine for breakfast. It's a beautiful plate that looks well on the table. I love that it is easy to use for children as well because it does not break like ceramic or china. The only thing I don't like is that I can't put it in the microwave to heat things up. These plates are perfect for outdoor gatherings!!!!

Amazing colors
Gius . 7 months ago
This is a very colorful plate! I really like the pattern and the bright colors. It is very decorative if you want to organize a party and the melamine material makes it ideal also for kids! It will not break easily as ceramic plates. I've washed in the dishwasher and nothing happened, i.e., colors stayed the same, and this is ideal for hassle-free dining! I like the idea of it being reusable and it looks strong enough to resist over time. Using this type of plates will reduce costs reducing the chances of having to replace plates due to breaking or chipping. The size is the classical of plates used to serve large appetizers or entrees.
Showing 1 - 7 out of 7 reviews