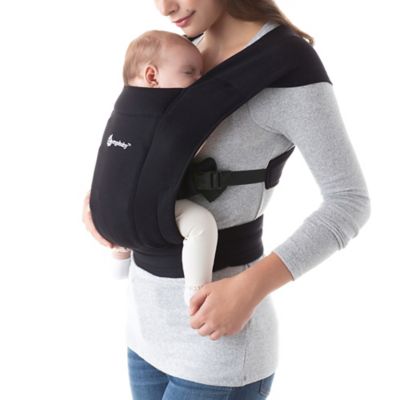 Ergobaby™ Embrace Newborn Carrier
Most Helpful Positive Review
So soft and comfortable!
Arbar
.
2 years ago
I love this carrier, I have a 2 month old, about 11lbs and we've been using it in infant mode. He usually falls asleep after about 5 min in it. The fabric is very soft. This provides more support than a fabric wrap and is much more comfortable/less bulky than the Lillebaby or other Ergo Baby carriers. My only complaint is the lack of head support. There is no head support! This makes it difficult to get things done, like laundry, dishes, etc. while baby is napping in the carrier. Once he has better control over his head this won't matter much, but for the carrier to be specific to newborns, they should really add something for head support.
Most Helpful Critical Review
returned
Chelsea
.
2 years ago
This was super complicated to get on and nearly impossible without help from another person. I wanted something a little easier that I could slide on and had more support on my daughters booty. This wasn't for me, but the quality was great, the material is very nice
customer reviews
Showing 1 - 20 out of 361 reviews
So soft!
Kaitlin B. . 5 months ago
I ordered this carrier for my second child after being unsatisfied with our previous one. This carrier is so soft and easy to don! I also love the sage color.

Originally posted on Ergobaby
Plus Size Mom Win
Margaret G. . 5 months ago
We love this carrier so much. I am a plus size mom and pretty tall so I was worried about fit, but it fits great and is very comfy. Baby loves it and sleep in it while i get things done.

Originally posted on Ergobaby
I found out about Ergobaby
Evelina P. . 5 months ago
I found out about Ergobaby when my son was 3.5 months old (prior to that I didn't use a carrier with him) and since getting the Embrace carrier, we take walks every day. I love that it is soft, light, breathable, easy to put on by myself and isn't hard or overly structured. Would highly recommend! I just wish I started when he was a newborn!

Originally posted on Ergobaby
Just as described. Comfortable. Easy
Nicole M. . 5 months ago
Just as described. Comfortable. Easy to use. My wife loves it!

Originally posted on Ergobaby
It's a hit
Gail . 6 months ago
I bought this for my daughter-in-law. She loves it!!!
Lack of options
MelG . 7 months ago
I wish it had at least three sizing options instead of two. If i use the newborn options my baby doesn't get too much head support and if i use the regular option it covers her head which limits air flow. I also wish the waist band was padded all the way around bc it digs into my waist and gets uncomfortable pretty quick. I have a short torso so it might just be my body shape isnt compatible. I might have to return it if i can't use it comfortably, I'm gonna give it one more try.
Kids hated it
Shaylin R. . 7 months ago
I have 2 month old twins and they unfortunately scream anytime we put them in ours :( we were really looking forward to these!

Originally posted on Ergobaby
Perfect newborn carrier!
Hannah L. . 8 months ago
This is so easy to put on and off by yourself and the fabric is so soft. It's comfortable for me to wear and it seems comfortable to my baby because he easily falls asleep once I'm wearing him. As a mom of 4, it's already come in handy on many occasions. As someone who's 4 weeks postpartum and still recovering, carrying my child in this carrier as opposed to just using my arms (especially for walking around or handling things at home) makes it much easier on my back. Opt for the mesh version if you're in a warmer climate or will be using this mostly during spring/summer. It'll be worth the extra money! Would recommend or even gift to a new parent. Makes for a perfect baby gift!


Originally posted on Ergobaby
Easy to put on
Erica C. . 9 months ago
I'm so glad I received this Embrace Soft Air Mesh Newborn Carrier from Stellar Product Testing Panel because we love it! First of it is so easy to put on. No twisting in circles and wrapping it around. I love how weightless it feels on me yet it supports baby so well. The material is breathable so neither baby or I are too warm. It's soft and comfortable for baby! I absolutely love that baby can be facing my chest and as she grows can also be facing away from me so she can see what is going on. I definitely think this should be on every expectant parents wish list!

Originally posted on Ergobaby
Embrace Review
Alex L. . 10 months ago
Thanks to the Stellar Product Testing Panel for providing me with this carrier. Overall I really liked the Embrace Newborn Carrier. I thought it was manufactured really well and did not feel cheap at all. It was very lightweight and breathable. I did not feel like I was overly hot or that my baby was uncomfortable in anyway. They only minor issue that I found was it took a little bit of time to get the baby "strapped in". My wife had to help me situate the baby and get her in for me. Other than those I enjoyed the style and the color of the carrier. It was super comfortable for me to wear and for the baby.

Originally posted on Ergobaby
I love it
Vivian . 11 months ago
Material is so soft. I make sure to take this with me every where I go since baby doesn't last too long being inside his stroller. He always falls asleep within minutes of wearing him.

Originally posted on buybuyBABY.com
Hot for baby and lacks neck support
JB . 11 months ago
Not my favorite and would've gone baby bjorn mini had I known how hot this was going to be for the baby. We keep our house cool and he still sweats a lot.

Originally posted on buybuyBABY.com
Shoulder Straps Are a Pain
mrsdsmith33 . 11 months ago
I really wanted to love this carrier to use around the house as I have the ErgoBaby Omni 360 Cool Air Mesh carrier and it was a bit too bulky for every day house wearing. However, the shoulder straps are meant to cup your shoulders instead of sit in between your neck and shoulder. So anytime you need to lift your shoulders, the carrier straps move and subsequently need to be adjusted which isn't easy. As long as your arms are constantly at your sides, no big deal. However, it's a big deal if you're trying to do housework or anything with your arms. The search continues.

Originally posted on Ergobaby
The most comfortable newborn carrier
Amalia D. . 1 year ago
this carrier really helpful for me as a new mom. it has a neck support for my newborn baby. it's easy to use by myself. the material was so soft and elastic.

Originally posted on Ergobaby
Just alright
BB&B Customer . 1 year ago
Just alright.. not the worst carrier but I wish I put the money spent towards a different one.. it just doesn't feel "right" I feel like I have to still hold my baby when I wear him.

Originally posted on buybuyBABY.com
baby love the ride
grape . 1 year ago
gave as a gift - baby like it
Gift for new mom
BB&B Customer . 1 year ago
She loved it, comfortable and looked great.

Originally posted on buybuyBABY.com
Very Comfortable
Mazzy H. . 1 year ago
Keeps baby tight, fabric is very soft, straps are strong and keeping my back straight. My baby is 2 months old so is a bit struggling to spread her legs in the carrier.

Originally posted on Ergobaby
No good.
Laura . 1 year ago
This carrier is so uncomfortable to wear. The straps come in and rub against already tender boobs. They say have it rtght but it tightens around babies ribs so you can't tighten too much otherwise the poor thing won't be able to breath. The strap that goes around your waist is so uncomfortable, it digs into your lower back ribs as there's no padding. Honestly it's more comfortable to carry my baby.

Originally posted on Ergobaby
best carrier
AMom . 1 year ago
Me and my little Princess loved this. Worth the price easy to use.
Showing 1 - 20 out of 361 reviews