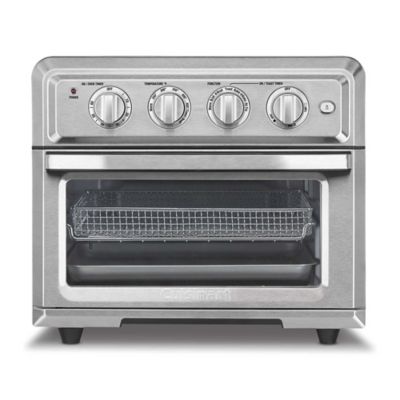 Cuisinart® Air Fryer Toaster Oven
Unavailable
This item is no longer for sale online
Most Helpful Positive Review
So far I like it
Anne70
.
5 years ago
I thought it was a great idea. Did not care for the looks of the typical air fryers. This takes the place of a toaster oven also. Cooked some biscuits that came out perfect. You might have to lower the temp 25 degrees if using the convection. I air fried bacon for only 5 min at 350 degrees. It is a learning process. Same with french fries.. Toast also came out good. I have very little counter space so I needed something that has many functions but looks very nice! I look forward to trying some of the recipes.
Most Helpful Critical Review
Oven is a Total Failure
Mike
.
5 years ago
I purchased this oven as a replacement for a Philips AirFryer XL. I wanted a multi-purpose oven that could air fry as well as bake, broil and toast, and one that would allow me to use some standard pans for baking and frying. Once this oven arrived, I launched into putting it through a series of tests. Sadly, it failed every single est. Toasting: the oven toasted the bottom of the bread much more than the top, yielding a very uneven result. Air frying: the oven burned the part of foods that faced the top heating element. When food was turned, the bottom side burned when it faced the top heating element. Baking and convection baking: the tops of muffins burned while the rest of the muffins were not thoroughly cooked. Mechanical Controls: Timer: the timer control is like an old-fashioed, manual egg timer. It has marks for 10, 20, 30 minutes, etc, with unnumbered marks in between. It is impossible to set 2 or 6 or 8 or 12 minutes when doing critical things like air frying. Thermostat: the thermostat has similar markings to the timer, making the setting imprecise. Using an accurate oven timer, I found that the thermostat was imprecise in maintaining correct temperatures. And in one instance, when set to the standard bake cycle at 325°, the oven heated up well beyond 400°. After feeling that I have this appliance a fair shot, I packed and returned it to the BBB. I replaced it with the Breville Smart Oven Air which, so far, has aced every test I've thrown at it. The Breville is twice the price, but what's the point in owning a cheaper appliance that can't perform its functions accurately.
customer reviews
Showing 1 - 20 out of 6601 reviews
AirFryer Toaster Oven
Sunsudus . 2 days ago
Cuisinart is the BEST - A responsible brand with customer care in mind. Love it
Originally posted on cuisinart.com
Good product
Me I & myself . 2 days ago
Good product, do watch food when first using timer as it often takes less time than what guide states, timer dial bit cheap- doesn't alway ding when unit is done cooking
Originally posted on cuisinart.com
?
No name also . 3 days ago
Perfect size, fast, love the toaster and air fryer.
Originally posted on cuisinart.com
Amazing product
MaoMao mom . 4 days ago
Simple to use and great results! The included short cut instructions sheet is my go to for help.
Originally posted on cuisinart.com
Almost perfect
Happy Couple . 4 days ago
First toaster oven that makes perfect toast. We had to buy a different air fry basket. It's a bit too tall and difficult to clean the inside back of oven.
Originally posted on cuisinart.com
Basically nice!
SAGZ . 4 days ago
Works great, dislike the ticking. It should be silent. All the functions work well. I find the tray at the bottom stains easily.
Originally posted on cuisinart.com
AirFryer Toaster Oven Review
Gerry Chalker . 5 days ago
Works great and easy to use. I do wish the Toaster setting (amount of toasting desired) was a permanent one and all you have to do is push a button for toasting to begin.
Originally posted on cuisinart.com
Not what i was hoping for
Dana bell . 5 days ago
It burns everything I follow directions for air fryer to the t. It burns. Toast comes out good
Originally posted on cuisinart.com
Its Okay
als362 . 5 days ago
This air fryer should have digital timers. It is hard to tell exactly how much time has been selected with the dials.
Originally posted on cuisinart.com
Good Air Fryer
sedpj . 6 days ago
Several foods tried in the air fryer and all have been a success. Quick heating and easy controls are great. Solid drip pan not a good quality metal. Otherwise, very good product.
Originally posted on cuisinart.com
Do not purchase
Theresa seabrook . 6 days ago
The cusinart was not good it burnt all my food so disappointed spent all the money on this
Originally posted on cuisinart.com
Works Too Good?
DCarrier . 6 days ago
Initial use was surprising. This thing gets hot fast! Be careful not to burn your dinner!
Originally posted on cuisinart.com
I use it every day! Great purchase.
Tkemp . 6 days ago
Very good quality product for the price. I use it everyday for toasting, baking, roasting and airfry. I have no complaints on any of the features. Get rid of your ugly big air fryer and consolidate with this toaster/air fryer in one. Saves counter space too!
Originally posted on cuisinart.com
Quiet and good looking
Roaster 54 . 6 days ago
This oven stands out for multitasking abilites from making plain toast to fully functioning oven with the air fryer option too. Outstandingly quiet, usually can't hear a noise at all unlike other air fryer we have had. It looks good on the counter and the pull out bottom tray makes clean up easy. It lacks a digital timer but do far that's not really an issue.
Originally posted on cuisinart.com
Better nutrition
NancyT in TN . 6 days ago
I found this to be a very efficient and great way to have better nutrition in my diet. Only thing I would change is put a white line on the dial so I can see where it is
Originally posted on cuisinart.com
Should have read reviews!!
Therese Gigliotti . 7 days ago
Overall, especially for the use as an air-fryer, it was quite good. Easy to use. I should have read the reviews before purchase when it came to the bake part of it. I needed the "bake" for an important but small side dish (the full size oven was loaded with food), and the Toaster Oven it turns out was baking at a temp 50 deg more than what I set it at. I tested this with an oven thermometer many times afterward. The Toaster feature works well. haven't tried the convection oven, but I expect to not be accurate. Love the air-fryer part though.
Originally posted on cuisinart.com
Not Satisfied
JoannaF . 1 week ago
I traded in my Breville Oven/Fryer for a Cuisinart Oven/Fryer and I am not happy with it. It cooks very hot and very fast. Anything that I have made in it I have had to adjust the temp lower and the time shorter than the recipe calls for. I feel that I have to constantly keep an eye on the food or it definitely burns. I guess I am just used to the accuracy of my Breville.
Originally posted on cuisinart.com
Burning Oven
Not happy . 1 week ago
Nice looking compact oven, however the temperature of the thermostat compared to the cooking temperature was way off. It was necessary to set the oven temp 50-75 degrees lower to keep things from overcooking or burning. We returned the first one we purchased and got a second one hoping it would be better. Unfortunately it was not and we returned it for a refund yesterday. I contacted customer service and the rep i spoke with indicated that they had not encountered this situation before. He was very understanding and recommended returning the oven (first one) for and exchange. We also learned from a couple different sources that this model has been discontinued and a newer model is now available.
Originally posted on cuisinart.com
Lacking precise controls and a useful light.
JimwM . 1 week ago
I wanted to like this air fryer, but I can't get past the fact that the light actually goes out when you open the door to see if your food is done! Who thinks of such things? In addition, many recipes require precise time and temperatures, good luck there as the time and temps are just a guess. I liked the air fryer I bought from a tv commercial better, wish I still had it.
Originally posted on cuisinart.com
A multi-tasker worth it's place in your kitchen!
Bed Bath and Beyond Customer . 2 weeks ago
What an outstanding device! In addition to heating up quickly, it perfectly air fries anything and toasts breads and baked goods until they are golden brown and delicious. If you are looking for a new air fryer or toaster, grab this product before it sells out!!!

Originally posted on cuisinart.com
Showing 1 - 20 out of 6601 reviews