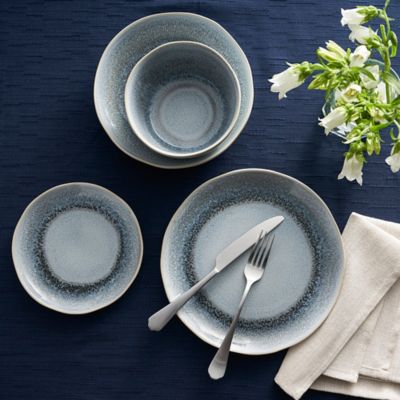 Bee & Willow™ Weston Dinnerware Collection in Fog
$7.00 - $126.00
was $10.00 - $180.00
(30% off)
$5.60 - $100.80
Get 25% off & earn 10% back in points with Welcome Rewards™+
Enroll Now
Most Helpful Positive Review
these dishes cured my depression
Anna
.
2 years ago
Nothing has brought me as much joy as this line of dishware. I love the wabi-sabi style, the pop of color (that still feels somewhat neutral), sturdy & solid quality, and an absolute joy to use. Sometimes when I feel stressed I just open my cabinet so I can look at them.
Most Helpful Critical Review
Wanted to like these but quality was poor
MAH in VA
.
2 years ago
I really liked the color and look of these Bee & Willow Weston dishware in "Fog" when I saw them online. But after unpacking a set, (I bought two, plus serving pieces) I discovered they were large and almost crude like pottery rather than nice quality stoneware. The bowls in the set (and serveware) were misshaped and out of round with multiple "flat spots" which I suppose occurred during firing. The bottom ring of the plates was unglazed and gave the impression that these dishes would chip easily. The bowls and plates were quite thick and heavy as well so they took up a lot of space when stacked together. I ended up returning it all and found a much nicer Noritake set that I really like. I don't recommend these dishes at all.
customer reviews
Showing 1 - 20 out of 49 reviews
Eye catching!!! mug.
Gail . 4 weeks ago
Perfect sized for a mug.
Perfect for us
Patti . 1 month ago
I love the fact that the dishes are heavy duty and slightly irregular in the design or shape which makes each one of them unique. Perfect that there are no cups and saucers because the last thing I need are more cups. Two sizes of bowls. You can also buy extra dishes separately if you need to. Bought two platters and a large serving bowl. Perfect.
Perfectly Pleased with Purchase
LovesaBargain . 1 month ago
I could not be happier with these dishes. We recently moved and our new home is a completely different aesthetic so my floral china was not going to cut it with leather granite countertops. I did not go look at these in the store but I ordered them from photos online, crossing my fingers. Exceeded my expectations. Very interesting and the perfect weight and size. They have been very durable so far. I was also impressed with the packaging. Everything arrived with no breakage.
Eye catcher!!!!
Gail . 1 month ago
These mugs are good looking . The size of them is perfect.
Nice looking mug!!!
Gail . 2 months ago
Mug is nice looking. It is right size and space in it for coffee or tea.
Bee&Willow dinner plate setting
Joe . 2 months ago
The new set matched our original setting.
Gorgeous and sturdy
Nikki . 4 months ago
Love, love, love these dishes. I wound up getting two sets so that I would have 8 of each. The set includes dinner plates, pasta plates/bowls, cereal bowls, and dessert plates. I love the sizes—the dinner plate is perfect for dinner—bigger than a paper plate, but not the size of a platter. The pasta dish is essentially the dinner plate with the edges curled up about ½ inch so it still fits a dinner sizes amount of food. The bowls are cereal bowls—not tiny. The dessert plates are half the size of the dinner plate which makes them perfect for a snack or dessert. What I really loved about this set was that it did not come with mugs—we love mugs we pick up on our travels so I was specifically looking for a dish set that did not come with mugs. The color is gorgeous. It was a hard choice between the mint, the beige, and the blue. I saw all three in person before I made my choice, wound up going with the blue to add a little color to the grey/beige theme of the house. It's not too bold but enough pop. Each piece is a little different so the shape and color is rustically hand styled, not too far off from each other but unique. I also liked how BBB had additional pieces outside of the set. I bought two platters and two large bowls which will be great for holidays. I could not find all 4 of those pieces in the blue so I went with beige which matches the décor in the rest of the house and it complements the blue nicely. All 40 pieces came packaged together and only one was broken and BBB helped resolve it. I've been using them for over three months now and none have chipped or broken even though they are stacked and get usage every day. They feel very sturdy, they clean easily, they are microwave and dishwasher safe. The bowl will get hot if left in the microwave for more than a couple minutes—I just use a hot pad to take it out of the microwave and by the time it's on the table, it's back to normal. I highly recommend this dish set.

Fragile - chip easily
BB&B Customer . 4 months ago
Very disappointed in the fragility of these dishes. I bought 2 - 4 piece dinnerware sets about 5 months ago and have two chipped plates already. They are quite fragile and chip very easily. I will buy two replacement pieces, but it looks like these just won't last very long. Poor quality. I wouldn't spend the money on these again.
Very nice bowl
Jean . 7 months ago
Very nice bowl. It matches our gray quartz countertops very nicely. We use it as a fruit bowl.
dishes!!
Elizabeth . 7 months ago
Beautiful and sturdy!!!
Unique love
Cyndi N . 8 months ago
This dish set is amazing. Well made. Unique coloring. Love the deep bowls. Bought two sets.
Love the natural look
artgal . 9 months ago
We've been using these dishes for several months and absolutely love the look of them. I especially like the style of the coffee mugs. The dinner bowls are a great design and perfect for salads or saucy meals on a bed of rice. The dinner bowls aren't as dishwasher friendly due to the irregular shape but we're okay with that.
stylish twist on classic dinner plate
Kelly . 9 months ago
Large and sturdy dinner plate. Great design. Know that this is a solid plate that you can serve pasta to steak with ease. Cleans up well in dishwasher. We love them
perfect cereal bowl!
Kelly . 9 months ago
This bowl is great for serving soup and cereal which for my family is the largest need for a classic bowl. We use the bowls daily! Very easy to store and clean. Strong ceramic. Look great
Highly recommend!
Kmccaffrey . 9 months ago
I love these bowls! We bought the whole set! Excellent quality and beautiful design!
Perfect Size
Chris . 9 months ago
I bought these a couple of months ago and love the size. They can be used to serve a small side dish or an entry like soup or stew
Great for everyday use
Kelly . 9 months ago
Our family loves these dishes. They are simple yet elegant design. Very hardy ceramic and easy to clean.
Simple yet elegant for everyday serving
Kelly . 9 months ago
We love this set! Just simple yet classic design. Hardy ceramic and easy to clean. Perfect dishes for everyday use of a family of 4.
Great Purchase
PjDob . 9 months ago
This is a fantastic set of dishware. The dinner bowl set is perfect for pasta or skillet style breakfasts. These quality pieces are quaint with slight imperfections giving them a homey handcrafted grace. I also purchased coffee mugs to match - they are a nice large size with a comfortable handle for holding.
Beautiful dinnerware set
kgator . 9 months ago
And no coffee mugs! You have an option to buy those in single pieces. Beautiful color, really love the two bowl sizes. Looking forward to enjoying using this set. If you have a blue gray kitchen color, these are perfect!
Showing 1 - 20 out of 49 reviews