Top Of The Bed
Top Of The Bed
Your bedding is more than just a set of sheets and a blanket. Building your bed has morphed into an art form. This overview is dedicated to helping you understand what you need, how everything is used, where to place it, and most importantly, how to create your own personal style in your bedroom. So, come on out from under the bed and discover how to display your top of bed personality.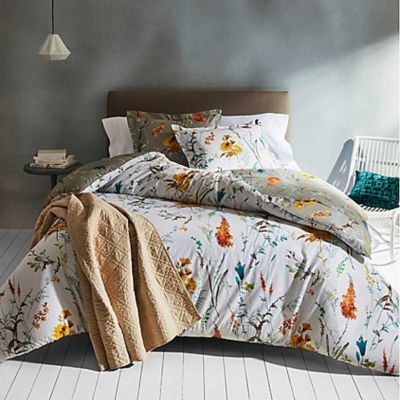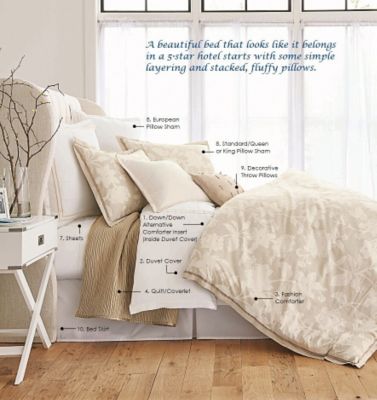 Discovering What's What
DOWN COMFORTERS OR DOWN ALTERNATE COMFORTERS*
Available in a variety of warmth weights to suit your climate and sleeping preferences, the comforter is often inserted inside of a Duvet Cover(2) to protect it against dirt. A high-quality down comforter is filled with goose feathers while an alternative to down is filled with synthetic or natural materials. Make your selection based on year-round comfort, quality, and construction. For more in-depth info see the Down Comforter Buying Guide.
DUVET COVER
A must for your Down Comforter(1), this piece will make your bed beautiful and become the focal point of your space. Easy to wash and store, duvet covers can be swapped out seasonally, and used for years to come. They can feature a button, zipper, or envelope closure. For more in-depth info see the Duvet Cover Buying Guide.
FASHION COMFORTER
Comforters (sometimes sold as bedding sets) cover the bed to set the style of your space. Sized to fit neatly on top of the bed and available in a wide range of style options from solid colors to elaborate decorative prints, fabrics, and textures.
QUILT/COVERLET
Lightweight, usually quilted or woven. Typically coverlets are more contemporary while quilts are more traditional in style. This decorative layer can be used over or under a comforter or duvet cover, but can also be a standalone covering for warmer months. For more in-depth info see the Quilts & Coverlets Buying Guide.
TIP: Choose a contrasting color that coordinates back to the bedding to showcase the Quilt/Coverlet for a dramatic effect and create a luxuriously layered look.
BEDSPREAD*
Lightweight and decorative, unlike a Coverlet(4), the bedspread covers the entire bed, including the mattress, box spring and pillows, down to the floor. Can be used over or under a Duvet Cover as a sleeping blanket.
BLANKETS AND THROWS*
Add color, texture, and casual coziness to your bedroom when this piece is tossed beautifully across the bed. Available in a variety of fabrics such as cotton, fleece, wool and acrylic, Throw Blankets are easy to change from season to season.
For more in-depth info see the Blankets Buying Guide.
SHEETS
Bed linens come in an array of fabrics, patterns, and colors to complete your bedding ensemble. For more in-depth info see the Sheets Buying Guide.
PILLOW SHAMS
Available in Standard/Queen, King or European sizes, the Standard/Queen/King generally match the bedding pattern, while European shams offer a beautiful accent. Setting the backdrop for the bed, the European Sham is a 26" x 26" square that is both decorative and practical, adding depth and height to your bed.
TIP: If you have a King size bed, use 3 European shams to fill the space behind your pillows.
DECORATIVE THROW PILLOWS
The a la carte items of the bedding world, Throw Pillows bring the bed together with decorative accents. Available in a variety of shapes and sizes to add style and texture, throw pillows easily accent and finish your bed.
BED SKIRTS
Keep the box spring and under-bed storage out of sight with a Bed Skirt for a more finished, tailored look. Common styles of bed skirts include the straight skirt (modern appeal), the ruffled (a classic style), and a pleated skirt (traditional, tailored look).
*Items not shown in the image above
What Do You Need and How Do You Layer It?
First things first: What are all these bedding pieces and what are you supposed to do with them? The most important factors in choosing your bedding are your climate and your sleeping preference. Layering is about personal style and is easy to change with the seasons. Think of assembling your bed in layers:
First Layer: Add a Comforter(1 or 3**) with a Duvet Cover(2) over your Sheets(7).
Second Layer: You can then add a Quilt/Coverlet(4) or Bedspread(5) folded over for another layer of style. (Some prefer to place this layer under the comforter for extra warmth.)
Third Layer: A Blanket or Throw Blanket(6) should be folded across the bottom of the bed to provide greater warmth when needed and to add more style to your bed's look.
Fourth Layer: Top off your bed with a selection of Pillow Shams(8) and Decorative Throw Pillows(9) to give your bed the finishing touches. Complete the bed with a Bed Skirt(10) for a more tailored look.
**See image and descriptions above
Choosing a design style that reflects your personality can transform your space from drab to fab, and make it your favorite room in the house.
Traditional
The Traditional bedding style comes from historical references: Classic tonal damasks and classical patterns. Layering percale, sateen, matelassé, cashmere, silk, and layers of luxury, quality textiles and furs creates a luxurious, regal appearance.
Brand Examples: J.Queen, Croscill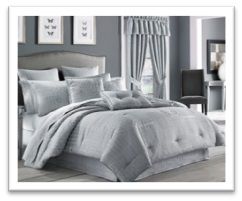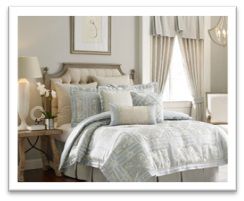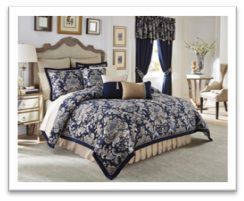 Transitional
The Transitional customer appreciates having a blend of contemporary and traditional elements in their home environment in equal parts. This style blends classic silhouettes with unexpectedly contemporary elements.
Brand Examples: INK+IVY, ED Ellen DeGeneres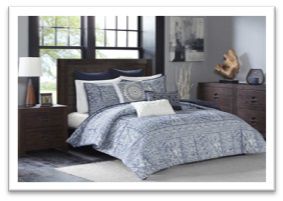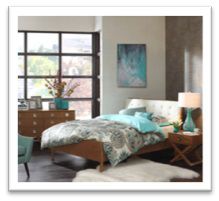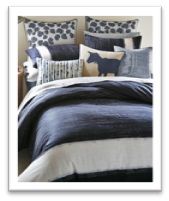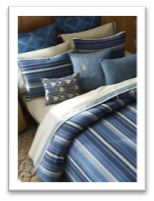 Contemporary
The Contemporary customer likes the clean lines of Mid Century Modern, but wants a little more fashion edge and the ability to evolve their style. Usually contemporary decor has mid-century roots, but have been modified with personal fashion touches such as global, boho, and mash-ups of many styles carefully orchestrated.
Brand Examples: Anthology, KAS Room, DKNY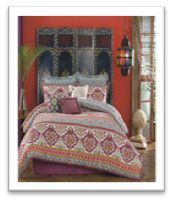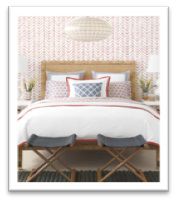 Modern Casual
The Modern Casual customer enjoys approachable fashion, simple constructions, and versatile function that is on-trend. Understated, urban, and cool, the style features relaxed neutrals that can be mixed and matched with an unexpected pop of color or texture for a bold statement.
Brand Examples: Kenneth Cole, Wamsutta Vintage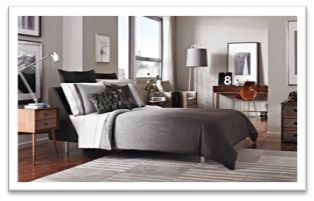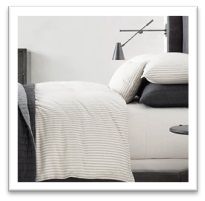 Exquisitely crafted high-end bedding, similar to what is found in luxury 5-star hotels, adds an elegant, refined look to your bedroom décor. When complete, its layered pieces offer a plush, opulent look. Luxury bedding brings a rich style to your space. Complete the look with coordinating window curtain panels and valance for your master bedroom. Explore our Fine Linens section for more information.
Brand Examples: Waterford Linens, Frette At Home, Vera Wang