Buying Guide to Stand Mixers
Buying Guide to Stand Mixers
A stand mixer is not just for baking enthusiasts. Today's stand mixers come with multiple settings and accessories/attachments that save you time, energy and can simplify all kinds of recipes. So if you are considering investing in one, you will want to understand the different types, accessories and attachments.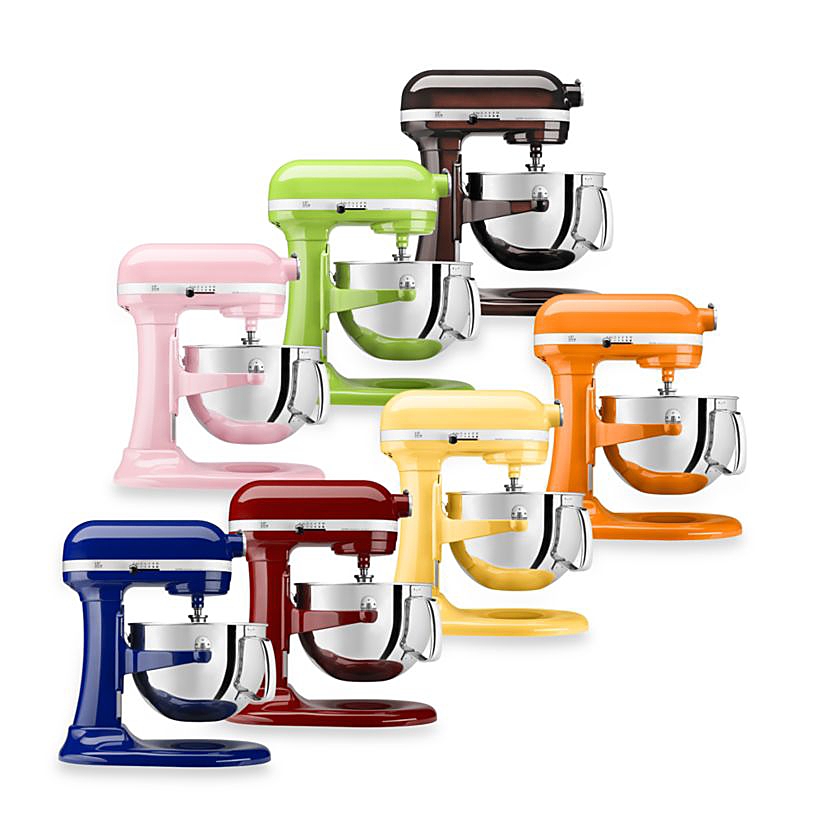 Why would you want a stand mixer versus a hand mixer?
Because of a stand mixer's size, you might be tempted to bypass it, but a stand mixer serves multiple purposes, whereas a hand mixer has more limited usage. A quick comparison of the two will help you choose.
| Hand Mixer | Stand Mixer |
| --- | --- |
| Compact and lightweight – can be stored in a cabinet or drawer | Much larger, heavier, requires more counter storage space |
| Motor less powerful – can only use with thinner consistencies | Powerful motor – can handle just about any mixing task |
| Handheld, you control where the removable beaters go | Can have a bowl that locks into place and may rotate |
|   | Variety of accessories and attachments add to versatility and greater usage |
What can you do with a stand mixer?
A stand mixer enables you to mix, knead, whip and beat ingredients together effortlessly. Many of the attachments and accessories are considered basics for anyone who enjoys baking/cooking.
With so many types how do you find the right stand mixer?
Consider what types of food you will be making. Pancakes don't require a heavy duty mixer, but if you make pasta dough, cakes, cookies, other deserts, sauces, or bake bread, a quality stand mixer will be worth the investment.
Also consider:
Counter space - measure the available counter space to ensure the stand mixer will fit and is in a convenient location.
Color and finish - select one that coordinates with the color and finish of your kitchen other appliances.
Capacity – a 4.5 or 5 quart capacity will be sufficient if you are baking for your family, but if you entertain a lot you will want a 6 or 7 quart size mixer.
What are the major features you should look for?
| Feature | What it means or does |
| --- | --- |
| Capacity | References the size of the mixing bowl which can range from 4.5 quarts to 7 quarts. You will want a larger bowl if you entertain frequently and are making large batches. |
| Speeds | If you are a heavy user, you will want a mixer with 10-12 speed variations. Light users can settle for 5. |
| Power/Wattage | A higher wattage does not necessarily mean greater power or performance. Wattage is how much it takes to operate the machine. Power is better measured by the number of cups of flour the machine can handle, the shape of the bowl, and how the attachments move. |
| Weight | A solid hefty stand mixer will prevent it from sliding along the counter when in use. Because of their weight they often remain out on the counter. |
What is the purpose of the different attachments?
Most models come with at least one, many have all three.
| | |
| --- | --- |
| Wire Whip or Whisk | Used for creaming and whipping ingredients |
| Dough Hook | Used for kneading bread dough |
| Beater | Used for mixing batters |
Other key features you will want:
Overload protection – helpful to prevent motor burnout.
Locking tilt head – allows easy access to the attachments and bowl.
All metal construction – provides more durability.
Timer – helps to eliminate under or over mixing.
Splash guard – protects against spills.
Soft start – slowly increases speed to prevent ingredients from spilling out of the bowl.
More noteworthy accessories:
Many models come with a multi-purpose hub to which you can attach a variety of accessories. These accessories will add greater functionality to your mixer and can cut back on the number of appliances cluttering up your kitchen.
Food grinder
Food grinder
Pasta or sausage maker
Slicer/shredder
Grain mill
Juicer
Do not immerse the base/motor in water. Unplug the unit and wipe it down with a damp cloth.
The attachments and bowl are usually top rack dishwasher safe.