Umbrellas: Staying Cool All Summer
Umbrellas: Staying Cool All Summer
Sure, spending summers in your backyard beats having to pack up for the day and fight for a spot at the beach. Although you love the summer weather, sometimes you need to take a break from the heat. The best way to do that? Add an umbrella to your outdoor entertaining area.
No longer are you limited to a vertical umbrella that just stands upright, which results in moving your seat every time a hint of sun starts creeping in. With features such as adjustable tilts that block out the sun from any angle, to a cantilever umbrella that can be placed near a pool to cast shade, a patio umbrella will be a lifesaver on those days when the sun's warmth can also be a nuisance.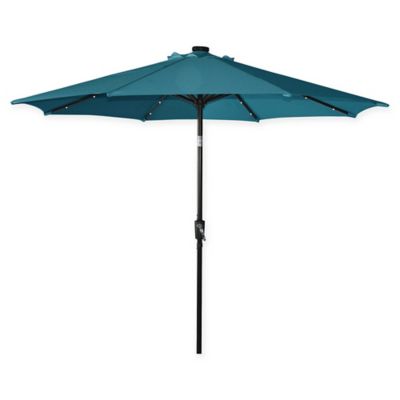 Breaking Down Umbrellas — From Design to Construction
The construction of an umbrella will determine its longevity and how well it handles whatever Mother Nature brings. All canopies are not crafted in a standard fabric, and the material used to build the ribs and pole are not limited to just aluminum. Of course, a little maintenance and some careful research on your part will help you choose what's best for your lifestyle, but take into consideration your needs, and the area you are planning to shield.
Triple Vents
To remove the risk of the umbrella catching a strong gust of wind and toppling over, look for an umbrella with triple vents. Located at the top, the vents create the illusion of 3 layers, and allow air to pass through freely, resulting in a bit more stability. This should also help cut down on the umbrella shaking back and forth in its stand, too.
Tilts
We've come a long way since the upright umbrella. A tilted umbrella allows you to block out the sun from any angle by simply adjusting half of the pole. This comes in handy in spaces where some of your guests want to sit in the sun, and others rather take refuge in the shade. It also eliminates having to manually move a heavy umbrella and stand each time the sun moves.
Bright Idea
Create a mock-up of your home's outdoor space by cutting out photos of patio furniture to mimic your current set up. Having a layout can help determine what type of umbrella is right for you (and it's fun, too). This way, you get a sense of what areas can be reserved for the sun and where an umbrella will live, making the most of your patio configuration.
Umbrella Styles
Umbrella Style
Example
Features
Beach

Canvas covering
Fabric drapes loosely from the perimeter of the canopy for a vented look
Sticks in the sand

Cantilever

Pole is offset from the umbrella so it hangs over the table without the pole in the middle
Smooth crank and adjustable angle
Tilts up and down
Requires an offset base
Rotates 360 degrees

Market

Traditional, octagon shape
Characterized by an inverted top
Umbrella Size and Shapes
Regardless of the space, there is an umbrella that fits it. The standard shape is considered round, yet if you have an area that requires a unique solution to providing shade, there are other shapes. The canopy size and umbrella shape determines how far shade can be cast, so perhaps opting for a rectangular or half-round umbrella would work best. Whatever you decide, be sure to check the pole's diameter in comparison to the size of the hole in the table or umbrella stand.
As a rule of thumb, the umbrella should be approximately 2 feet larger than the diameter of the table you want coverage for. This will ensure coverage for a table. Also, matching the shape of the umbrella to the table shape can help in providing shade for everyone seated at the table.
Umbrella Shape
Example
Shading Area
Bistro

7' umbrella
Provides 38 sq. ft. of shading

Half Round

9' umbrella
Provides 32 sq. ft. of shading

Rectangle

Traditional, octagon shape
Characterized by an inverted top
8' x 10' umbrella
Provides 80 sq. ft. of shading
8' x 11' umbrella
Provides 88 sq. ft. of shading
10' x 13' umbrella
Provides 130 sq. ft. of shading
11' umbrella
Provides 164 sq. ft. of shading

Round

9' umbrella
Provides 64 sq. ft. of shading
10' umbrella
Provides 79 sq. ft. of shading
11' umbrella
Provides 95 sq. ft. of shading

Square

7' umbrella
Provides 49 sq. ft. of shading
8' umbrella
Provides 64 sq. ft. of shading
8.5' umbrella
Provides 72 sq. ft. of shading
10' umbrella
Provides 100 sq. ft. of shading
11.5' umbrella
Provides 132 sq. ft. of shading

Octagon

6' umbrella
Provides 29 sq. ft. of shading
7.5' umbrella
Provides 46 sq. ft. of shading
9' umbrella
Provides 67 sq. ft. of shading
10' umbrella
Provides 83 sq. ft. of shading
11' umbrella
Provides 100 sq. ft. of shading
13' umbrella
Provides 140 sq. ft. of shading
Bases
A base is a must to keep an umbrella upright and in place. Typically made of heavy wrought iron or resin, it is important that the base does the job of not tipping over or allowing the umbrella to blow away should strong winds take over. Some bases can be filled with sand for extra support.
These two materials offer different takes on style; an added bonus since matching the umbrella to your patio furniture creates a beautiful presentation.
What kind of base do I need?
Offset Umbrella Base
Must be weighed down with wet sand or small stones to be used properly
For use with Cantilever umbrellas
Often used when an umbrella is not paired next to a table
Half-Round Umbrella Base
For use with half-round umbrellas
Heavyweight base
Made of case concrete to provide significant support for umbrellas
Resin Base
Typically requires playground sand to weigh it down
Inexpensive
A pin or screw secures the pole to the base
Wrought Iron Base
Heavy
Displays elegant flourishes and scrollwork to highlight the base
A pin or screw secures the pole to the base
Sand Anchor
Used to hold beach umbrellas
Base is designed like a screw to twist into the ground easily
Has stabilizer fins to prevent the base from rocking
Canopy Fabrics
Providing refuge on a hot day, a patio umbrella is essential for bringing comfort to those who want to enjoy the summer weather without having to swelter under the sun. What's great is canopies are made in any color and a multitude of patterns. While finding the style you want is a cinch, the other consideration is finding one that can withstand a little weather. It's not advisable to leave a brand new umbrella out during a massive thunderstorm, but it should be able to handle those occasional rain showers with ease. A canopy crafted of weather-resistant fabric reinforced by a strong frame, ribs and pole is the best choice for getting the most out of your new investment.
Here's what to look for in terms of umbrella canopy fabrics:
All-Weather Resistant
Just like the name implies, all-weather resistant fabric can contend with Mother Nature and still hold up well. Come rain, heavy wind or blazing sun, these types of fabrics are meant to resist fading to preserve their beautiful colors. Knowing this, it's okay to leave these pieces outside as they are highly durable and dependable, except during a significant storm when it is best to move them indoors. The investment in all-weather resistant fabric might be a little more costly, but worth it.
Fabrics that are all-weather resistant are usually treated with a chemical to increase the fiber strength of the material. A premium choice preferred by many is Sunbrella.
Sunbrella
Standard fabrics just don't have the longevity that Sunbrella does. Sunbrella fabric is designed to resist fading in the summer sun, and also is resilient against stains or chlorine, making it a great option to pair by the pool. The patented material can withstand the elements, resulting in many years of use.
Sunbrella fabric is used to create outdoor drapery, throw pillows, cushions, canopies, umbrellas, area rugs, throws, blankets and more. Many of Sunbrella's products are backed by a generous warranty, giving you peace of mind in your investment.
The Skin Cancer Foundation recommends Sunbrella fabrics in shading products as an aid in the prevention of sun induced damage to the skin as a part of a complete sun protection regimen, including regular use of sunscreen.
Olefin Fabric
Considered a deluxe weather-resistant fabric, Olefin is known for retaining beautiful color even when exposed to prolonged sunlight. It is also resistant to staining and mildew, dries quickly and is very strong. Olefin is a synthetic fiber made from polyolefin, such as polypropylene or polyethylene.
Frames and Ribs
The standout feature on an umbrella is its canopy. Whether solid or donning a fun print, it serves as a practical accessory and stylish accent. Yet, the foundation of the umbrella starts with a frame and ribs. The most common materials used in umbrella frames and ribs are wood, fiberglass and aluminum, and all have been used for decades. Varying upon your desire to put in little or no effort for its general upkeep, an umbrella can be used for years with proper maintenance.
Aluminum

Made of tubular pieces, aluminum is commonly used throughout outdoor furniture seating and accessories as a result of its lightweight stature and ability to resist rust and corrosion.
Pros
Cons
 

Affordable
Corrosion resistant
Lightweight yet durable
Will not rust or fade in the sun
Offered in a variety of finishes such as powder coat, brushed, satin and polished
Tolerates plants and animals

Gets hot in the sun
Made from hollow material, which can be prone to dents and accidental damage easily
May not be long lasting as a result of repeated wear and use (i.e. fabric on the chair can rip around the frame)
Not sustainable to strong wind

Care: Wipe clean. Follow the suggested care instructions provided.

Maintenance Level: Low
Fiberglass
Thought to be four times stronger than metal, umbrellas with fiberglass ribs and frames can stand up to any type of weather. The material is highly resilient, making it an excellent choice.
Pros
Cons
 

Holds up in the harshest weather conditions
Long lasting
Lighter than steel
Extremely durable and resilient
Withstands strong winds
Will not rust
Will not bend or break

Care: Wipe clean. Follow the suggested care instructions provided.

Maintenance Level: Low
Wood

A long-standing choice when it comes to market umbrellas, wood has ageless appeal in terms of style and longevity. Each wood species has its own special properties that bring a number of individual benefits, but overall, wood is as traditional as it gets.
Pros
Cons
 

Available in variety of stains and finishes
Can be treated with sealants and glazes to help prolong the life of the piece and make it weather-resistant
Exudes natural beauty and the rustic feel of the outdoors
Heavy and durable
Used to create a variety of patio furniture styles including tables, benches, adirondacks, swings, side tables, patio sets and others

Over time if the product is not properly maintained, it can crack or splinter under cold conditions
If not treated with a sealant or a varnish, wood can crack, splinter or warp
Shows stains easily (if not properly cared for)
Prone to scratches

Care: Varies on the type of wood the furniture is made from. Some types of wood require little maintenance, while for some, the color can alter over time.

Maintenance Level: Medium
An umbrella that goes beyond the basic upright design, and boasts other features, is always a plus. Since it is quite a big piece that stands out over your patio furniture, giving it a little extra flair by spotlighting its beauty allows for getting creative with accessories.
Some of the accessory options for umbrellas include:
String Lights, Lanterns and Solar Lights
Get use out of the umbrella even when the sun isn't out by using string lights, clip lights and solar powered lights to cast a soothing, warm glow that illuminates your outdoor patio area. Wrap the lights around the pole, or scatter them throughout the ribs of the umbrella (best for use with lanterns and stationary lights) for an adorable addition.
Umbrella Cover
An accessory that is definitely worth investing in is an umbrella cover. Made in a variety of colors and styles, an umbrella cover protects your new purchase on stormy days, yet gives your umbrella a rest from the sun.