Buying Guide to Lamps
Want to lighten up your sense of style when it comes to your home? Sometimes it's as simple as placing a LAMP in just the right spot to accentuate the positive or create a certain feel or mood. A lamp can lend overall lighting to a room or even direct attention to a particular area or favorite collectible.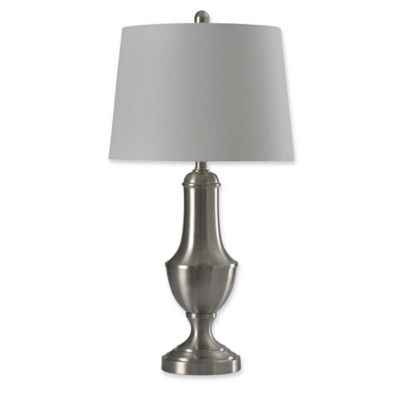 Before shopping for a lamp, take a look around the room you'll be using it in.
What kind of lighting are you trying to achieve?
Do you need to brighten up the space with ambient lighting (overall lighting)? Or are you looking for some light in your favorite spot for reading (directional lighting)?
Ambient lighting is usually achieved with a lamp that features a globe that faces upwards or a shade that is translucent. As for directional or task lighting, accent, desk or task lamps with an opaque shade work best.
Also, make sure your new lamp is in proportion with the room that you are buying it for as well as the furniture it will be placed on. A small lamp on a small nightstand is more visually appealing than a large lamp on the same piece of furniture.
What are the different types of lamps and which one will suit your needs best?
Once you know what you need lighting-wise, check out the different types and styles of lamps.
| Lamp Type | Measurements | Styles | Features |
| --- | --- | --- | --- |
| Desk/Task | Less than 20" |   | Have a specific spot in mind? A desk or task lamp will provide the right amount of directional lighting. |
|   |   | Gooseneck | This desk lamp has a flexible neck that allows you to direct light down, up or even sideways. |
|   |   | Magnifier | Having trouble reading? Some small lamps have a magnifier making it easier to decipher small print. |
|   |   | Organizer | Want to save desk space? These desk lamps have small sections where you can keep paper clips and other small office essentials. |
| Table | 25" to 32" |   | Table lamps add additional lighting to a room with overhead lighting or ambient lighting provided by another lighting fixture. |
|   | 30" to 34" | Buffet | Want to add an elegant touch to your décor? While table lamps are available in various shapes and sizes, one of the most distinctive-looking lamps is the buffet lamp with its candlestick-like pole. |
| Floor | 5' or more |   | Floor lamps come in various styles to fit your needs. |
|   |   | Console | This is your basic floor lamp. When shopping for these lamps, you may find that they are simply called floor lamps and not console lamps. |
|   |   |   | This single pole lamp has a round base and is topped off with a cloth shade or glass globe. |
|   |   |   | Most are available with one socket, but you can find some with two or three. |
|   |   | Torchiere | A torchiere stands approximately 6' and is usually more ornate than your typical floor lamp. |
|   |   |   | With a bowl-shaped shade, these lamps focus most of the light upwards. With the beams reflecting off of the ceiling, this lamp is perfect for ambient lighting. |
|   |   | Track Tree | Branching off of a central pole, you'll find three or more light sockets with this lamp. |
|   |   |   | Sockets are set in a reflective housing that twists or pivots so you can focus light in whatever direction you choose. |
|   |   | Arc | Ideal for reading, these lamps have bent, curving poles so they are great to have by a couch or chair. |
|   |   | Tray | Need to save floor space? With a built-in tray, these lamps are perfect to place near a chair to hold drinks or books. |
|   |   | Swing Arm | This triple-jointed lamp allows you to direct light even horizontally. |
As for cleaning lamps, most can simply be wiped down with a cloth and the shades vacuumed on low suction with a dust brush. Check the manufacturer's instructions to see if your lamp needs a specific cleaner.
Here are a few other things to consider when buying a lamp.
Love the lamp, but don't care for the shade?
Top it off with a different shade. Lamp shades are available in a huge array of shapes, sizes and fabrics. Want to show off your style some more? Check out shades in different shapes such as bell-shaped, empire, square, rectangular, drum-shaped and cut-cornered.
And don't forget the wide variety of styles and fabrics. Lamp shades are available in: hardback, knife pleat, soft pleat, softback, screen print, and mica styles to name a few and come in a variety of materials: faux leather, parchment, as well as fabrics such as shantung, raw silk, cotton and linen.
When you go shopping, remember measurements. A shade that is too big for a lamp may tip it over so keep the following in mind.
Shades should be at least as wide as the widest point of the lamp body and at eye level.
The bottom of the shade should cover the bottom of the socket.
When you look at shades, you'll find three dimensions. A bottom diameter (width across the bottom of the shade), top diameter (width across the top of the shade) and the third measurement for the shade's slant height (distance between the top and the bottom of the shade).
So you've found the lamp base and shade you want, what kind of light bulb do you need?
When you buy a lamp, it will indicate the acceptable light bulb wattage that can be used with it. This can usually be found on a label on the socket. It's important to use the right bulb and to never exceed the maximum wattage recommended. The higher the wattage of a light bulb is the higher the output of light and heat. Always keep a light bulb in the socket as a lamp plugged in without a bulb is a shock risk. And whenever replacing a bulb, unplug or turn off the lamp and let the old bulb cool before replacing with a new one.
Bulb Type
Light Color
Usage
Incandescent (Medium Base Bulb)
Produces a soft yellow-white light.
This inexpensive, dimmable bulb has been the standard up until recently, and is being slowly phased out for more energy efficient bulbs.
A disadvantage of an incandescent bulb is that the energy is transferred into heat instead of light, which wastes energy and makes the bulb hot to the touch.
Compact Fluorescent Bulb (CFL)
Produces a warm, white light.
CFL bulbs can be used in a standard incandescent socket.
CFL bulbs are more energy efficient and have a longer life than incandescent bulbs. However, they are more expensive than incandescent bulbs.
Halogen
Produces a bright, white light and gives off more light than your average incandescent.
Halogen bulbs have a long life, good beam control and are dimmable.
The disadvantages of halogen bulbs are that they are more expensive than incandescent bulbs and are extremely hot to the touch. When handling a halogen bulb, use a clean cloth. Oils from your hand can reduce the life span of the bulb.
Fluorescent
Bulbs come in different colors and can provide light from a basic warm white to black.
Fluorescent lights use less energy and lasts longer than incandescent bulbs.
LED
Use soft white/warm LED bulbs for living areas, and bright white LED bulbs for bathrooms and hallways.
LED lights are available in different shapes and sizes. They use less energy and last much longer than incandescent bulbs, but are more expensive.
As far as the wattage that your lamp requires, keep in mind the contrast between the brightness of a task area and that of the ambient lighting. Try your best to obtain a happy middle ground or eyestrain and eye fatigue can occur.
While incandescent bulbs have been widely used, they are now being phased out with more energy-efficient CFL bulbs. These bulbs use less wattage, and they also produce more light. When replacing your incandescent bulbs with CFL bulbs, refer to the chart below.
| Incandescent Light Bulb Wattage | CFL Light Bulb Wattage |
| --- | --- |
| 40 | 9 – 13 |
| 60 | 13 – 18 |
| 75 | 18 - 22 |
| 100 | 23 - 30 |
| 150 | 30 - 55 |
A good rule of thumb to follow when it comes to replacing bulbs is the CFL bulb's wattage will be approximately ¼ of the incandescent bulb's wattage.
There are a few more components to a lamp you should be familiar with.
The Harp, Finial, Spider and Fitter all play a part in keeping your shade in place.
Harp

Not just a musical instrument, a harp is the metal frame of a lamp that holds your shade over the base of the lamp.

Finial

That's finial not finale even though it's still an end, the top end of your lamp. The decorative end not only looks great but keeps the shade in place.

Spider

Nothing scary here. A lamp's spider is the arms that attached to the top rim of the shade. This holds the lampshade fitter in place.

Fitter

A fitter is the part of the lamp that holds the shade in place securely. There are clip fitters that clip directly to the bulb, Uno fitters that simply screw onto the socket of your lamp, and the washer fitter that works with the spider, harp and finial to keep things secured.
Do you have a switch preference for turning your lamp on and off?
You even have a choice when it comes to turning your lamp on and off. Switches depend on the lamp and what works best for you. There are simple on/off switches that can be rotary, push or rocker. You'll also find lamps with three-way switches on the socket, pull chains or an in-line switch right on the cord. Also look for dimmer switches which can take your lighting from very low to bright.