Buying Guide to Gliders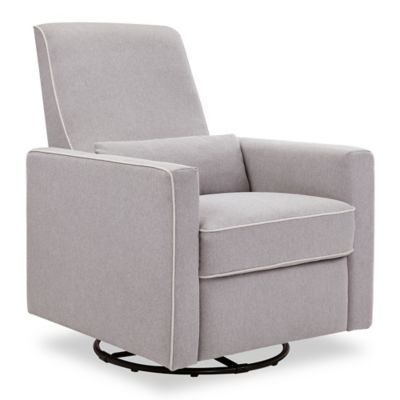 6 Things to Know Before You Buy
Planning your nursery? Save a special spot for a cozy glider. Designed to provide soothing comfort and quiet for both you and your baby, a glider is the perfect place for sleeping, feeding, relaxing and bonding. Once you begin shopping for a glider, you'll quickly discover there is a huge selection to choose from. Narrow your choice with this list of six must know facts.
Fact #1: Gliders and Rockers are Not the Same Thing
Although both gliders and rockers serve a similar purpose, you'll find gliders far surpass rockers in comfort. Basic hardwood rockers, nursery fixtures for ages, are designed to rock in an arc. Modern, updated gliders, on the other hand, slide forward and backward, creating a soothing effect on your baby. Some gliders swivel, most come with cushions and many are available with stand-alone ottomans to rest your feet. These are the little extras you'll appreciate most during those early A.M. feedings!
Fact #2: Types
There are two types of gliders: wood and upholstered.
Wood Gliders take up less room than an upholstered chair and have removable cushions. Cushions come in lots of fabric and pattern choices, letting you change themes as your child get older. Some wood gliders have padded armrests with pockets. These cushions are removable for replacement, but are generally not machine washable. And many models offer lumbar support for your back.
Upholstered Gliders have a larger, plusher seating area-and come in a wide variety of styles, fabric and pattern selections. You'll find many models have a built-in foot rest that extends out when the chair is reclined, then folds back into the chair when not in use. These built-in foot rests save valuable space in the nursery.
Fact #3: Features
What's behind a glider's design? Specific details meant to bring comfort and safety to you and your baby, early on and during the years to come. Here are some features to look for:
A locking mechanism stabilizes the glider in your desired position. This makes it easier for you to stand while holding your sleeping baby and even allows you to place the glider closer to the wall.
An adjustable backrest lets you find just the right position to feed and rock your baby. A reclining glider ranges from multiple positions to none at all, depending on the model. A swivel feature makes it easier for you to sit in or step out of the chair when using an ottoman. And here's a fact that's good to know: many gliders have a 360 degree swivel capability which lets you turn to keep an eye on other children in the room.
Fact #4: Add an Ottoman
A matching, stand-alone ottoman is a must have with a wood glider and a great complement to an upholstered glider. Designed with the same motion as the glider, an ottoman provides a quiet flow of movement and an essential place to rest your feet. There are two types of ottomans:
A Gliding Ottoman is generally sold separately from the glider. You'll love that it relieves knee pressure and offers a feeling of complete relaxation. Please note: gliding ottomans do not have a locking mechanism.
A Nursing Ottoman brings you the same benefits of a gliding ottoman, plus a pull-out nursing stool (available in flat or ergonomic) which features the most comfortable and supportive position for nursing (and also for reading!)
Fact #5: Protect
Let's face it, no matter how careful you are, at some point something is going to spill on the glider's fabric. Be prepared! Buy and apply non-toxic 'Stain Safe' to the removable cushions or upholstered chairs. While 'Stain Safe' will not prevent stains, it makes the removal of stains quick and easy and adds a level of much-needed protection.
Fact #6: Helpful Answers to Other Questions
Does an ottoman come with the glider?
In most cases the ottoman is sold separately.
Do the cushions come with the wood glider?
Yes, the cushions are included. They are also available to purchase separately, if needed.
Will all cushion styles fit all wood gliders?
No. Cushions are glider-style specific, and are available in many colors and fabrics.
Do gliders come in different finishes or fabrics?
Absolutely, each manufacturer has numerous finish options, fabric colors and pattern choices.
Can I special order my chair?
Yes. You can choose the style and features (glide, lock, recline, swivel) that best suit your needs. Plus, you can match the finish to your other nursery furniture, as well as coordinate any nursery theme from a large variety of fabric options.