Buying Guide to Food Processors
Designed to slice, dice, chop, mince, grind, shred, puree, and more, food processors are kitchen workhorses and the closest thing so far to a science fiction-style robot that prepares our food. Until that time, however, if you need a hand with food prep and are considering investing in a food processor, we've got the guidelines to answer your big questions as well as a few you might not have considered.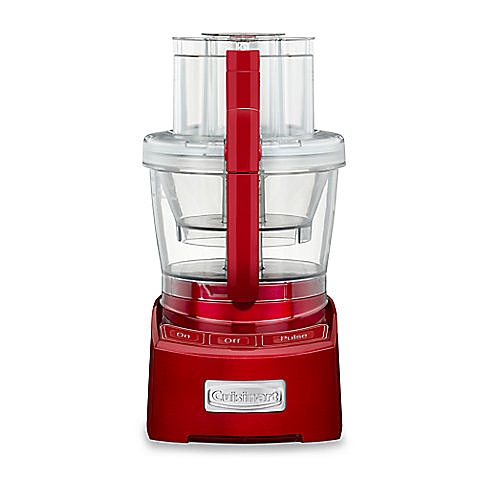 Counter space and lifestyle will all play a part in choosing a food processor, since one size does not necessarily fit all.
You have a blender so why do you need a food processor?
There are significant differences between food processors and blenders, even though you can do certain tasks in both. Blenders have a tall, upright design that tapers to a smaller bottom and generally requires adding a liquid ingredient to operate. A food processor, on the other hand, works with dry ingredients and can accommodate bulkier foods (think larger veggies, dough) thanks to a wide, flat bottom.
How big of a food processor do you need?
How big you go depends on what you want to do with your food processor. Do you want a quicker way to dice and slice veggies for salads or soups? Grating cheese? Kneading dough? Mincing herbs? The size, or capacity, of the food processor will depend upon your recipe requirements. A mini food processor, or food chopper, would be perfect for small servings, chopping nuts, or mincing garlic. A large capacity would be more suitable for family size servings, and an extra-large capacity would work best for someone who entertains a lot or caters.
Please note that a manufacturer's listed bowl size does not translate into the exact amount of ingredients you may add at once. Processors typically hold a cup or two less than the bowl size, and less than that (approximately half) for liquid contents.
What you should know about food processor capacities?
In this instance, size does matter. Too small and you won't be able to use your food processor; too big, and may have an appliance taking up too much counter space. Here's a guide to finding the machine that's just right:
Food Processor Capacity Guide:
Type
Capacity
Best For
Mini-Prep Processor
(Sometimes referred to as a food chopper.)
3-4 Cup Capacity Bowls
Useful for chopping, dicing, and mincing you would rather not do by hand. Great for nuts, sauces, small amounts of herbs, garnishes. Some large machines are sold with a mini bowl attachment included.
Mid-Size Processor
7 - 9 Cup Capacity Bowls
Average size bowl, considered efficient for most tasks.
Large Processor
11 - 13 Cup Capacity Bowls
Family size machine.
Extra-Large Processor
14 - 20 Cup Capacity Bowls
Can accommodate ingredients for a doubled recipe; Perfect for someone who entertains often or caters. These machines are often sold with smaller attachment bowls for greater versatility.
The motor's power can also make a difference.
The power of a food processor is a second, important consideration and you should look for 400 watts of power for an average size machine, and up to 750 or more for large to extra-large capacities. The bigger the job, the more muscle required. In addition, a heavy base is a desirable design element because it helps keep the processor stable on the counter when in operation.
Food processor control settings are simple.
Since food processors work very quickly, you really only need controls that direct: On/Off and Pulse. Small choppers may also offer high-low speeds, and high-end machines may come equipped with a "dough" setting.
What other design elements will you want?
Thoughtful design features to also look for include covered touch pads that allow for easy wipe-down and cleaning, and a line or marking on the mixing bowl to assist with measurement.
Perhaps most importantly, a wide feeder tube, the chute that allows you to pour or push ingredients into the machine, is also handy. The larger the chute, the less you need to pre-cut large veggies like potatoes or cucumbers. A plastic food pusher, or prod, is included. You definitely don't want to use your fingers!
Since sharp, whirring, knife blades pose a very real safety hazard, the best food processors won't begin operation until the base and lid have been correctly locked into place. Look for locks!
An S-shaped metal chopping blade comes standard with most food processors, while higher-end models may also include a blunt blade for kneading dough, whisks, a shredding/slicing disc, juicer attachments or assorted specialty cutting discs.
Food processors come with a variety of cutting blades or discs. You will want to determine which you are more likely to use in preparing foods.
Which blades do what?
Sabatier = Standard "S" Blade
Used for shredding; Usually comes standard. This blade sits on the bottom of the bowl.
Slicing Disc
Fast slicing action (you can adjust the settings on some machines to achieve a desired thickness; however in some cases, it is a variety of multiple slicing discs that deliver different thicknesses).
These discs are usually attached on top of an internal pillar and work at the top of the bowl, slicing ingredients as they are pushed through the feeder chute.
Julienne Disc
Designed with a row of short, sharp teeth, this disc cuts long, thin strips.
Dough Blade
This blade, features paddles that are less curved than the "S" blade and are used for dough making (pie crust, bread, etc.).
French Fry Disc
Similar to the Julienne disc, but this attachment cuts larger, French fry shapes.
Puree or Juice Blades
These blades liquefy contents.
If your food processor has a blender attachment you eliminate the need for a second appliance and can save precious counter space.
A juicer attachment will also do double duty.
Egg Whip
Designed with two, straight arms with paddles on each end, this attachment will produce fluffy egg whites and whipping cream.
Consider whether you will be leaving the food processor out on the counter or storing it in a cabinet?
You should expect a full-size food processor (as opposed to the mini food chopper) to take up approximately 1-to-1.5 cubic feet of countertop real estate. Appliances which are visible and easy to access are the ones proven to be used most often, however, if you have limited countertop space, a food processor that can be stored easily is the next best thing. Scope out your space before you buy.
What does clean up look like?
Using a dishwasher - top rack only - is the recommended method for cleaning the blades or discs. Simply disassemble, rinse and load.
The electric base does not go into the dishwasher or wash basin but should be wiped down with a damp sponge instead.
If you hand wash your dishes, be aware the discs and blades are very sharp and should be washed with caution. Do not let them get lost in the sudsy basin and risk finding them by surprise.