Buying Guide to Duvet Covers
Buying Guide to Duvet Covers
A duvet cover is essentially a fabric bag for a comforter. It works almost exactly the way a pillowcase covers a pillow. The only difference: A duvet cover is typically closed with buttons, zippers, or ties.
Duvet covers do two jobs: First, they protect comforters from dust, sweat and dirt (this is important, because down comforters should only be washed every one to three years). And second, as one of the largest visual elements in the bedroom, they serve as a key anchor for the room's overall style—and, happily, one that's easy to change when you're ready for a new look.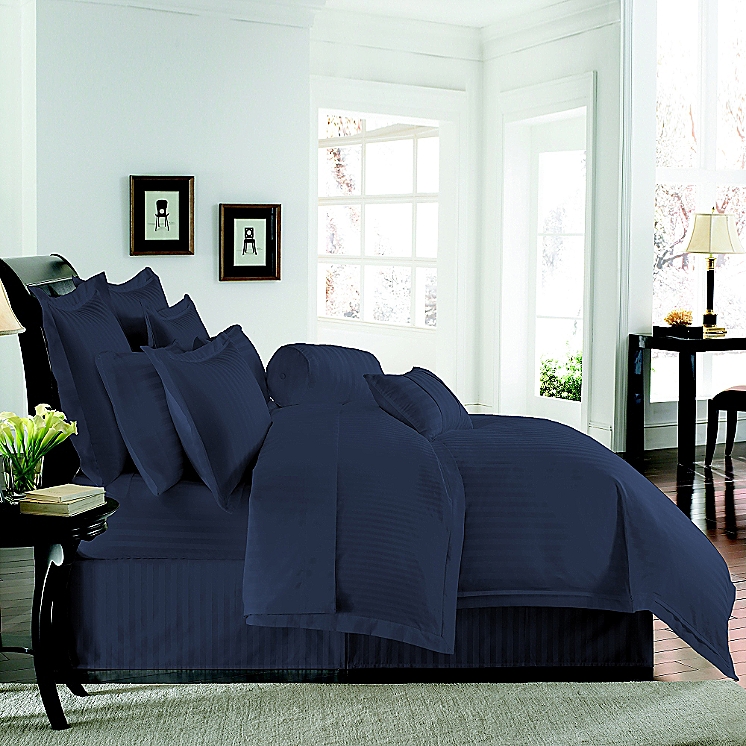 Style and fabric are probably going to be the primary factors in choosing a duvet cover, but here are a few questions to ask before choosing a duvet cover:
Do you have pets or small children?
This is a care and durability consideration: If your kids or pets will be climbing into bed with you, look for solid seams that will be tough to unravel, prints that will hide the occasional stain, and accents that can't be snagged or torn off by paws or claws, such as beading or elaborate embroidery.
How do you make your bed?
Do you use a top sheet? If you make your bed "euro style," without a top sheet between sleepers and the duvet cover, you will likely need to clean your duvet covers more often than people who sleep with a top sheet.
Will you change your duvet cover each season?
If you'll swap your duvet cover when the temperature changes, you can be more flexible in the materials you select. For example, a velvet or flannel comforter will be wonderfully cozy in the winter, but will be too warm for the summer. On the other hand, a cotton or cotton blend will be comfy throughout the year (and will allow the down inside the comforter itself to breathe, which is a big plus).
Do you hate wrinkles?
If you want a totally crease-free look, consider fabrics like cotton-poly blends or acrylics, that won't show fewer wrinkles.
How much effort do you want to extend in care and how large is your washing machine?
When choosing your duvet cover, a big factor is going to be how you'll use and care for the bedding. Check the label to see if it is machine washable or dry clean professionally only.
If it is machine washable, check to see if your washer and dryer are large enough to launder your duvet cover. If not, you'll need to take it to a Laundromat for washing. That may mean that dry clean only fabrics may in fact require no more effort for you as an easy-to-wash fabric (although the cleaning may cost more).
Duvet covers are pretty straightforward. The major differences between them are:
Material: Duvet covers come in many fabrics, from cotton and flannel to silk and velvet.
Closure: Typical duvet cover closures are buttons, ties, and/or zippers.
Cleaning Method: Depending on the fabric and construction of the duvets, cleaning options are machine wash and dry clean.
Size: A duvet cover should be the same size as your comforter. For example, a Queen sized comforter uses a Queen sized duvet cover.