Buying Guide to Dinnerware
Dinnerware is an industry term for what most people simply call dishes, china, or plates. Whatever you call it dinnerware is a focal point for the table. You'll use it often so choosing dinnerware that reflects your style is really important.
Ready to dish? Here's what you need to know.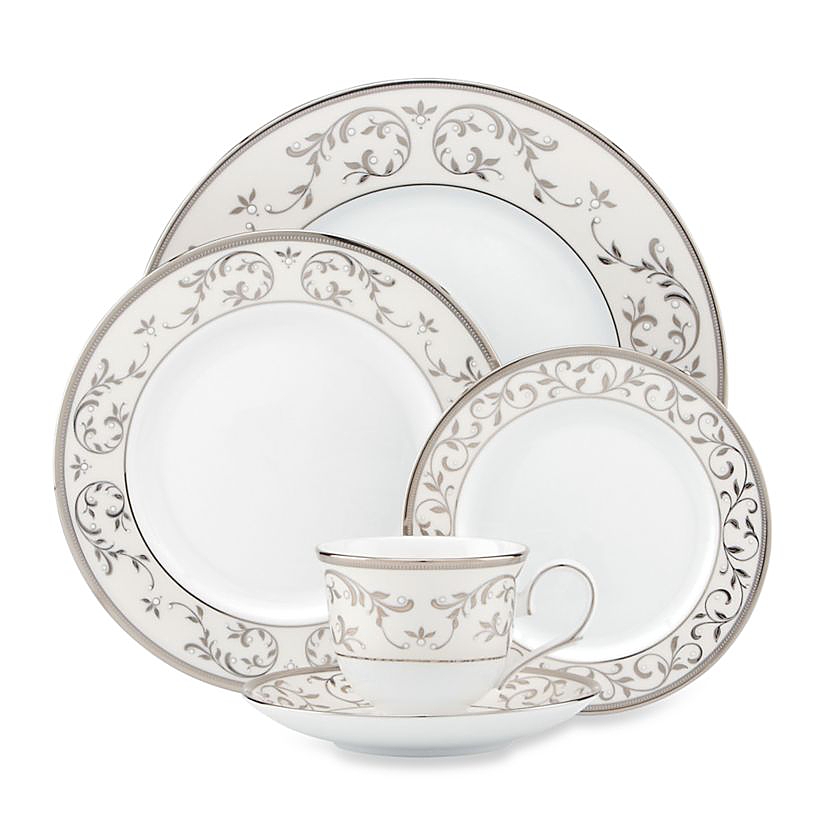 How to get started?
Most people begin by choosing a pattern. Does your preference lean towards gold band or platinum band patterns -- a look that tends to be timeless and may be passed down over generations? Or is your style traditional solid colors or whites? Does your taste favor casual patterns?
Another factor to consider -- are you looking for durability? If so did you know that Earthenware and Stoneware are more likely to chip and/or break than Porcelain or Bone China? You may think Porcelain and Bone China are fragile, but they are not. It is their durability and quality that makes them perfect for everyday use. (See "The Details" for an explanation of the four different material types.)
How is dinnerware sold?
Dinnerware is sold one of three ways:
Place Setting
Porcelain and bone china are often sold in individual place settings—all the pieces you'd need for a single person's seat at the table. (We recommend starting with 12 place settings, but your needs may be different.)
What's in them? The most common is a 5-piece place setting that has a dinner plate, salad plate (or dessert plate), bread and butter plate, teacup and saucer. (Don't forget to also get soup bowls.)
Great for engaged couples or anyone building their dinnerware collection from scratch.
Open Stock
Dinnerware that's sold by the individual piece.
Sometimes it's sold as a mix-and-match collection; you can choose from coordinating designs and colors within the same pattern.
An ideal option for people who want to add variety to what they already have, or who want to register for china that offers guests a wide range of options for gifts.
Boxed Sets
A single set of dinnerware made up of multiple place settings: Most common are 16- and 20-piece sets, which offer service for four.
What's in them? A 20-piece set will usually include four each of the dinner plate, salad plate, soup bowl, teacup and saucer. A 16-piece set will have a mug instead of the teacup and saucer.
A perfect choice for someone who is looking for value.