Buying Guide to Cribs
Considering that babies spend a great deal of time in their cribs, it's important to take your time choosing the right model. Spending a few minutes to review these crib buying tips will help you choose the ideal slumber spot for your little one.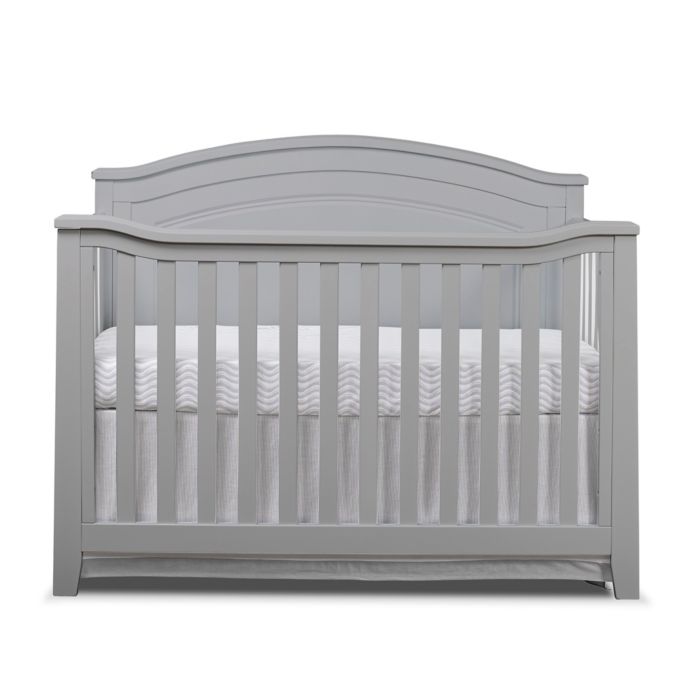 What are the major safety features to look for in a crib?
Baby's safety is your top priority when it comes to choosing a crib. Look for the following features when deciding on the ideal model.
Mandated Requirements
Other Safety Features
Why It Is Important
Slats no more than 2 3/8 inches apart
 
With slats that are any wider, baby runs the risk of having his torso fall through and trapping his head, which can have fatal consequences.
Corner posts no higher than 1/16 of an inch, unless they support a canopy.
 
Corner posts higher than 1/16 of an inch can potentially catch baby's clothing and cause injury or choking.
Stationary sides
 
Though drop-down sides that made leaning over to pick up or put down baby unnecessary were once quite common, accidents involving the movable railings caused the Consumer Product Safety Commission to ban their manufacture and sale as of June 2011.
 
Lack of cutout designs along railing and finials on the corners
Though they may add a decorative touch, cutout designs attached to the crib railing pose a choking hazard risk, and finials can cause children's clothing to catch, leading to strangulation.
 
Adjustable mattress height
As baby grows, in order to ensure his safety, you must be able to lower the mattress so that he doesn't run the risk of climbing out and falling.
 
Stability
A stable, well-constructed crib is a necessity. High-quality cribs possess one or more stabilizer bars, which are metal rods fastened to each end board beneath the crib. Test a crib for stability by shaking it. It should not rattle, but seem solid. If the crib is wood, there should be no signs of warping, splitting or splintering.
 
Frame size at least 51

3/4

inches long by 27

3/4

inches wide.
The correct frame size is critical to a tight-fitting mattress. If you can fit two or more fingers between the mattress and the side of the crib, the mattress is too small and your baby is in danger of injury.
As an extra precaution, check that the crib is certified by the Juvenile Products Manufacturing Association, which ensures that the crib model you are considering has passed safety tests.
Are there other crib options besides a standard crib?
A convertible crib is perfect if you are looking for a longer lasting option, a mini crib is ideal if the baby's nursery has limited room, and a portable crib is good for short stays at grandma's house.
Convertible Crib:

comes in 3-in-1 combination (crib, toddler bed, twin bed size) or a 4-in-1 combination (crib, toddler bed, day bed, full size bed). Some convertible cribs convert to a toddler bed without a conversion kit, while others require a separately purchased conversion kit. Also check to see if the model has a toddler guard rail and/or a side rail or if you will need to buy each separately.

Mini Crib:

is great for apartment dwellers or a smaller room. Most will convert to a twin size bed, but the conversion rails are a separate purchase.

Portable Crib:

is meant for short stays or infrequent use. They are lightweight and easy to use, and have a lower baby weight limit (around 30 lbs.) than standard or convertible cribs.
Is it possible to continue to use the crib as your child grows?
If you purchase a convertible style crib, you can make the most of your investment by using the crib for the next several years. Some cribs grow with your child, converting into toddler beds and then transforming into full-sized beds or daybeds. Convertible beds often require that you buy extra components to make the conversions, such as bed-rails.
How likely are you to find a crib to match your decorating scheme?
Baby cribs come in a wide variety of styles, finishes, designs and even shapes, giving you plenty of decorating options. Cribs feature various colors, including white, French white, gray and many shades of brown and are constructed of a variety of attractive woods, including poplar. Some cribs are ornate, while others feature simple, clean lines. Many cribs are rectangular in shape, but there are some on the market that are oval and even round. Some cribs also come with matching changing tables.