Buying Guide to Crib Bedding
Creating a comfy place for baby to rest and hopefully sleep is an enjoyable task for expectant parents. The bedding you choose also enables you to create an attractive focal point in the nursery and augment or even jump-start your decorating scheme.
Knowing the various aspects of crib bedding helps you choose the right set for your little bundle of joy.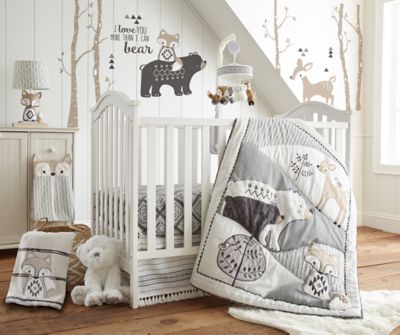 What is included in a crib set, and can you buy items separately?
While you can buy crib bedding separately, it often makes the most sense in terms of decorating and building a cohesive theme to buy a set. Crib bedding generally comes in four and six piece sets, although there are some sets with three items and some with eight items.
Sets also offer coordinated accessories. To be certain of what you're getting, check the set's contents before purchasing.
How likely are you to find crib bedding that works with your nursery design theme?
A wide variety of crib bedding sets exist offering nearly limitless patterns and colors, which means you're likely to find just the right set for your baby's nursery. There are sets perfect for girls and boys and even unisex designs. Patterns run the gamut, including coordinating solids in vibrant and muted colors, animal themes, stripes, florals, butterflies, polka dots and even moons and stars.
Crib Bedding Components
Crib bedding consists of a variety of items, each with their own special features.
*Quilts -

should never be left in the crib with baby. Quilts can serve as decoration and are also functional in that they can be used as wall hangings and supervised play mats.

*Fitted sheets -

are designed to fit snugly on mattresses so they don't come loose. They come in a variety of fabrics. In addition to the fitted sheet that comes with your set, get two or three extras so that you can quickly and easily change the sheets if baby has an accident or if you're in between laundry.

*Bed skirts -

hang from underneath the mattress to add a decorative touch. They hide the underside of the crib, including any hardware and items you've stored down there.

*Diaper stackers -

are decorative and functional. They generally hang on the side of the crib and are used to hold diapers so that they're readily available for those late night diaper changings while baby is in bed. Once baby is able to stand inside the crib, the diaper stacker should be moved to the changing station.

*Window valances -

come in the larger crib sets and do a good job of pulling the decor of the room together. Most sets only come with one valance, so you'll most likely have to buy additional ones if you have more than one window.
Should you measure the crib before buying fitted sheets, or do they come in standard sizes?
Generally, most crib mattresses run 51 5/8-inches long by 27 1/4-inches wide by 5 1/2-inches thick, which is the size of standard fitted crib sheets. If you suspect that your crib is a different size, measure it so you know exactly what size you require. If your mattress is slightly bigger than the standard size, consider that some mattress fabrics, such as knit, are more likely to stretch than others. Whatever fitted sheet you choose, it should fit snugly with no puckering or the likelihood of coming loose.
What fabric choices are available in fitted crib sheets?
Considering baby's delicate skin, it's important to choose your bedding fabric wisely. There are several types of materials used to make fitted crib sheets, each with specific features and advantages.
*Percale -

is either cotton or a blend of cotton and polyester and refers to the method used to make the fabric. Generally, the higher the thread count of the percale, such as 300, the softer the sheet.

*Jersey knit sheets -

resemble t-shirt material and are good in cooler climates. Knit is a stretchy material that expands easily to fit on the mattress.

*Velour -

is a plush, comfortable fabric made of cotton that is extra warming in cold weather.

*Organic cotton -

fabrics, such as muslin, are made from cotton grown organically. This material can be beneficial for babies with allergies or sensitive skin. It is available in sets and individual items.

*Flannel -

is a soft material often made of cotton and can also be warming.