Buying Guide to Breast Pumps
You've decided 'breast is best,' but there are many reasons why you may not be able to nurse baby on demand. A breast pump allows you to express (extract) your milk so you (or Dad) can feed baby from a bottle, anytime baby is hungry.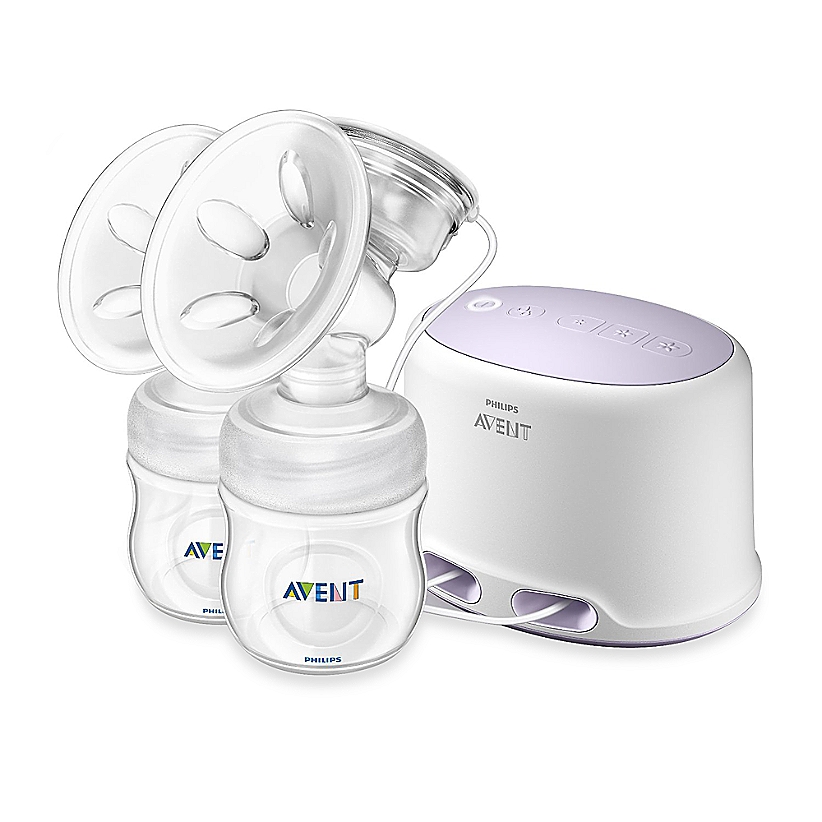 The concept for every breast pump is one and the same. Each uses suction at the breast (that mimics the way a baby feeds) to pump milk into bottles or storage bags. That said, not every pump operates in the same fashion or attends to the same particular set of needs. Before you settle on a pump, ask yourself these important questions:
Why are you looking for a breast pump?
Are you having trouble lactating? Do you have a busy schedule that prevents you from being home for every feeding? Is your baby a preemie or in the NICU? Is baby simply having trouble latching on? Not every pump caters to every issue -- determine why you need to express your milk and go from there.
How often will you need to pump?
Maintaining a steady supply of breast milk means you'll need to pump several times a day -- sometimes even more! If you need to pump quickly and efficiently at work, for example, look for a machine that's easy to carry, lightweight, and double pumps (both breasts at the same time) in a quick cycle. But if you need to express only occasionally, say to help prevent engorgement (common when your milk has only just come in a few days after the birth of your baby), then perhaps a hand-held pump is all you need. If you are multi-tasking and would like to be able to do something else while pumping, try a hands-free pump, just remember you will also need a hands-free bra.
Where will you be pumping?
Not every new mom is lucky enough to pump in the privacy of her own home. If you have to pump at work, consider a machine that's small, quiet and battery operated so you don't have to find a discreet place to pump that also has an outlet. There are even breast pumps with AC adapters so you can express in your car via the cigarette lighter.
How long will you have to pump?
Looking to pump on your coffee break? You'll need a machine that gets the job done in a minimal amount of time. Pumping cycles can vary from 15 to 30 minutes (or sometimes even longer if you're using a manual pump). That may not seem like a lot of time, but it could mean the difference between spending your lunch hour pumping and having a few minutes to grab a salad before that afternoon meeting. Moms with a busy schedule might also want to look into purchasing a pump with an LCD display that you can program to remember your preferred pumping patterns.
What size breast shields do you need?
The breast shield is the piece of the pump that is placed directly over the nipple. There is a standard size for shields, but many manufacturers have smaller or larger options available, because a proper fit ensures creation of a vacuum lock that will help you express the most milk most efficiently. How can you tell what size is right for you? The nipple should move freely in the shield while pumping is in progress. If it doesn't move at all or rubs against the side of the shield, you need a larger size.
Now that you've identified what you need, it's time to choose your machine.
| Type | Who is it for? | How does it work? | Can it double pump? | Length of pumping cycle? | Is it quiet and lightweight? |
| --- | --- | --- | --- | --- | --- |
| Hospital grade electric | Mothers who have trouble nursing, mothers who have medical conditions that limit the amount of milk they produce, premature babies and babies in the NICU. | It plugs into an electrical outlet. | Yes. | Averages 40 to 60 sucks per minute. | No. |
| High end electric | For women who can't nurse regularly. | Typically it plugs into an outlet, although some versions may come with an AC adaptor or a battery pack. | Yes. | Average 40 to 60 sucks per minute. | Yes. This style usually weighs around 5 lbs. |
| Small electric or battery operated | For women who can't nurse regularly and those looking for short term use. | Operates via a plug or battery pack. | Typically they are single breast machines. Battery operated machines may have the capability to double pump, but not the power to last a whole cycle. | Some only produce 12 sucks per minute. | Yes. This style usually weighs around 2 lbs. |
| Manual | For occasional or short term use. | The user pumps a piston or squeezes a lever to create suction. May need two hands to operate. | No. | Slow pumping cycle. | Yes. |
Maintenance
If you don't plan on using your breast pump for a few hours, clean it according to the manufacturer's instructions. Many pumps can be easily disassembled and washed with warm water and a mild detergent. You can also disinfect your breast pump and accessories in microwavable steam clean bags in about 3 minutes. If you are on the go, use quick clean wipes to cleanse breast shields, valves and membranes.
Milk 101
Veteran moms may know the rules, but for new moms-to-be here's a list of must-knows about milk storage.
If you're pumping to store for later, refrigerate pumped milk as soon as possible.
Breast milk can be stored in the refrigerator for 24 hrs and in the freezer for up to 3 to 6 months.
Date your milk so you know when it was pumped.
Never place frozen milk in the door of the freezer. You can accidentally cause the milk to thaw.
Thaw breast milk in warm water rather than boiling water or in the microwave.
Never refreeze breast milk.
Theses accessories can make breast feeding and pumping much easier.
For pumping...
Nipple ointment:

A must to sooth sore breasts post-pump.

Hands-free bra:

This is an extra you'll have to invest in separately. Attach the breast shields to the appropriate place on the bra and you can pump hands-free. Voila!

Breast Shields:

Come in a range of sizes so find the proper fitting one to ensure your comfort when expressing.

Storage containers:

Pump your milk directly into the container, cap and then store in the refrigerator. Some styles even double as a bottle.

Breast milk bags:

Pump your milk directly into the bag, seal, date and then stick it in the freezer.

Carrying case:

Look for one that not only has style but storage compartments to tuck away bottles and bags.

Cleaning:

Besides soap and hand washing your pump and accessories, you can opt to disinfect your pump and accessories with microwavable steam clean bags, or when on the go, use quick clean wipes.
For nursing...
Breast pads:

You place these inside of your bra to prevent any accidental leaks -- and there will be many, especially as you're establishing your milk supply. They come in both disposable and washable versions.

Nursing bra:

This specialty undergarment allows you to nurse without exposing your whole breast. Nursing bras size to fit just like a regular bra, with the added bonus of an adjustable cup that allows for the inevitable fluctuation of your breast size.

Nursing pillow:

This U-shaped pillow provides support for both you and your little one. He's got a comfortable place to rest and your arms and neck won't get tired holding him.

Nursing stool:

This handy piece of furniture creates support and relieves stress on your legs and back.