Buying Guide to Baby Swings & Bouncers
Swings and bouncers are wonderful ways to soothe a fussy baby or occupy an infant for a few minutes while you get things done nearby. They can easily become a lifesaver for exhausted parents by helping an infant fall asleep peacefully.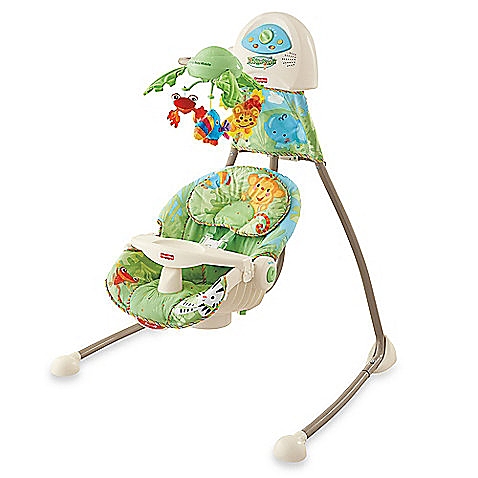 Both bouncers and swings come in a variety of styles, from classic models with basic functionality to high-tech models that can play music or white noise as they soothe baby. Here's how to pick the right seat for you.
| Your baby likes: | You can use: |
| --- | --- |
| A steady rocking motion | A swing will rock your baby back and forth (or from side to side) in a steady motion. |
| Vibrations, like in a moving car | A vibrating bouncer offers a subtle movement to help soothe children who like the gentle hum of riding in the car. It's usually powered by batteries. |
| Less predictable motion | A basic bouncer moves in response to your baby's motions, making the amount and type of movement completely under your baby's control. |
| A variety of motion types | A convertible bouncer/swing gives you multiple settings, enabling you to try to find one that soothes your baby. |
You will also want to ensure that it has all the features you need to keep your baby safe-and entertained. Here are some of the most common features.
| Feature: | What It Does & Why You Want It |
| --- | --- |
| A wide, sturdy base | This helps reduce the risk of tipping and injury when your baby is using the swing or bouncer. |
| Restraints | Some swings and bouncers offer a five-point harness which prevents a child from falling over. |
| Easily removable-and machine washable-cushions | Cushions that are easy to remove make it simple to clean up any messes. |
| Adjustable settings | Many of the more elaborate swings and bouncers offer a variety of rocking or vibrating modes, to help ensure your baby finds the right setting. |
| Entertainment | Some models play music and songs, while others offer toy bars and mobiles for your baby's interactive play. |
| Foldable | If you're short on space, some models will fold for storage minimizing baby clutter in your home, and making it easier to take your swing or bouncer on the road. |