Buying Guide to Baby Feeding
Feeding baby is a satisfying task made even more enjoyable with the ideal feeding tools. Once you've consulted with your pediatrician about your child's diet, use this guide to find the best options for baby's dining pleasure.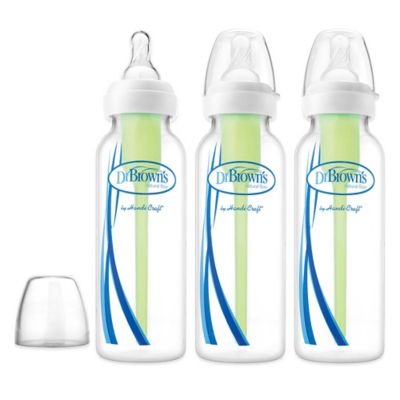 What are the different styles of bottles and which is right for you and your baby?
Whether you bottle feed baby formula or breast milk, you require a bottle that works for you both. Consider the features and advantages of the various types of bottles before making your decision.
*Standard.
Straight-edged standard bottles have been around for many years. Such bottles can be found in glass and plastic and are reusable and easy to clean. If you want to prevent gas in baby, pair such bottles with gas-reducing nipples, as the bottles themselves have no special features to keep gas at bay.
*Natural feeding.
If preventing gas is at the top of your list, choose natural feeding bottles, which possess trademarked venting or anti-vacuum designs that reduce air flow to baby, decreasing the possibility of gas. Such bottles are generally sold as part of a bottle system (see The Details section).
*Angled.
When you feed in a semi-upright position, angled bottles are the most comfortable for baby and you. Choose a nipple designed to reduce air flow to baby in order to prevent gas.
*Liner style.
Though they are often referred to as disposable bottles, the only part you throw away after use is the plastic pre-sterilized liner that you insert into the bottle and secure with a screw-on ring before filling with milk. The plastic liners collapse as baby feeds, removing air bubbles. Once baby finishes eating, you throw out the liner.
How do you determine which nipple type to use?
A wide variety of nipple types exist, and it may take some experimentation to see which nipple works best for baby. When choosing, keep in mind that not all nipples and bottles are compatible and some feature venting or anti-vacuum designs that help prevent baby from swallowing gas-producing air.
*Natural shape nipples feel like a breast, which makes these nipples useful if baby switches from breast to bottle. This type of nipple usually comes as part of a natural feeding bottle system.
*Age appropriate nipples are designed to release the proper flow of milk to baby depending on his age level. For example, too fast of a flow to a newborn can be problematic. Very small nipple openings are often Stage 1, and nipples are marked with their size and suggested age range.
*Orthodontic shaped nipples are designed to promote healthy oral development
What's the difference between silicone and latex nipples?
Silicone nipples are firm, long-lasting and hold their shape well. They are clear in color, odorless and heat resistant. Latex nipples are gold to brown in color and are softer and more flexible than silicone. Latex is a porous material that can allow build-up of bacteria, and latex is susceptible to cracking.
Are any feeding products more likely to help prevent or minimize gassiness in baby?
After checking with your pediatrician regarding managing baby's gassiness and fussiness, choose a nipple that decreases the flow of air to baby's tummy. Try bottle systems that indicate they are designed to reduce gas. Because every baby is unique, you may need to try several nipple styles before you find the one that works best for your child.