Buying Guide to Baby Carriers
Bringing up baby involves a whole host of accoutrements. Considering adding a carrier to your collection? This addition lets you tote your little one hands-free, making it a must-have for parents on the go or for those who want to multitask while still being close to baby.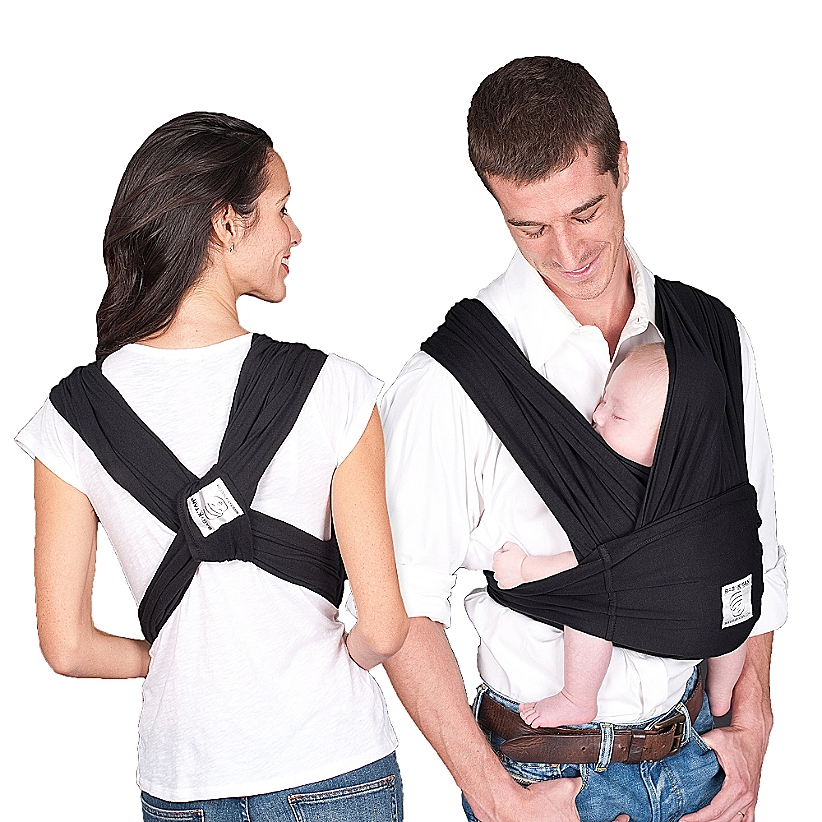 With so many types of carriers on the market, how can you narrow down the style that's right for you and your baby? Answer the following questions to see which qualities are most important to you.
Do you plan on carrying a newborn?
If the answer is yes, then you need to look for a carrier that provides the proper head and neck support for an infant that young.
Do you have back, neck or shoulder issues?
Babies may look tiny, but carrying an extra 8 to 40 lbs is no easy feat. The wrong style of carrier is only going to aggravate pre-existing issues. Look for a product that's designed to relieve strain and pressure from your sensitive areas. This may be achieved by padding or adjustable straps at the shoulder, waist or torso.
How long do you plan on using the carrier?
Are you interested in a carrier that's going to see you through several little ones? Or are you only planning on using it with one child for a limited amount of time? If you're looking for the former, try a carrier that grows with your child and provides you with little extras like storage pockets.
Do you want something that's easy to put on?
Not every carrier is a breeze to get on. Though simple in shape, mastering the rings and folds on a sling carrier can take a little practice. Thankfully, most brands come with an instruction booklet and some even have an accompanying DVD.
On the flip side, front carriers and backpacks may have several straps that need adjusting depending on which parent is wearing the carrier and how big the child is. Choosing between the two is matter of personal preference. Make it easy on yourself and try on several different carriers to get a feel for which style you prefer.
Do you plan on carrying a sleeping child?
Slings and carriers with easy-to-remove fronts tend to be less difficult to place a napping little one in to or out of than a backpack carrier.
What climate do you live in?
Live in an area known for heat and humidity? Then you'll want a carrier made of breathable fabric that wicks moisture. If you'll be wearing the carrier in the dead of winter, choose one that fits under your winter coat, is made of a warm fabric and covers most of your little one's body. You may even want to consider purchasing more than one carrier to complement the change of seasons.
Are you breastfeeding?
Challenging enough to nurse in public. You don't want the extra daunting task of trying to take the carrier off in order to feed her. Look for one that's easy to breastfeed in.
How active are you?
Are you a city-dweller who plans on wearing your carrier while you pound the pavement? Do you love hiking and want to share the experience with your child? Then you'll want to look for a carrier with enough safety restraints to keep your baby secure during heavy activity as well as extras like storage pockets, a sun cover and a pacifier ring. Those only looking to tote their little one around the house or on short jaunts don't need a carrier with as many bells and whistles.
What type of fabric are you interested in?
Carriers come in several different kinds of fabrics. The most common are:
|   | Details | Sling | Front carrier | Backpack |
| --- | --- | --- | --- | --- |
| 100% Cotton | A light, breathable fabric that keeps your baby cool and comfortable. | Yes | Yes | No |
| Cotton/Spandex | A light, breathable blend with a little stretch. Like 100% cotton it keeps your baby cool and comfortable. | Yes | Yes | No |
| Polyester | This fabric is light and breathable but not as comfy as its cotton cousins. | Yes | Yes | No |
| Polyester/Nylon | A great weather protecting fabric that may also provide a vented mesh back to keep you cool. | No | No | Yes |
| Hemp | And organic fabric that's comfortable and breathable. | Yes | No | No |
Is a sling the right carrier for you? Or will a backpack turn out to be your number one? This chart gives you all the information you need to make your decision.
Sling
The sling's simple construction consists of a wide swath of fabric worn over the shoulder and across the torso. The baby rides above your waist line but below the bust line.
| Baby Weight | Adjustable? | Proper support for newborns? | Pros | Cons |
| --- | --- | --- | --- | --- |
| Newborn - 35lbs. | Yes. Some models offer an adjustable strap and safety stopper for multiple users. Infants can be carried in the fetal positions while older children can be held at the hip. | Yes. The soft material creates the same effect as swaddling. | Easy to breast- feed in. May come with extras like a pacifier loop or a pocket. | Some models are size specific. The sling doesn't have safety restraints and may be hard for some people to put on. |
Front Carrier
This style consists of two shoulder straps that support a fabric seat. It has the versatility to allow newborns to face inward and older babies to face outwards.
| Baby Weight | Adjustable? | Proper support for newborns? | Pros | Cons |
| --- | --- | --- | --- | --- |
| Typically holds children 7lbs to 40lbs. | Yes. Adjustable shoulder straps, waist straps and an adjustable buckle allow you to modify the carrier to fit different users as well as your growing baby. | Many models have inserts or adjustable head support to accom-modate newborns. | An easy to remove front allows you to place a sleeping infant in the carrier without waking them. Some front carriers can also be worn on your back. | Breast-feeding is difficult. Parent's body heat combined with the snugness of the carrier can make baby or the parent warm. |
Backpack Carrier
This carrier looks like a small backpack with a spot for your little one.
| Baby Weight | Adjustable? | Proper support for newborns? | Pros | Cons |
| --- | --- | --- | --- | --- |
| For babies who can sit up unassisted (age 6 months up to 40lbs). | Yes. It usually features an adjustable seat, custom fit leg straps and a five-point adjustable child safety harness. Carrier also directs the weight away from your shoulders. | No. | Great for active parents who enjoy travelling or hiking. Some models have extras like a removable diaper pack to store toys. | Not great to wear around the house. Some models can be hard to get on and off. |
These extras can make wearing a carrier more comfortable and convenient.
Storage pockets: A must for parents on the go. Storage pockets hold a diaper, a few wipes or even your wallet or cell phone.
Cover: This extra attaches to your carrier and keeps your baby protected from the elements (sun, rain, snow, wind).
Vents: Vents keep mom and dad from ending up with a sweaty front or back.
Pacifier ring: Hate digging around for your baby's pacifier? Attach it to the ring and you'll never lose it again (well, as long as your little one's in the carrier).
Care
Most carriers are machine washable (whew!). Some even wipe clean (hooray!) Check the manufacturer's booklet for any additional instructions.
Safety Tips
Protect your baby with these important safety tips.
- Always bend at the knees and hold the baby in place while picking something up.
- Never reach for overhead items -- they may land on your little one's head.
- Never cook while wearing the carrier.
- Never climb a ladder while wearing the carrier.
- Don't purchase second-hand carriers.
- Practice putting the carrier on and adjusting it before you use it with your child.
- Make sure your carrier has a good warranty.
- Watch for recalls. Every so often a product gets taken off the market due to safety issues.