Buying Guide
---
Rugs
Buying Guide for Rugs
Besides adding a decorative touch to the home, rugs increase comfort, reduce noise, and even protect current flooring. Considering that a high-quality rug can be an investment, it pays to understand the features of rugs so you can choose the best ones for your home.
Shop All Rugs
Help Me Choose
What's the difference between accent, area, and runner rugs?
Area Rugs
---
Area rugs are designed to cover most of the flooring in a single room. They are often placed on top of hard flooring and sometimes over carpeting to decorate or define special areas of the home, as well as to protect other flooring surfaces. Area rugs are not wall-to-wall, but can cover 9 x 12 feet or even larger spaces.
Shop All Area Rugs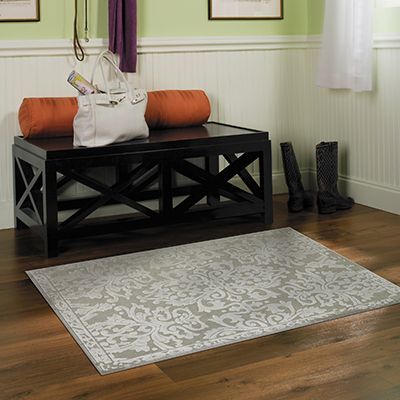 Accent Rugs
---
Accent rugs are smaller than area rugs, generally between 2 x 3 feet to 2 x 5 feet, and live up to their name. They serve to focus attention on a special area of a home such as an entryway, as well as to protect flooring surfaces.
Shop All Accent Rugs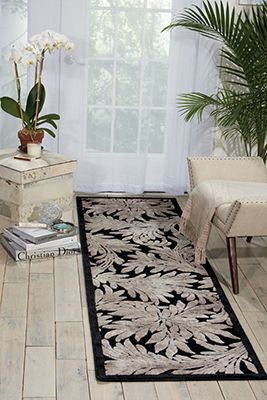 Runner Rugs
---
Runner Rugs are long and narrow and are used to direct traffic through areas such as hallways and range in precut sizes from 2 x 5 feet to 14 feet and longer.
Shop All Runner Rugs
Find a Rug to Match Your Décor
A rug can match or even enhance your decorating scheme. Some common styles include: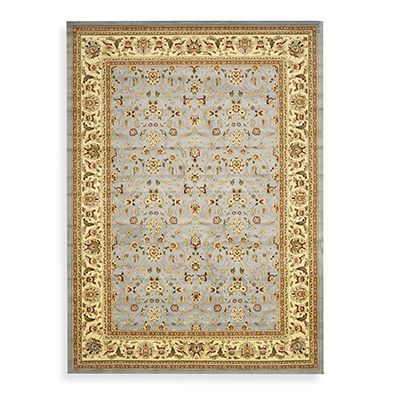 Traditional
…works with luxurious upholstered furniture and old-world craftsmanship. Oriental, Persian and vintage rugs with borders are good choices.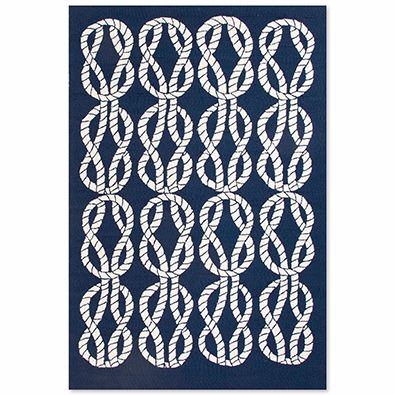 Coastal
…is light, bright in shades of blue or neutral sand color with nautical or beach motifs such as anchors, seashells, starfish, or rope designs.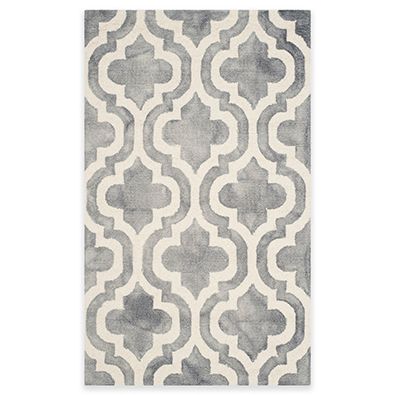 Contemporary/Modern
…reflects your taste in geometric prints and abstract art that evokes comfort and a casual décor.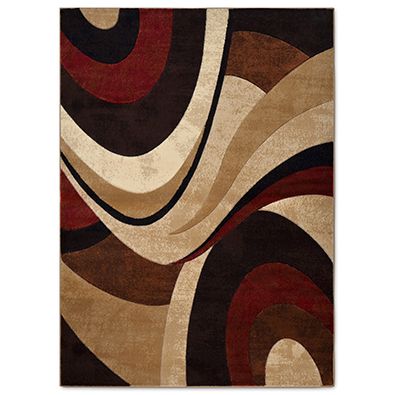 Transitional
…has oversized floral, leaf, and damask designs, or slightly distressed vintage styled rugs with neutral color palettes and geometric patterns.
Global
…is a vintage Turkish kilim rug, or an Ikat tribal pattern, or a rug with a patina look (the surface has been treated to look aged or oxidized).
Lodge
…adds cozy, cabin chic to your hideaway. Tribal and wildlife motifs (fish, bears, moose) or rugs that bring the wild inside (faded leather, durable hide, animal or faux fur) tie the look together.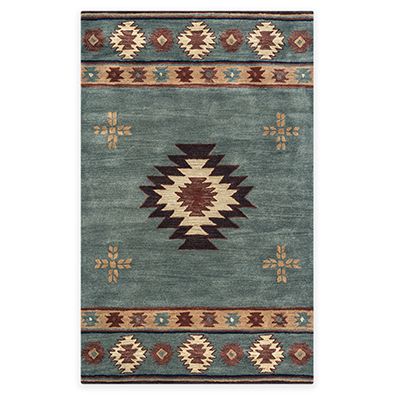 Southwest
…is flat or low-piled and features the signature geometric designs and chromatics (traditionally reds, golds, burnt oranges, turquoise) produced by Native American craftsmen.
Tropical
… evokes the lush life through island-inspired floral patterns, such as palm fronds and exotic blooms, executed in vivid hues typically found in nature.
Two other rug types you should be familiar with are shag and indoor/outdoor: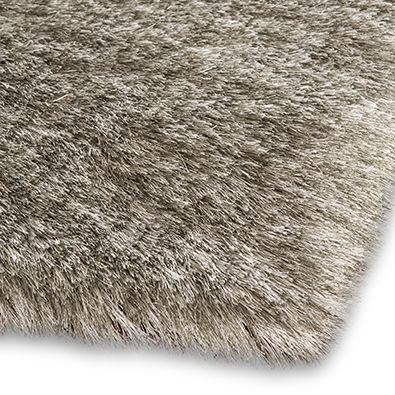 Shag rugs were developed in the 60's and 70's style and are still popular. Originally defined by a high pile (think fluffy faux fur) with a plush softness and cozy feel, today's shag rugs also come in medium and low piles. The rug can come in solid colors or multi-tones, or simple geometric designs with a soft pile you can run your fingers through. Shag rugs can work with many styles including glam and contemporary.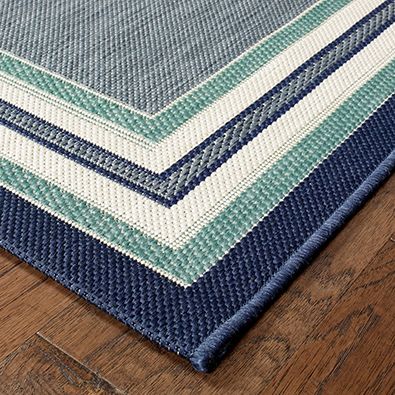 Indoor/Outdoor rugs are meant to resist the elements. Many are all-weather durable and withstand rain, mold, and fading from the sun. They are perfect for patios, apartment terraces, and entryways and are available in an array of styles including contemporary, transitional, and coastal.
What Size Rug Should You Buy?
The rug's location will determine the rug's size so measure the intended space before buying. Area rugs create the most impact when they are a focal point i.e., in front of a sofa or seating area. Area rugs placed under furniture should be at least 1 foot smaller on all sides than the room in which they are located, and 1 to 4 feet larger than the furniture they are beneath.
Accent rugs are smaller than area rugs and as their name implies, accentuate an area, not overwhelm it. Entryway rugs should be at least as wide as the doorway to prevent tripping. Runners are great for adding warmth to long, narrow entryways and hallways — just make sure they are long enough to cover the pathway.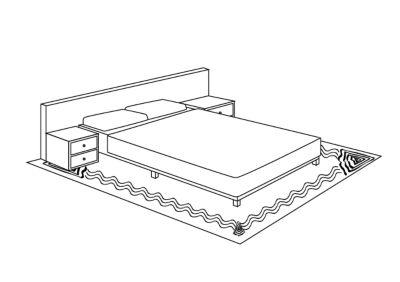 Bedroom: Full-size Rug
---
One preference is the look of a full-sized rug that fits under the night tables and entire bed, and extends several feet out in all directions. Bigger rugs have the effect of making the room appear larger.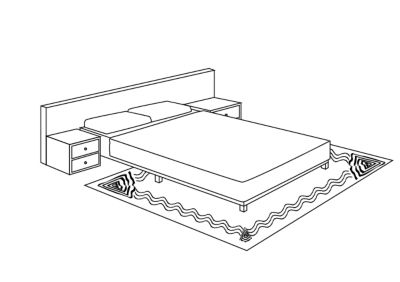 Bedroom: Area Rug
---
The second option is to select an area rug that is placed under the bed (extending several feet out on 3 sides) to define the sleeping space.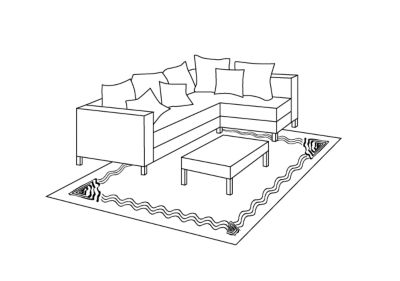 Living Room: Full-size Rug
---
A popular placement for an open-plan living room area is to have the front legs of the furniture on the rug with the back legs on the floor. This creates a cozy space and will add some proportion to your living room.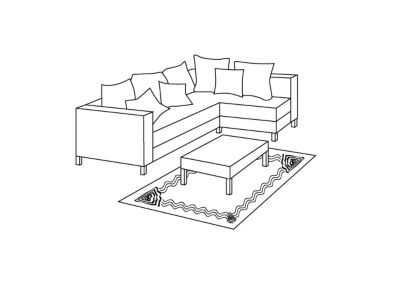 Living Room: Area Rug
---
Choose a smaller-sized area rug such as a 5' x 8' if you prefer to keep your furniture off the rug. The coffee table should fit in the center of the rug, with no legs on the floor.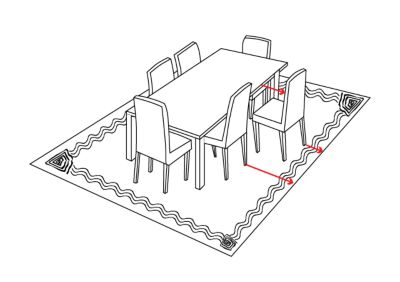 Dining Room Rug
---
A rug under a dining room table should be large enough to pull out chairs. Determine the space needed to completely pull out a chair, to insure the chair legs don't get caught on the end of the rug.
The Details
Selecting which rug material is perfect for you.
The material you choose will depend on your intended use for the rug and potential wear and tear.
Natural Materials
| Fiber | Characteristics | Advantages |
| --- | --- | --- |
| Bamboo | Flexible, wood-like strips as well as soft, shiny, silk-like fibers that are culled from the world's fastest growing plant. Used indoors and outdoors. | Resists static, stains, fire, and insects. Doesn't trap dust and allergens. Good for high-traffic spaces. |
| Cotton Blend | Strong, durable fiber from the cotton plant that is soft to the touch. Sometimes combined with wool, and used as a backing with other fibers like wool. | Machine washable. Good for low- to medium-traffic areas such as bedrooms and bathrooms. Highly absorbent. |
| Cowhide | Cowhide retains its look through a life-extending, skin-softening process. | Cowhide is hypoallergenic, resistant to dirt and water. Lightweight, but can stand up to medium-heavy foot traffic. |
| Jute | A long, soft, shiny, vegetable-based fiber that is commonly used in fabrics like burlap, or hessian cloth. It's almost always found in an original tan shade. | Durable and easy to maintain. The tan and textured material hides stains well. Best for dry, low-traffic areas like bedrooms. |
| Sheepskin | Sheepskin is made from the skins of sheep with wool fibers still attached. Asymmetrical, skins are sewn together to create larger rugs. Used indoors. | Sheepskin is durable, will last a lifetime if cared for well and is easy to clean in a washing machine. |
| Silk | Harvested from insect larvae cocoons, silk is a fine, lustrous fiber with a high-knot count that lends itself to vivid, intricate designs. Often woven with wool to offset the high cost. Used indoors. | Thin, flexible and ultra-strong. Longest lasting type of rug—does not disintegrate or lose shape over time provided it's cared for properly. Good for low-traffic areas where décor is important. |
| Wool | Considered the highest quality natural rug fiber, with some well-made rugs lasting for generations. Produced from sheep fleece. | Known for its long-lasting strength and durability, as well as its soft plushness. Also spill and fire resistant. Perfect for high-traffic areas. |
Synthetic Materials
| Fiber | Characteristics | Advantages |
| --- | --- | --- |
| Acrylic | A petroleum-based fiber made from the polymerization of acrylonitrile (a clear plastic). Closest synthetic substitute for the light, soft, warm feel of wool. Used indoors and outdoors. | Easy to wash and fast drying. Retains its size and shape. Resists damage by moths. Colorfast and holds bright dyes well. Highly resistant to sunlight. |
| Nylon | Highly resilient, flexible material that is used to create a wide variety of textures. Used indoors and outdoors. | Resists wear and tear, staining and molding. Holds up to high traffic and can be used under heavy furniture. Retains color well and is easy to clean. |
| Polypropylene (also known as Olefin) | A lightweight petroleum-based fiber made from a polyolefin that is dyed to the desired color when in the liquid state. Popular in loop carpets like Berbers. Used indoors and outdoors. | Highly durable and stain resistant. Easy to clean. Color won't fade, and experiences no shedding or pilling. Good for heavy-traffic areas. Soft to the touch. |
| Polyester | A lustrous polymer fiber (aka PET) made from mixing terephthalic acid and ethylene glycol. Used indoors and outdoors. | Vibrant colors that don't fade. Soft and luxurious feeling underfoot. Mold, mildew, and stain resistant. Pet-friendly. Affordable. |
| Viscose | Made with wood pulp using chemical processes. Sometimes used in combination with other materials and in place of more expensive silk. | This material is silky in appearance and to the touch. Takes moderate to high foot traffic. |
What kind of craftsmanship do your prefer?
Rug construction affects its quality, and the most sought after textiles pair fine fibers with traditional, hand-made techniques that have changed very little over time. Machines, which actually create most of today's rugs, often merely mimic these techniques through technology. These methods include the following:
Hand-woven:
Crafted by expert weavers who hand-tie wool and/or silk knots individually. Though highly labor intensive, hand-knotted rugs are incredibly durable and set the standard for rug making. They're known for looking as beautiful on the back as the front.
Hand-tufted:
Hand-tufted rugs feature loops of yarn that are pulled through a design-imprinted backing one at a time via a "tufting" gun. When complete, the loop tops are sheared to create a plush pile.
Hand-hooked:
The fibers are pulled individually through a stiff design-imprinted base (such as burlap and linen) using a crochet-type hook. They're similar to tufted rugs.
Flat-woven:
Their key feature is yarn that has been tightly woven around their foundations, resulting in a pile-free textile that's trim, usually reversible, and comparatively lightweight.
Braided:
Pile-free, these yarns are braided into ropes and sewn together, resulting in a durable rug that is often reversible.
Machine made:
Manufactured on powerful, computerized looms that emulate the styles of hand-made rugs, these frequently synthetic textiles are both affordable and durable.
What the heck is a weft?
The rug industry has a language all its own. Here are some common terms you'll come across.
Warp:

The lengthwise thread held in tension on a loom or frame.

Weft:

The widthwise thread drawn in and woven in an over/under pattern over the warp.

Knots:

Tied around warps to create a pile, knots can be both symmetrical and asymmetrical, depending on the type of rug.

Knot density:

The number of knots per square inch. The denser the rug, the higher the quality and the longer the rug will last.

Pile:

Essentially the density and height of the fibers (the shorter the pile, the flatter the rug).

Nap:

The direction of the carpet; smooth and silky one way, stiff and upright the other way.

Fringe:

Warps extending from the ends of a rug.

Selvage:

The area between the fringe and the rug's edge.
Do you need a rug pad under your rug?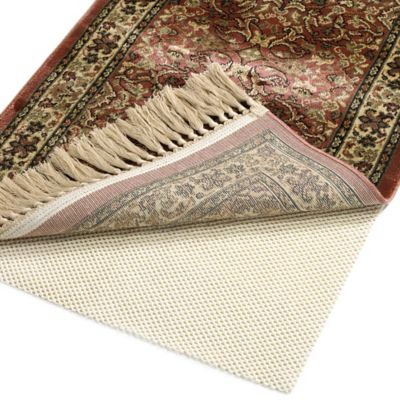 Rug Pads
Rug Pads are necessary on rugs that don't contain skid-resistant backing. The pads not only keep rugs in place and prevent them from creating a potential hazard, but they also help extend the life of the rug by providing cushioning and insulation. Rug pads also prevent moisture from leaking below to the floor and cause staining. Those made with memory foam make for especially soft rugs. Rug grippers (reusable "tacky" triangles that anchor corners to the floor) and rug tape (similar to grippers but can be cut to size) are also useful for keeping rugs in place.
Shop All Rug Pads
Use and Care
Properly caring for your rugs helps ensure they last. Vacuum high-traffic areas once or twice a week, and clean up spills by blotting as soon as they appear (using a spot cleaner designed for your particular rug's fiber). Have expensive rugs dry cleaned every 6-12 months to keep them looking fresh, and rotate all rugs at least once a year to prevent uneven wearing. If possible, keep rugs made of natural fiber out of direct sunlight to prevent fading. Rugs woven from absorbent fibers should be used in non-humid spaces only.