Ships free
orders over $39
Not available for pickup and same day delivery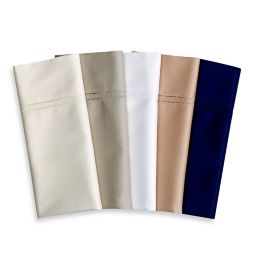 Luxury Sheets
When shopping for luxury sheets it can be easy to obsess over thread count, but a top-quality sheet should not be measured by thread count alone. Thread count refers to threads per inch or centimeter, which is a measure of the number of threads combined in one square inch or square centimeter and an indication of the coarseness or fineness of fabric; equally important is the quality of the cotton – long staple or pima cotton has a much softer hand and is more durable than conventional cotton. A premium quality sheet will likely have a higher thread count, be woven from long staple cotton, feature deep gussets if fitted and ample hems if flat while pillowcases are generously sized to accommodate sumptuous down pillows – such tailoring and attention to detail is what distinguishes luxury sheets such as those found in the finest European hotels.
One may wonder why an investment in luxury bedding makes sense, but the reality is that a good night's sleep is priceless, and if premium quality sheets enhance your sleep experience, the purchase offers great value for the money. Super-soft sheets woven from premium quality long staple cotton offer comfort and durability plus they are less likely to shrink, tear or fade, thus offering added years of service. Delight guests when you outfit your guest bedroom with luxury linens or treat yourself to a hotel-quality experience every night for less than the price of even one night in a fancy hotel – an investment in premium quality sheet sets pays dividends in terms of your health and well-being.
What luxury brands are the best?
When it comes to luxury bedding there are many options – Wamsutta® has been producing premium quality textiles since 1846, while Italian textile company Frette, known for luxury linens, was established in 1860; such longevity speaks to quality far more than any advertising efforts might do.