Wedding Registry Favorite
Free Shipping on Orders Over $49
Free Shipping on Orders Over $49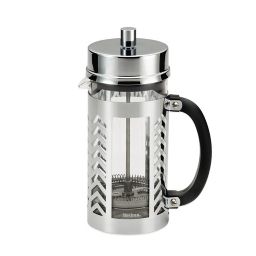 French Press
The French press has been a long time favourite among coffee lovers. The brewing process can feel soothing to some people. As the saying goes, sometimes it is about the journey not the destination. The same goes for brewing a great cup coffee. How you get there can be just as enjoyable as drinking the finished product. Bed Bath & Beyond has a large selection of French Presses. There are even different styles to choose. Why not add a rustic looking French press as an accent piece in the kitchen? Or pick up a model that is a bit more modern looking. Bed Bath & Beyond makes is super easy to order everything you need online. Remember, all online purchases will be conveniently shipped to your home.
Some people believe using a French press to brew coffee is difficult and time consuming. That is incorrect! Here are some easy steps to brewing with a French press. First, grind coffee beans to your preference. It does not matter the consistency just as long as you do not use whole coffee beans. If you are new to grinding your own coffee, try out a few consistencies to figure out what works best for you. Next, add hot water to the coffee grounds. Finally, after letting the water and coffee ground sit for a few minutes use the provide plunger to push down. It is best to push the plunger down nice and slow. That is it! Yes, it does take a little bit more time than flipping an "on" switch, but the end result will be delicious.
What are the Advantages
Is coffee brewed with a French press really any better than an electric coffee maker? Well that is up the drinker. What is definitely true is that a French press allows for more customization with the brewing process. First, you can decide on how fine you would like the coffee grounds to be. Some people suggest finer coffee grounds release more aroma. Also, you have control over the water temperature. Typically, it is best to brew with water just under the boiling point. Finally, there is more control over the steeping process. The longer you steep the water and grounds the stronger the coffee will be.Ready to make a great cup of coffee? Stop by Bed Bath & Beyond today to pick your very own French press.