Philips
Get up to $250 in rewards!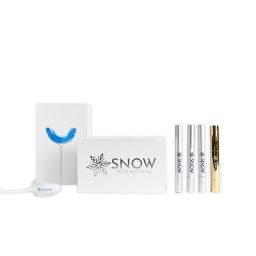 Snow
Get up to $250 in rewards!
Related Categories
Teeth Whitening
Flash that great smile and show off your pearly whites – you'll find everything you need to help enjoy a whiter, brighter smile at Bed Bath & Beyond. You may not realize it but teeth stain as we age, especially if you're a smoker or enjoy wine, coffee or tea; these discolorations and stains result in dingy-looking teeth that can detract from your smile and add years to your appearance. While there's no such thing as a fountain of youth, it is possible to achieve a sparkling smile when you invest in teeth whitening products designed to restore some of the brightness and whiteness that has been lost over time. Browse the teeth whitening selection any time for ideas and information; when you find what you need, simply use your tablet or smart phone to arrange for convenient delivery.
There's no need to break the bank to get a great smile – a good quality teeth whitening kit can lighten teeth in about an hour – get your teeth up to four shades whiter for a sparkling smile; it's a good way to prepare for photos, special events and any time you want to make a great first impression. Regular use of whitening toothpaste is another way to restore and enhance your smile; use with either a manual or an electric toothbrush. Step up your oral care regimen by adding an electric whitening toothbrush to your personal care portfolio. An electric toothbrush can gently and effectively clean between teeth and remove more plaque than a manual toothbrush; special bristles help to whiten teeth as you brush.
Troubled By Plaque and Stains?
Products such as teeth whitening strips and teeth stain erasers offer fast, portable solutions that can help to prevent daily stains from setting into your teeth and visibly improve stained teeth. Smile – you've got this!