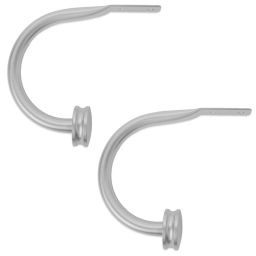 Cambria
Wedding Registry Favorite
Free Shipping on Orders Over $39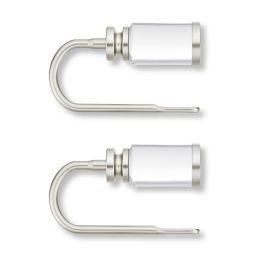 Cambria
Clearance!
Free Shipping on Orders Over $39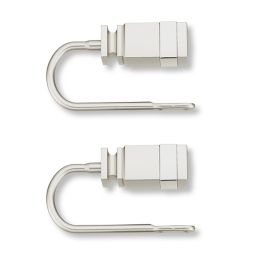 Cambria
Excluded from coupons
Clearance!
Free Shipping on Orders Over $39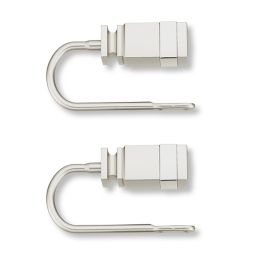 Tie Backs & Holdbacks - Hardware Finish: Brushed Nickel
We know exactly what you're searching for; that small rope thingy that keeps your curtains and drapes open. Get out of the darkness; and if you've already propped plants or furniture on each side of your window to shed some light, it's time to majorly upgrade without breaking the bank. Bed Bath & Beyond has extreme varieties or curtain ties and drapery tassel tie backs in every colour, frill, and finish you could imagine. If you're searching for curtain tiebacks, it's most likely because your drapery is a major focal point in your space. Adding curtain holdbacks is meant to be both functional and fanciful, so take you time, peruse the selections, and let us lay out the options you have in terms of material, shapes, and spindle types! Let's start with what matters most with this particular décor item: style and décor type!
If you are looking to find curtain ties for your existing drapery, it is best to first start by filtering by colour! Choose whether you think your curtains would benefit from a drastic contrast or a matchy-matchy aesthetic (on make it different for each room you are looking to update). If you are starting from scratch, the possibilities and options are just as, if not more optimal! When it comes to curtain tie backs, the installation style is also entirely up to you. There are plentiful options that do not need to be truly "installed" but rather tied around the curtains themselves. Popular among homes that are reaching for a more elegant look are the well-known drapery tassel tiebacks. These tiebacks easily loop around your curtains or drapes; be sure to tie midway down your curtains if you are looking to let in optimal light! If you are looking for a more billowing look to your drapes, you can loop the tieback a bit lower and fan out the tops of your curtains for that flowing feel! Tassel tiebacks can also be connected to the wall with minimal installation to ensure the tiebacks stay in place. If you choose a more permanent installation, make sure you know which pullback style you will want most.
Curtain Holdbacks
There are plenty of other, no fabric or rope options in the realm of curtain holdbacks; the most popular of this category being the "c"-shaped metal curtain holdback. Curtain holdbacks such as these almost always include a decorative tip or finial that adds just the ambiance you are looking to add to your space, while also being a bit wider than the overall tieback, ensuring your curtains and drapes stay in place. Metal holdbacks such as these require a small hole to be drilled into the wall, so again, be sure you know where you want your curtains to be pulled back before installation! Also, in the world of more permanently installed options are spindle holdbacks. Resembling small, flattened doorknobs, drapery spindles also hold panels to the sides of your windows and offer a décor element that can just about stand on its own when your curtains or drapes are closed! Spindles can also be installed at the top corners of your windows if you are looking to hang coordinating scarf valances.