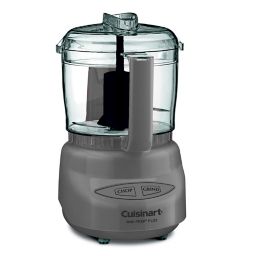 Cuisinart
Free Shipping on Orders Over $39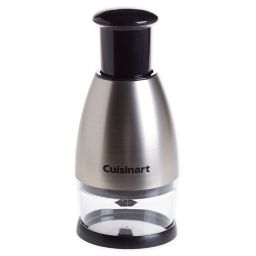 Cuisinart
Wedding Registry Favorite
Free Shipping on Orders Over $39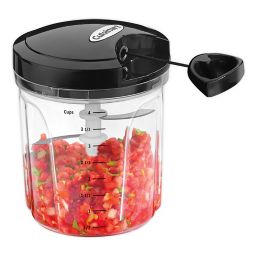 Cuisinart
Free Shipping on Orders Over $39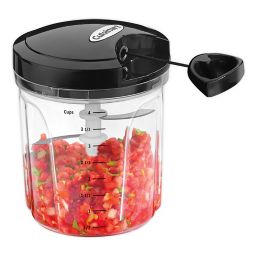 Cuisinart
In 1973, Carl and Shirley Sontheimer launched Cuisinart to create a home version of the restaurant food preparation machines they had seen while visiting a housewares show in France in 1971. For more than 18 months, Carl Sontheimer, an engineer and physicist, dedicated himself to modifying the blades, the slicing and shredding disks, and improving the safety of the food processor. And, in January 1973, he unveiled it at the National Housewares Show in Chicago. Julia Child and James Beard were among the first culinary experts to hail the Cuisinart food processor as a revolutionary kitchen appliance. After establishing itself as a pioneer in food processors re-owned for its high quality, Cuisinart has consistently focused on giving home cooks the kitchen appliances that make cooking a pleasurable experience. By simplifying the food preparation process, Cuisinart helps home cooks make restaurant quality food at home. Under management from Conair Corporation since 1989, the legacy of innovation and quality is alive and well. Today, Cuisinart is a universally recognized name and the company is a full-service culinary resource with a wide array of products, preferred by chefs and favored by consumers.
Cuisinart's commitment to producing innovative, functional, and top-quality products has resulted in numerous coveted awards and accolades throughout the years, including but not limited to Good Design Awards, the Gold Hermes Award, and the Gold Summit International Award. Plugged or unplugged, nobody covers the kitchen like Cuisinart. Whether it's a Cuisinart coffee maker, Cuisinart toaster oven or the on-trend convenience of a Cuisinart air fryer, these products remain unmatched for quality. Cuisinart
cookware
sets come in stainless steel, copper, aluminum, and in size combinations to suit the discerning needs of professionals and amateurs alike. Some sets offer the perfect blend of form and function with a tapered conical design and hard anodized aluminum construction with induction-ready performance for efficient, balanced heat distribution on any stove type. If you love to cook all the time, you may want to consider a stainless-steel Pro set with Professional Triple Ply Construction, Cool Grip Handles, Drip-Free Pouring Rims that are suitable for use on all cooktops, including induction and are oven safe for up to 500 degrees F. Cuisinart also offers eco-friendly cookware: these Cuisinart pans are ceramic-based with hard anodized construction which provides high heat conductivity, requiring less energy to reach desired cooking temperatures.
With more focus on healthy cooking, air fryers have been steadily gaining popularity. In consumer reviews, Cuisinart air fryers have beaten other brands and are built to last, offering a more efficient way to improve your culinary skills. Cuisinart air fryer toaster ovens combine the best of both appliances because they are built with convection technology promoting faster cooking times while still producing crisp fried food without the added oil. Love French fries but not the oil? Then a Cuisinart air fryer toaster oven could satisfy your craving. Avid bakers will also be impressed with the evenly baked cakes when using this appliance. Cuisinart also offers toaster oven/broilers. Cuisinart coffee makers come with a variety of options and styles that can brew the perfect cup to please even a coffee aficionado. If your coffee begins to taste bitter or otherwise off, it may be time to decalcify the reservoir. If you have a Clean button on your Cuisinart, it will begin flashing when the machine needs to be decalcified. Whether your Cuisinart has a self-cleaning option or not, you should clean your coffee maker regularly by decalcifying the water reservoir with vinegar and washing the other pieces of the machine with warm, soapy water. With proper cleaning and maintenance, your Cuisinart coffee maker should continue to provide you with tasty coffee for years. A kitchen filled with great food and company is the beating heart of any home. Let Cuisinart help you #savorthegoodlife.