Circulon
Free Shipping on Orders Over $39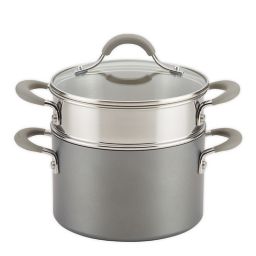 Circulon
Free Shipping on Orders Over $39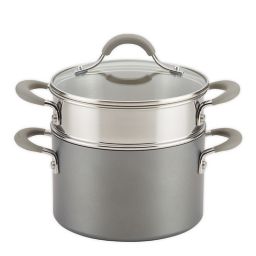 Circulon - Product Type: Stock Pot
Circulon is a world-re-owned brand of gourmet non-stick cookware engineered to make home cooking fast, easy, healthy and delicious. The Meyer Group created Circulon cookware in 1985 revolutionizing the cookware industry by creating world's first hard-anodized non-stick cookware. Meyer engineers combined the superior strength and heat distribution of hard-anodized aluminum with a durable non-stick system, creating a unique and unprecedented type of
cookware
. The hallmark of Circulon is the TOTAL non-stick system that lasts 10x longer than ordinary nonstick coatings. With its integral hi-low groove design, it cooks and releases food on the entire surface of the pan. Circulon pans feature raised circles to enhance nonstick durability plus this unique cooking surface reduces surface abrasion from cooking utensils, guaranteeing long-lasting nonstick that won't scratch, stain or stick. Circulon continues to pioneer innovative cooking solutions designed to meet the needs of the modern home chef. The brand promotes a healthy lifestyle by crafting cookware which delivers high performance food release without the need for oils and fats. The range of products includes Circulon skillets, frying pans, grill pans, roasters, baking pans. To simplify the choices of the home chef, Circulon cookware sets come in different combinations so you can select one-based on your culinary needs.
As pioneers in the nonstick cookware industry, Circulon has spent the past 30 years innovating, testing, researching and refining their products to bring you the best cookware, no matter your cooking style. Stay classic and stock your kitchen with high-performance, gotta-have-it cookware with the Circulon cookware set. Featuring a combination of Circulon pots & pans in various sizes, this set of essentials will have home chefs prepped to take on any recipe. The ultra-durable hard-anodized aluminum cookware heats quickly and evenly to eliminate the hot spots that burn food. The use of high heat when cooking is not recommended because Circulon cookware conduct heat extremely well at lower temperatures. We recommend cooking on low to medium heat. To brown or sear foods, preheat Circulon pan on medium heat for one minute. Make an easy weeknight 20-minute Kung Pao chicken in a Circulon skillet or create a hearty but healthy turkey and white bean Chili in a covered Circulon pan. Shatter resistant, tempered glass lids seal in heat and dual riveted handles provide a solid, comfortable grasp and are heat safe up to 350 degrees F. Circulon frying pans offer super-easy cleanup of even the stickiest recipes like a gooey grilled cheese sandwich.
The most enjoyable activity as a family is cooking and eating together. Cookware that feels comfortable and sturdy in your hand, cooks your food really well, and cleans easily allows you to focus on the joy. In addition to hard-anodized aluminum, Circulon cookware also comes in a stainless-steel line featuring an aluminum core sandwiched between 2 layers of stainless steel for even heating and nonstick interior. Circulon's other line features pressure-forged, heavy-gauge aluminum cookware for exceptional durability and fast, even heat distribution. Are Circulon pans oven safe? All Circulon cookware lines are oven safe. Most of the hard-anodized aluminum cookware can go up to 400 degrees F. Some heavy gauge aluminum cookware and stainless-steel cookware can go up to 500 degrees F. We recommend checking the labels on the Circulon cookware prior to using. How to clean Circulon cookware: while most of the Circulon cookware is dishwasher safe, washing nonstick cookware by hand helps Circulon pans to last much longer. Extremely hot water and harsh detergents can cause cookware coatings (including nonstick) to deteriorate faster than if you were washing by hand. Use a mild dish washing detergent, warm water and a soft nylon brush or nylon scrub pad.